Euphoria Retreat Greek Spa Review
Liz Earle took a trip to the Euphoria Retreat in the Peloponnese, with her daughter Lily, to review this newly opened Greek spa.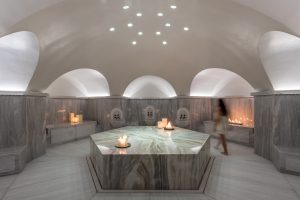 Stepping through the vast glass doors of the newly opened Euphoria Spa is an extraordinary experience – a world away from what you'd consider a 'traditional' Greek spa and more akin to an Indian pilgrimage. The theme of this palatial property mingles the benefits of an authentic Ayurvedic sanctuary with the atmosphere of the ancient, historic hills of Sparta. Carved into the mountainside, it becomes one with nature. Superbly designed to maximise light and space, the property is cleverly compact and easy to get around, with many an architectural feature to enjoy.
Marina Efraimoglou, Euphoria's founder, set her own path to personal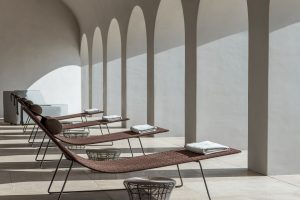 wellness by following Zen and Taoist principles of health and wellbeing, hence the theme. Each of its 45 rooms and suites has views out over the mountains or up into the secluded forests. Extremely comfortable, my room featured an especially sunny terrace set in woodland, with herbal planting all around.
The principles of Euphoria are built around the five elements of the ancient Chinese and Hellenic world, creating a unique blend of philosophies and healing practices.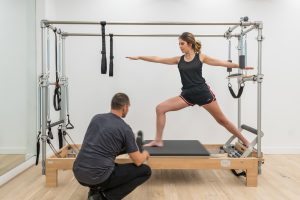 There's a range of wellbeing programmes, each centred around these – earth, fire, water, wood and metal and their related 'energies', including programmes for detox, weight-loss, relaxation, de-stress and fitness. The spiritual values of each element are strongly represented in both the architecture and feel of the place, with the aim to increase our levels of joy (hence the spa's name).
My stay began with a personal consultation with the nutritionist, who advises eating little and often. Certainly,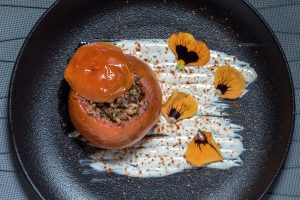 there's no sense of deprivation here. Meals are large and satisfying, beautifully cooked and presented, with treats such as triple chocolate pudding (Lily Earle ordered this twice, it was so delicious). While I especially enjoyed the desserts made with local honey, agave and maple syrup – a degree of willpower would be needed if you're here for weight-loss! In nutritional terms, the focus is on boosting antioxidant levels, notably glutathione. Each guest consultation includes a pinprick blood test to analyse antioxidant levels and these are checked again upon departure (guests invariably notice a visible uplift).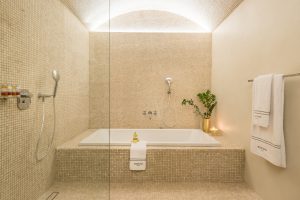 Based on research from the University of Athens, this test studies individual antioxidant function, a significant benefit of following the Mediterranean diet, so often linked to better health and longevity. There are also in-depth nutritional programmes based upon 'nutrigenomics', weight and metabolic balance. Useful to consider when looking at ways to help obesity, a low immune system, recovery or convalescence from chronic illness.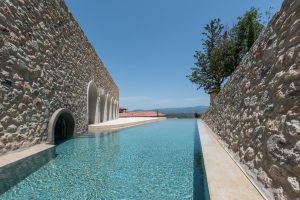 A highlight of Euphoria is its central circular staircase, designed to encourage positive energies as you walk up it, around which many treatment rooms and activities peel off. Starting with the Kneipp foot bath at the base of the spiral (representing the yin-yang flow of cold and warm waters), you work your way upwards to reach the top yoga studio with far-reaching views across the countryside. In the heart of it all sits the stunning inside-outside pool, a design feat with a central sphere you can swim around and even dive down into to listen to the sounds of whales and dolphins reverberating around the aquatic sound system. Even the land upon which the spa is cited is said to have special energy and healing properties, based on the area's ancient history (it sits beneath the castle of Mystras, built on the site of a legendary pyramid).  One of my favourite experiences was the salt room, designed to replicate the healing properties of fresh sea air – ideal for anyone with respiratory issues and apparently good for cleansing one's aura…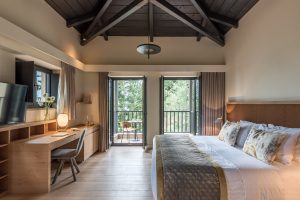 Just a few days spent here felt transformational and it is no surprise that Euphoria has been named one of the top healing hotels of the world. It's a unique, special spot, with an authentically Eastern vibe that's rare outside of India or the Far East.
Price from £2,375pp for five nights in September, including full board and the five-day Inner and Outer Glow programme. euphoriaretreat.com