Try Efamol Pure Evening Primrose Oil for smoother, softer skin
Evening Primrose Oil remains one of the most popular women's food supplements, and new research from Efamol® could explain why!
The new research* using Efamol®'s exclusive High Strength Pure Evening Primrose Oil shows fantastic results for the appearance of women's skin. After taking Efamol® High Strength Pure Evening Primrose Oil, 87% of women said that their skin looked and felt less dry, while 84% said their skin felt smoother. Not only that, 85% said that their skin felt softer, 76% believe their skin looks more beautiful and 73% agree that their skin appears to have a radiant glow.
In addition, a remarkable 85% of participants said they felt happier with their skin and 82% said they feel more confident about their skin after 12 weeks of supplementation. What more could we want as we head into the warmer spring months?
Fabulous feedback from respondents

"Loved using these capsules. Amazed to get such great results."
 "My skin feels incredibly soft."
 "I feel that my skin looks and feels softer and feels more nourished."
"The capsules have given me new skin confidence."
Efamol® has been producing its unique premium evening primrose oil for over 40 years. It contains an oil extracted from a specific type of Evening Primrose Plant seed called Rigel. Rigel seeds are specially cultivated and contain up to 33% more GLA (Gamma Linolenic Acid) than other types of Evening Primrose plant seeds.
Efamol® carefully manages each step of its unique oil extraction process. This ensures that the oil stays in the same form as in the seed, thus retaining its natural properties.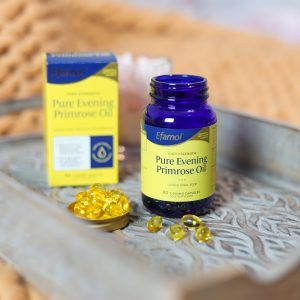 This new research is the latest from Efamol® on their exclusive high strength Evening Primrose Oil. Efamol® Evening Primrose Oil has been successfully used in over 30 scientific trials over the last 40 years.
Try Efamol® Pure Evening Primrose Oil as part of your daily routine
Efamol® Pure Evening Primrose Oil comes in two different sized capsules – 500mg (£11.99 for 90) and 1000mg (£9.99 for 30) at efamol.com, get 25% off your purchase using code LIZEPO.
Food supplements should not be used as a substitute for a balanced diet or healthy lifestyle.
*The research was conducted between 18 September – 26 November 2020. It included 77 UK consumers (women) aged 18-65 years from the UK. The study was conducted by Cue Consumer Research. The study group took 6 x 500mg capsules a day for 12 weeks.