The Dolomites by bike – or hike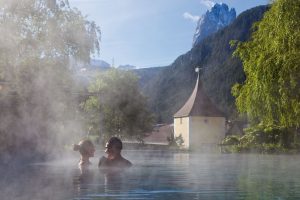 What better way to see the Dolomites than on a bike? Or even on a hike? Our Travel Editor, Emma Winterschladen, headed to South Tyrol in Northeast Italy for a weekend of hiking and biking among alpine flora, craggy peaks and crisp mountain air of the Dolomite Mountains.
The hills are alive in Italy. Specifically on the wild flower-carpeted mountainsides of The Dolomites – the UNESCO World Heritage Site where I'm staying for the weekend. Known in Italian as Monti Pallidi – 'Pale Mountains' – this rose-tinted mountain range is 18-peaks strong and home to over 8,000 miles of walking and bike routes, not to mention skiing in the winter. I've arrived in summer, to birds singing and green pastures. The mountains bathe in golden light and kiss the blue skies above. The air is so fresh you can feel it pass through to your lungs when you breathe, cold and clear. My home for the weekend is Hotel Adler Dolomiti, a five-star spa and sport resort of palatial proportions, situated in the heart of Ortisei, a charming Tyrolean village lined with flower-decked, wood-carved houses.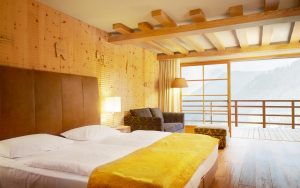 One of four family-owned properties, Hotel Adler Dolomiti has been here since 1810 and has passed through six generations of the Sanoner family, being extended and updated along the way. Today, it's at the forefront of the wellness revolution, with a vast spa and generous activities programme – as well as having sister medi-hotel, Adler Balance, next door. One thing's for certain, being up here – surrounded by trees and mountains and fresh air – is its own sort of medicine. Set in a private two-acre Gardena Valley park landscape, it also happens to be one of the best gateways into the mountains and all they have to offer.
On your bike
After a breakfast fit for a queen, we set off on our mountain e-bikes – the e-part of which I appreciated more and more as the day went on. Our playground for the day was the Alpe di Siusi – known for its breathtaking panoramic views. Wind in my hair, air whistling past my face, the mountains wrapped around me as we passed virgin forests, shimmering lakes and grazing chamois (a native European goat-antelope). It was hard not to feel a sense of pure, free joy – surrounded as I was by such majestic rock sculptures, carved by Mother Nature herself. That's the thing about these mountains: they make you feel wholly removed from everything else. You can do nothing but be totally in the moment. There's also an accessibility about them – despite being up high, there were plenty of quiet roads and cycle paths to ride on relatively unchallenged. Lunch was at Gostner Schwaige – an alpine hut of a restaurant nestled in the Seiser Alm range, beneath Mount Schlern. Its handsome lederhosen-clad owner/ chef Franz Mulser was on hand to talk us through his pasture-to-plate menu, which includes hand-foraged and homegrown flowers, herbs and vegetables. We enjoyed the famous 'flower salad', and local favourites such as kaiserschmarrn (shredded sweet pancakes with raisins) and heublütensuppe (soup made from hay, flowers and herbs).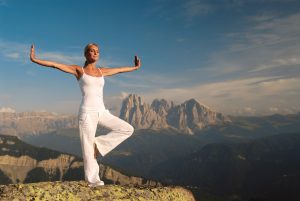 Hotel Adler also offers a programme of daily walks, ranging from gentle rambles to more challenging treks, with in-house guide Thaddäus Morode. He has been hiking and skiing the area as the hotel's guide for over 20 years, telling us he has clocked up a staggering 25,000 miles in total (that's once around the world!). Eager to clock up our own miles, we pull on our walking boots and head off through the enchanted woods, over the trickling streams and past the peaks of Val Gardena. There's no denying it: it was a proper hike, but the views more than made up for the panting. We stopped halfway in a shaded area for some alfresco yoga, the perfect antidote to all that walking. Stretching and breathing among the trees and mountains, I could see the appeal of Adler's Yoga and Healing Power of Trees Retreat.
An relax…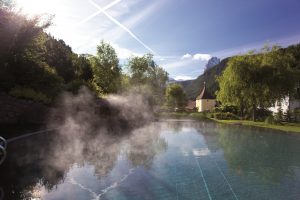 Of course, we couldn't spend all our time in the great outdoors. Lucky then that Adler Dolomiti boasts one of the largest spas in the region, with thermal water pools, Turkish baths, Kneipp water-path and a subterranean maze of steam rooms and salt grottos. There's also a varied spa menu, ranging from Ayurvedic counselling to local-inspired treatments. I had a heavenly combination of a slow honey back massage and a 'South Tyrol hay bath', which used alpine medicinal herbs to release muscle tension. It's safe to say, after two days of activity, my body thanked me for it. It's this focus on balance that Adler gets so right. Days here see-saw between relaxation and movement, down-time in the spa and high-time in the mountains. That the hotel names itself a 'spa and sport resort' reflects this philosophy, and is what makes a trip here such a well-rounded, healing experience.
The thing about the mountains though, is that when you spend time there, it's hard to leave. But when you do, at least you return with a rosy-cheeked freshness, not to mention a renewed sense of appreciation for moving your body – and relaxing it too.
Emma stayed at Adler Dolomiti Spa & Sport Resort, Ortisei. A four-night bike special starts from €609 per person.