Escape to the Seaside: Harbour Master's House, Craster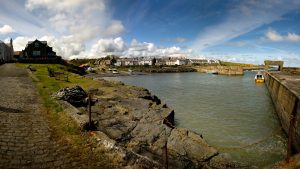 There's perhaps nowhere that quite captures the old charm of British coastal communities like Craster. A Northumbrian fishing village, at its heart sits a small harbour built by the Craster Family in 1906, in memory of Captain Craster. To the north looms the dramatic ruins of 14th-century Dunstanburgh Castle, a theatrical figure against the ever-changing skyscape. It's this unique, postcard-perfect view that you can enjoy from the decking of Harbour Master's House.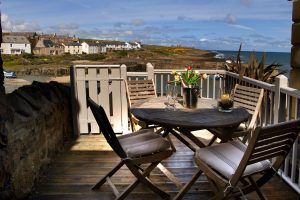 A family-owned cottage that sleeps six, the property boasts a prime position above the harbour, removed enough to observe the activity below, but close enough to feel part of it all. Inside, owners Storm and Nicky have renovated and decorated to the highest standard – with natural wood and linen interiors, plantation shutters and a lovely open space for entertaining. It feels both homely and elegant, with exposed stonework, blankets and open fires ready for friends and family to gather. There's a double bedroom, cute twin room (perfect for children), and a huge, light-filled master bedroom with ensuite. Mornings at Harbour Master's House are best kicked off with a pot of fresh coffee on the upper deck – the perfect spot on which to while away a few hours people and weather watching.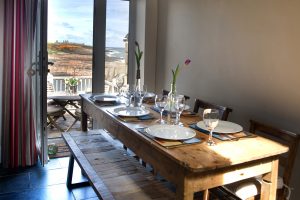 When we were staying, Craster Coastal Rowing Club were there with their skiffs, getting ready for a race. Before long though, the castle calls. The best way to blow away any cobwebs is with a refreshing, salty-aired walk (or run) along the grassy path towards the ruins. With the waves crashing into the rocky shores to your right, and friendly sheep to your left, there's something so wild and free about being out among the sounds and smells of the sea. Craster is also home to the world-famous Craster kipper. This smoked delicacy has been produced by family business L Robson & Sons for almost 100 years, who to this day still use the traditional oak-smoked barrel technique. In fact, Harbour Master's House used to be the old Robson's smokehouse. These days, the smokehouse shop is forever bustling with locals and tourists alike, all keen to stock up on their array of smoked fishes and Northumberland cheeses.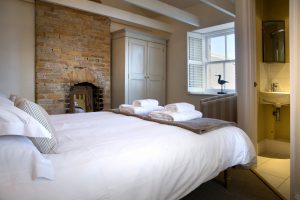 For a small village (with a population barely over 300), there's plenty for a visitor to fill their days with, if simply sitting and enjoying the view with a book on the terrace doesn't suffice. The Mick Oxley Gallery, with his evocative seascapes, is a wonderful pit stop for the creatively curious, and the Shoreline Cafe makes delicious homemade cakes. If you're after a fresh fish lunch, then Craster Seafood Restaurant (part of the smokehouse) is a great option, or the Jolly Fisherman does a cracking crab sandwich, which is what we found ourselves tucking into on our final afternoon. We then set off on a rosy-cheeked jaunt towards Howick, passing by 2nd Earl Grey's 19th-century cliff-edge bathing house (now a holiday cottage) along the way. So engrossed were we in each other's stories that we carried on walking just under six miles to Boulmer, where we enjoyed a well-deserved pint at the Fishing Boat Inn.
Those who know Northumberland will want to keep its ancient, castle-lined coastline a secret, and it's easy to understand why. From Craster's bright wooden boats and charming fishermen's cottages, to the surrounding heritage AONB coast's rocky inlets, passionate seas and cosy pubs, it feels like a yet-unspoiled hidden treasure.
Sleeps six. Prices from £715 for a three-night stay, coastalretreats.co.uk
Loved this? Now read: 
Escape to the Seaside: The Bulrushes, Cornwall