Win a 14-night P&O Cruises holiday for two worth £4000!
Win a two-week Wellbeing and Lifestyle cruise for two people worth £4000!*
We've teamed up with P&O Cruises to offer a fabulous prize of a Mediterranean holiday on Arvia.
The prize includes
P&O Cruises holiday on board Arvia for 14 nights around the Mediterranean, leaving Southampton on 12 May 2024.
One Balcony cabin for two adults over the age of 18.
All onboard main meals (excluding speciality restaurants, for which an additional charge will apply).
Onboard entertainment and use of facilities.
Entry to all available wellbeing workshops.
Discover P&O Cruises Arvia Mediterranean Wellbeing and Lifestyle cruise
Are you longing for an escape that combines the best of the Mediterranean with a whole load of relaxation and self-discovery? One lucky reader will bag an incredible 14-night holiday for two on the P&O Cruises Arvia Mediterranean Wellbeing and Lifestyle cruise.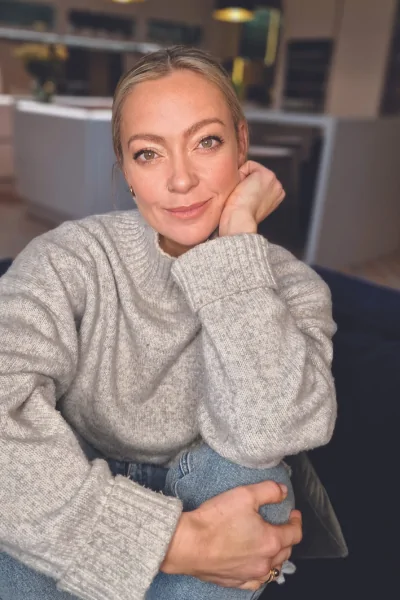 Hosting the Wellbeing and Lifestyle cruise is TV presenter Cherry Healey. Set sail with her and an exclusive group of wellness and lifestyle experts, who will be exploring topics spanning mental and physical wellbeing, skincare rituals and wardrobe essentials. Stylist Kat Farmer will hold a series of fashion masterclasses, while celebrity makeup artist Hannah Martin will share beauty looks that work for everyone. Sarah Gorman, a fitness influencer, will also be there to inspire and guide fitness enthusiasts with her invigorating workshops.
Beyond the realm of wellbeing, the cruise promises cultural riches that rival the onboard offerings. Arvia's summer odyssey starts in Southampton and spans six ports over the fortnight, ensuring plenty of time to relish the dolce vita both on ship and ashore. Delve deeper into the allure of La Coruña, the marvels of Marseille and the elegance of Alicante, among other enchanting ports of call.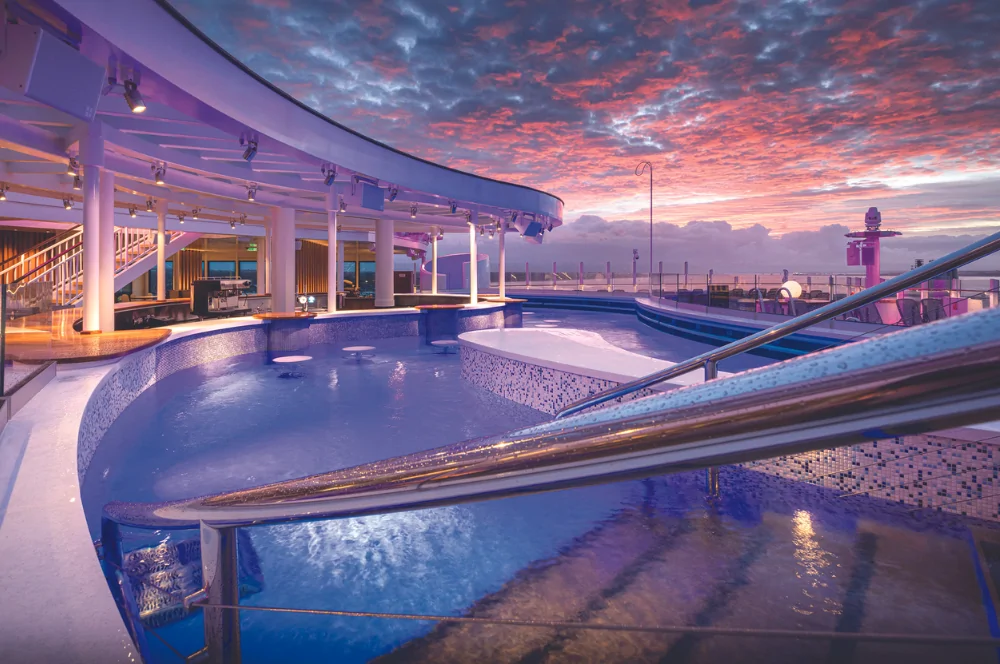 Wander through picturesque cities, bask on postcard-worthy beaches, savour delicious local cuisine and more – all beneath the Mediterranean sun. Observe the world go by from a quiet square in Seville over a cup of coffee, and climb to a hilltop basilica in Marseille before sipping a chilled rosé aperitif at a marina-side bar.
On sea days, there's a whole world to explore onboard Arvia. The retractable SkyDome roof, sports arena, swim-up bar, mini golf, four pools and 20 whirlpool spas are all geared for alfresco relaxation. In the evenings, kick back in one of six lounges and theatres, whether catching a film at the three-screen cinema or listening to live music at the Limelight Club.
Want to learn a new skill? There's something for everyone, from dancing to archery. Or take things down a notch and relax at the spa with its luxurious hammam, salt room, thermal suite and whole host of treatments on offer.
Food is another highlight. Eat and drink your way around the world at more than 30 tempting restaurants, cafes and bars. There's British fine dining at Epicurean, and American comfort food at 6th Street Diner, while The Olive Grove offers authentic dishes from the southern and eastern Mediterranean.
Whether you're seeking relaxation, self-discovery, expert-guided wellness, cultural exploration or total indulgence, Arvia is sure to rejuvenate both body and mind.
Find out more about P&O Cruises Wellbeing and Lifestyle cruises
The Wellbeing and Lifestyle masterclasses are subject to availability. Additional charges apply.
*Prize value correct as of June 2023
How to enter
Simply enter your details below to be in with a chance of winning this fabulous prize!
Win a two-week cruise worth £4000!
Terms & conditions
The Competition Promoter is Liz Earle Associated Productions Ltd trading as Liz Earle Wellbeing, a company incorporated in England and Wales with company number 08056210 with its registered office PO BOX 78349, London, SW11 9QU, United Kingdom ("Promoter"). The Prize Provider is Carnival plc trading as P&O Cruises of Carnival House, 100 Harbour Parade, Southampton, SO15 1ST ("P&O Cruises").
This competition is open to everyone except for Liz Earle Wellbeing and P&O Cruises employees and contractors (and their families), their associated companies, agents and anyone directly connected with the organisation, and operators of its brands.
Competition is open to UK and RoI residents aged 18 or over.
Entrants may be contacted by Liz Earle Wellbeing and P&O Cruises in connection with fulfilling the prize which will be used in accordance with privacy policies, and entrants will be asked if they wish to opt in to receive marketing communications from Liz Earle Wellbeing and P&O Cruises. You understand that upon opting into P&O Cruises marketing, Liz Earle Wellbeing shall be entitled to pass your personal data to allow P&O Cruises to provide information and offers to you. We never share marketing data with anyone else and you can unsubscribe at any time. You can read our privacy policy here and P&O Cruises privacy policy here.
A limit of one entry per person will apply.
No bulk, third party or automated entries are accepted.
No responsibility is accepted for any entries that are incomplete, lost or delayed or
are unable to be handed in because of any technical fault or other reason.
The start date of the competition is 01 November 2023 at 00:01 and the competition will close Midnight 31 December 2023 via website entry.
One winner will be selected at random after the competition has closed
The prize is a Mediterranean cruise for two adults over the age of 18 sharing one GZ grade Balcony onboard P&O Cruises ship 'Arvia' sailing from Southampton on 12th May 2024 for 14 nights (cruise number K410)
The Prize includes accommodation as set out above, onboard main meals (excluding speciality restaurants for which an additional charge will apply), access to entertainment options and use of most facilities onboard.
This Prize does not include transportation to or from Southampton from the Prize winner and/or their guest's homes, travel insurance, drinks, spa treatments, shore excursions, luggage fees, personal expenses, or purchases made onboard. The winner and their guest are required to have adequate travel insurance as a condition of travel.
The prize does not include costs of any kind whatsoever incurred incidental to the fulfilment of the prize. All such costs or expenditure shall be entirely the responsibility of the winner. It shall be the responsibility of the winner to ascertain before travelling that the Prize Cruise meets their and their guest's access needs.
The winner and their guest will be bound by P&O Cruises booking terms and conditions which can be viewed at https://www.pocruises.com/legal-andprivacy/booking-terms-and-conditions. Both persons travelling must have a full, valid passport (with remaining validity of not less than 6 months on the date of travel) and must meet all relevant travel requirements, including obtaining any necessary vaccinations and visas required for the Prize Cruise.
If you accept a prize, you will be responsible for all applicable taxes related to accepting the prize, if any. P&O Cruises accepts no responsibility for any costs associated with the prize and not specifically included in the prize (including, without limitation, travel).
Wellbeing experts Cherry Healey and Kat Farmer appearance is subject to their work commitments and may be subject to change without notice. Specific details of the experience will be confirmed before travel.
The winner may be requested to take part in publicity.
The prize is non-transferable and non-exchangeable valid upon confirmation with P&O Cruises. No cash alternative is available for the Prize or any included element.
The prize cannot be exchanged for a cash prize and should the Prize become unavailable a substitute of equal value shall be provided by P&O Cruises. P&O Cruises reserve the right at their discretion to replace the Prize with an alternative prize of equal or higher value if circumstances beyond P&O Cruises control make it necessary to do so, including, but not limited to the cancellation of the Prize in accordance with any government guidelines. Access to all amenities onboard is subject to any restrictions P&O Cruises sees fit to apply.
The winner will be contacted via email on 8th January 2024 by the Liz Earle Wellbeing team and details passed onto P&O Cruises for the purpose of fulfilling the prize. Only the winner will be contacted personally.
The booking of the prize will be arranged by the winner with P&O Cruises directly using the instructions given by Liz Earle Wellbeing and within the timeframes stipulated. P&O Cruises is under no obligation to provide the Prize if a booking is not made in accordance with the terms of the competition.
If no response is received by the Wellbeing team from the winner and/or P&O Cruises within one week of our email, we cannot guarantee that the prize will still be available. Liz Earle Wellbeing shall be entitled to select and notify in writing a replacement winner. A replacement winner must respond to notification of their win within 1 week of the date of their written notification, failing which they will forfeit their prize. If a winner rejects their prize, their entry is invalid or they are in breach of these terms, or if a winner is unable to claim their prize for any other reason, the winner's prize will be forfeited and Liz Earle Wellbeing shall be entitled to select another winner. Liz Earle Wellbeing do not accept any liability to any winner who for whatever reason does not redeem or take up the prize.
These terms and conditions, and any dispute or claim (including non-contractual disputes or claims) arising out of or in connection with it or its subject matter or formation, shall be governed by, and construed in accordance with the law of England and Wales.
Each party irrevocably agrees that the courts of England and Wales shall have exclusive jurisdiction to settle any dispute or claim (including non-contractual disputes or claims) arising out of or in connection with these terms and conditions or its subject matter or formation.