Best romantic breaks to treat your loved one
There's nothing like getting away from it all with your partner, and if you're looking for romantic breaks, you've come to the right place.
Whether you're looking for a weekend closer to home, or fancy seeing a little more of the world, we've put together our top picks for sweeping your loved one off their feet.
Take a look at the best romantic breaks below and treat your partner to a trip neither of you will ever forget.
Edinburgh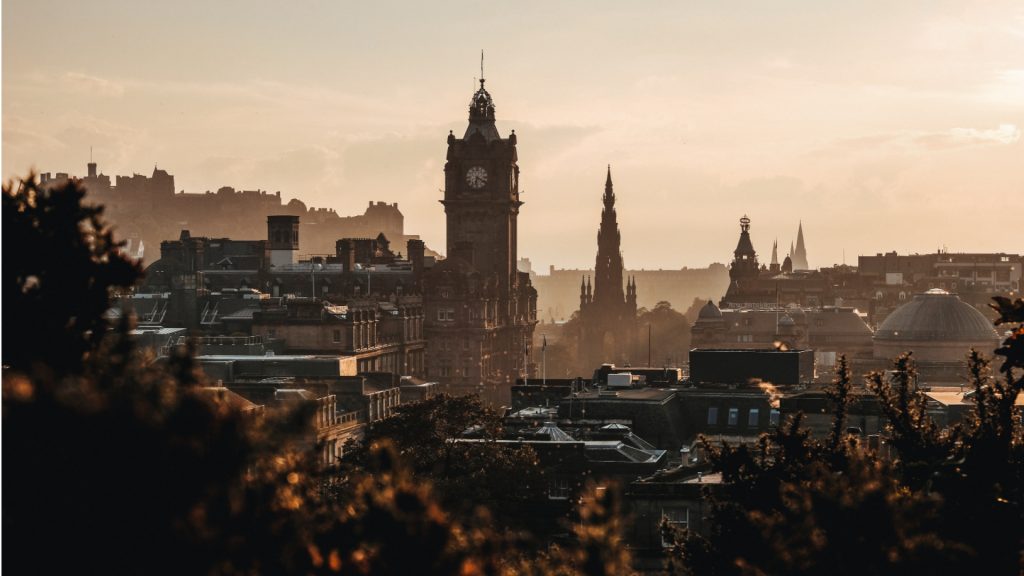 Scotland's capital is a treasure trove of culture, history, fantastic food and cosy hideaways to enjoy with your loved one.
Navigate your way down the winding cobbled streets of the old town hand in hand and explore the stunning architecture. See quaint shops selling local produce and enjoy coffee in a local café to watch the world go by.
For more energetic couples, a climb up Arthur's Seat is well worth the effort. The peak offers breathtaking views across the city and makes that pub lunch at the bottom seem all the more satisfying. The Sheep Heid Inn in Duddingston village, a 20-minute walk from Arthur's Seat, is well worth a visit.
Complete your romantic break with a stay at The Witchery by the Castle. Tucked down a cobbled close off the Royal Mile, near Edinburgh Castle, it's an eccentric Scottish hideaway with lavish antique décor, four-poster beds, roll-top baths for two.
Read our tops things to do in Edinburgh
Paris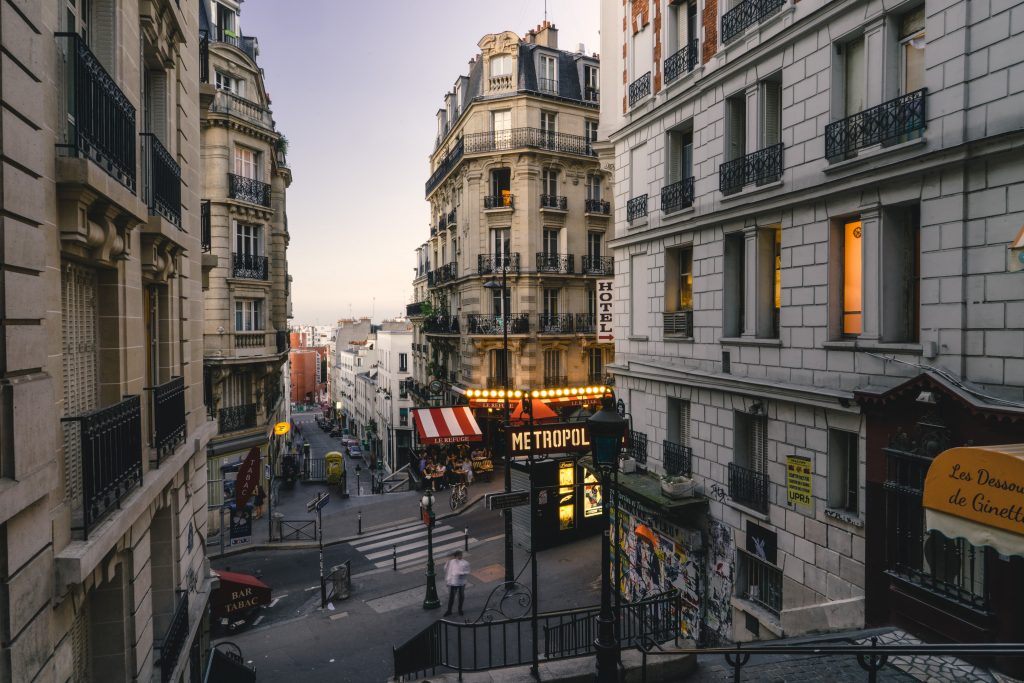 Thanks to the Eurostar, Paris is only a short train ride away from the UK and offers an easy romantic getaway for a weekend.
A stay in the Passy Eiffel Hotel puts you right on the doorstep of some of Paris' most popular attractions. Wake up in modern, bright and airy surroundings and, after a quick morning coffee and croissant, wander over the Seine to the Eiffel Tower.
Take the lift all the way to the top for stunning views over the city and perhaps even stop off for a meal at the landmark's famous restaurant, Le Jules Verne, on the way down. Just be sure to book ahead and prepare to max out your credit card at this exclusive eatery.
Back on ground level, there's plenty to explore in Paris. Head to the Champs-Élysées and shop until you drop or indulge in some culture at the world-famous Louvre Museum. The Notre Dame, while yet to be restored to its former glory, is still a stunning sight to behold.
Beyond the landmark checklist, the city's leafy streets and chic café culture can be the perfect way to spend an afternoon with your loved one. Cuddle up on a terrace, enjoy a glass of red and watch the world go by.
Read our top things to do in Paris
The Cotswolds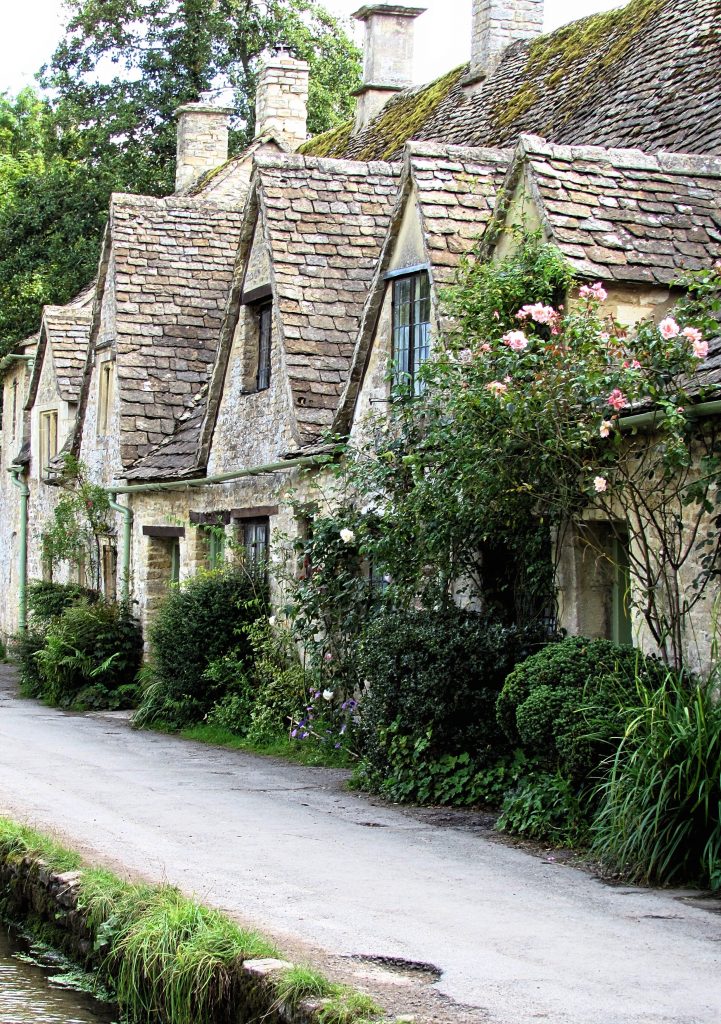 Be enchanted with a stay in the Cotsworlds and explore quintessentially English villages, long rambling walks and trips to market towns.
While its name might not sound particularly romantic, Lower Slaughter is one picturesque village you won't want to miss. Stay in The Slaughters Country Inn for an authentic experience of village life and make the most of this peaceful part of the country. Walks along the water towards the mill don't come much more restful.
Bourton-on-the-water is also well worth a look. This picturesque village surrounds the River Windrush, with old stone cottages lining the water. The Model Village is a charming way to spend an hour exploring before heading to a tearoom to rest and recharge over a cuppa and a cream scone.
Plus, if you need a little more activity, the bustling town of Cirencester is only a short drive away. This thriving market town has plenty of shops and eateries to while away an afternoon.
Bringing your dog with you? Check out our guide to dog-friendly hotels
Bruges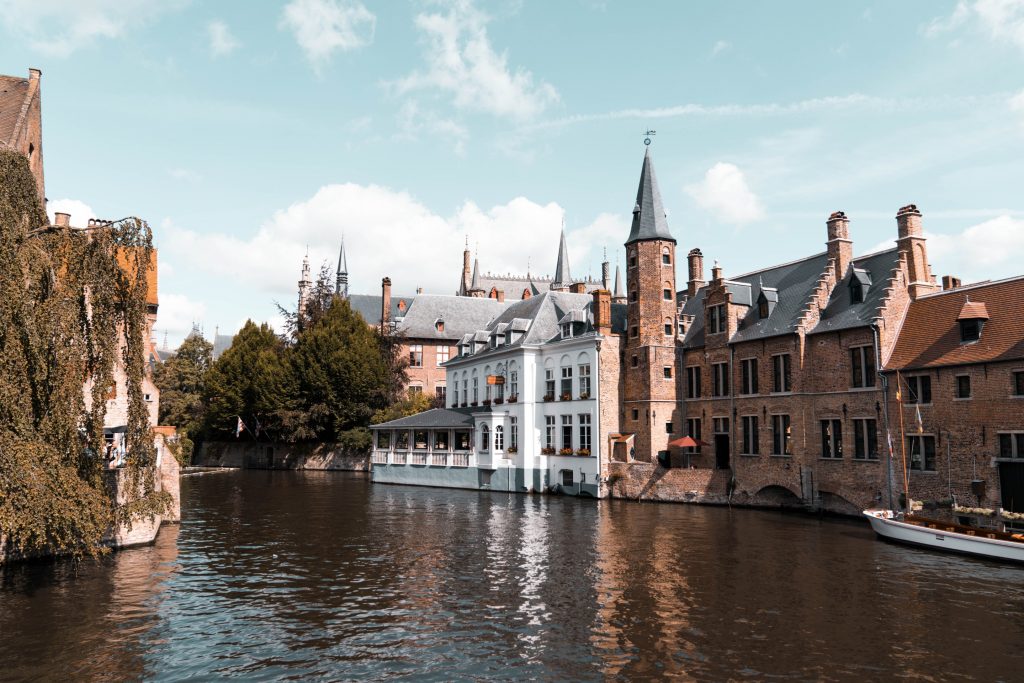 Head to the pretty city of Bruge to enjoy wonderful walks along the canals and fantastic food and drink (including plenty of the finest Belgian chocolate). There's so much to see in Bruges, including the stunning historic centre, which is now a UNESCO World Heritage Site, and is packed with beautiful buildings, churches, fascinating museums and art, together with plenty of shopping.
Stay in The Pand – a fabulous luxury boutique hotel on a quiet tree-lined cobbled street right by the canal. The 18th century townhouse welcomes you with open fires, wood-panlled walls and interesting antiques in every corner. Opt for a four-poster room at the top of the building for stunning rooftop views and a Jacuzzi in the marble ensuite.
You'll be spoilt for choice when it comes to food too. Waffles are everywhere in Bruges and something you must try during your stay. Hot, crispy, sweet and fluffy, they're a treat that's perfect for eating on the go as you explore the city with your loved one.
De Vlaamsche Pot is also worth a look – tucked down an alleyway, this restaurant serves traditional, rustic Flemish dishes using locally-sourced ingredients. Feast on huge pots of mussels and chips, or try the Flemish beef stew made with dark beer and apple sauce.
Bath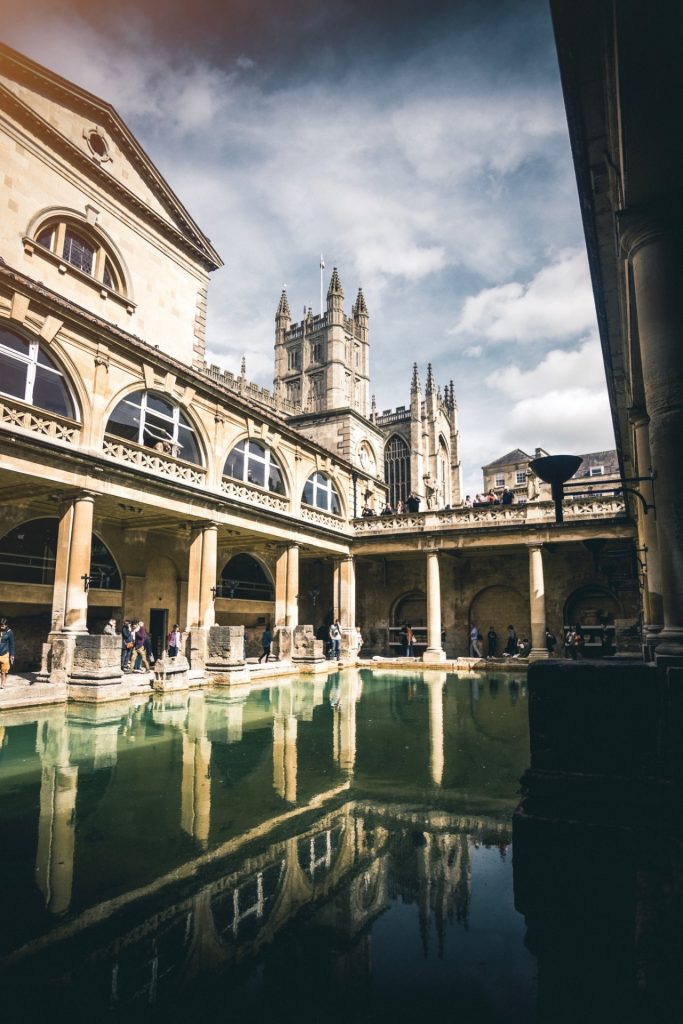 Head to the West Country and enjoy a romantic break in Bath. Famous for its Georgian crescents, Roman baths and literary history, Bath is a treasure trove of culture.
Stay close to the city centre in The Bath Priory. This Georgian manor is nestled on a quiet, tree-lined residential street and provides a peaceful retreat away from the crowds. Stroll 15 minutes through Royal Victoria Park and you're back in the heart of bath.
No trip to the city would be compete without a visit to the Roman baths, with or without your swimsuit. The magnificent original Roman temple and baths were built over the city's natural hot springs. Plus, be sure to pay a visit to Bath Abbey where its impressive stained-glass windows are some of the most stunning you'll ever see.
For a truly romantic way to see the city, hop in a horse-drawn carridge and be transported to a bygone age on a sightseeing tour. Cuddle up under a blanket as your trusty steed weaves you through the city streets.
Florence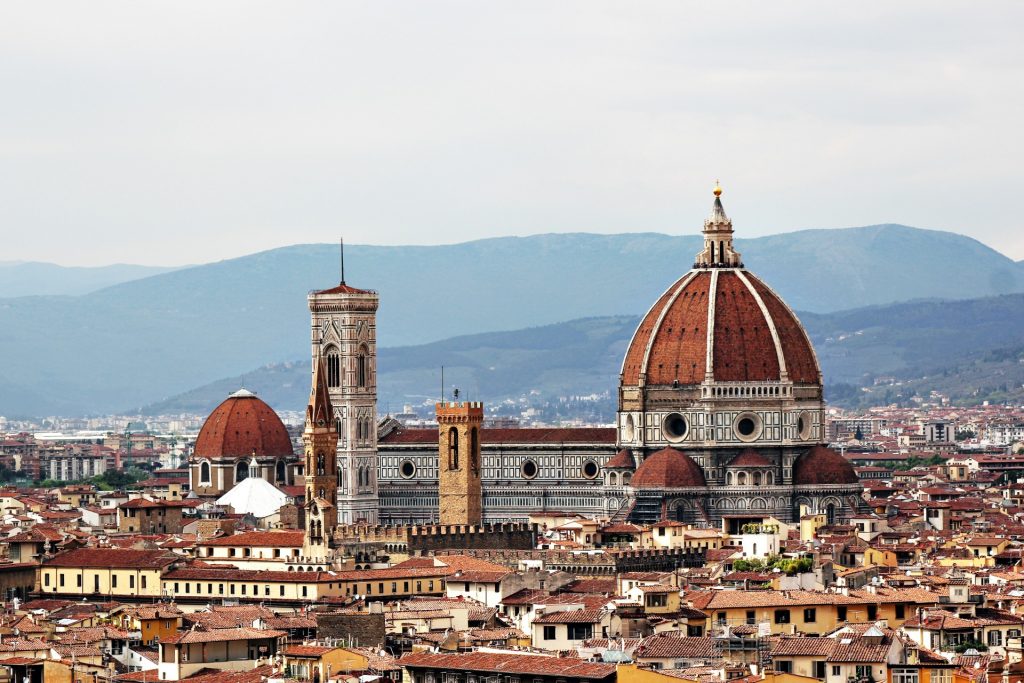 Tuscany's capital is the cultural heartland of Italy. Whether you're strolling the cobbled streets, enjoying the Old Masters in one of the many galleries, or simply exploring the gardens, shops, spas and pasta of this handsome city, you're sure to have a romantic break.
The historic five-star hotel of the Four Seasons Firenze offers you a peaceful stay in the heart of the city. Each of the 72 guest rooms are uniquely designed. You can also enjoy exquisite dining options in the hotel, including the Michelin-starred restaurant Il Palagio.
As part of your trip, enjoy a stroll up the hill on the outskirts of the city to see the ancient church of San Miniato al Monte and its gleaming domed mosaic. Better still, take a bottle of wine and a picnic and enjoy a sunset straight off a postcard.
Plus, don't miss your opportunity to see Florence's iconic Duomo cathedral up close. Book a private tour with firenzeyesplease.com for an exclusive rare tour away from the usual crowds. Enjoy a unique perspective into the cathedral's construction and history and learn why it's so dear to Florentines' hearts.
Le Jardin du Château, Duras, South West France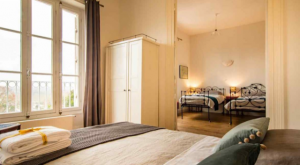 Located 45 minutes from Bergerac, this listed ancient monument resides in the small market town of Duras in southwestern France. Seemingly untouched by tourism, it's the sort of quiet, provincial commune with no travel guides written about it.
Le Jardin du Château is in the grounds of Château de Duras – the grand fortress that overlooks the property's top garden. Once the castle's orangery, today it has been renovated back to life as a chic holiday home.
Original art and retro posters line the walls, while the ensuite bedrooms are light-drenched and luxurious, finished with crisp linen, vibrant velvet and eclectic furniture. Many of the bathrooms boast rainforest showers too.
Head to the weekly market on a Monday – here you'll find bundles of red onions, strings of pink garlic, plump, juicy tomatoes and an abundance of green lettuce. Perfect served with a warm baguette and plenty of cheese.
Read more travel articles