The best gym trainers for your workout
Finding the best pair of gym trainers can help to support your workout in a number of ways.
While running shoes put more emphasis on heel-to-toe movements and generally have additional cushioning for shock absorption, gym trainers are built with multi-directional movement in mind. They're generally more flexible and have flatter, supportive soles, helping to provide easy and efficient movement.
Here, we share our pick of the best gym trainers to enhance your workout.
The best gym trainers for your workouts
Bahé running trainers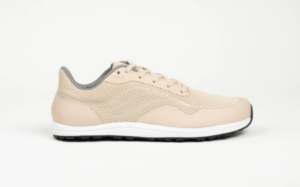 These running shoes are designed to mimic a barefoot sensation for a more natural style of movement. And they're loved by Liz.
Why? Wide, thin and flexible, Bahé running trainers are roomy for the feet to allow for better toe alignment and help promote better posture. They also utilise grounding technology which the brand claims can help to improve blood flow, enhancing performance and recovery.
Better yet, use LIZLOVES to save 15% off your order.
Nike Metcon 7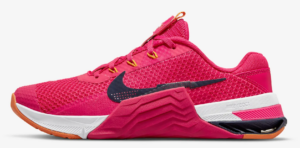 The Nike Metcon 7 shoes are perfect for strength training sessions. The heel of this trainer is wide and flat, providing stability. A clever inner plate also helps to distribute weight evenly, keeping you supported.
High-intensity, cardio sessions are covered too. The rubber tread of these gym trainers provides plenty of traction, while the cushioned base offers a lightweight and springy feel.
Adidas Dropset
The Adidas Dropset gym trainers offer optimal comfort and confidence while exercising. The midsole has been designed to give you a grounded feeling, helping you to execute movements safely and efficiently.
The shoe is made from recycled materials and contains two different types of cushioning to provide comfort and support.
Vivobarefoot Primus Lite III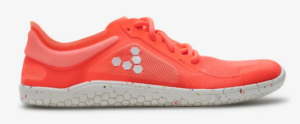 Vivobarefoot is a brand that prides itself on creating shoes that promote the natural strength and movement of the foot. Its shoes are wide (to allow for natural stability), thin (to enable you to feel more) and flexible (to enable natural movement).
The Primus Lite III is a lightweight and versatile shoe that helps you to exercise effectively both indoors and out. Plus, with a 100-day trial, you've got plenty of time to see if it's the right shoe for you.
Reebok Flexagon Energy 4 Shoes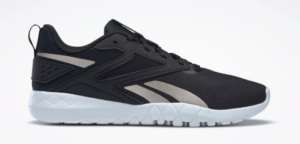 On a budget? Look no further than the Reebok Flexagon Energy 4 Shoes. Retailing at just £38, these gym trainers are lightweight and breathable.
The trainer's foam midsole rebounds on impact. Its design helps to keep you comfortable when jumping and lungeing. A great shoe for fast-moving gym classes.
New Balance 624v5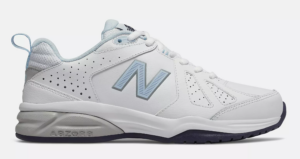 Hit the streets as well as the gym with the New Balance 624v5 trainers. This stylish shoe is perfect for running errands around town before heading to your exercise class.
Plus, with comfortable cushioning, you can ensure you'll feel supported in your movement.
Adidas by Stella McCartney Treino Shoes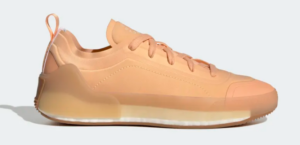 Up the style stakes in these bold trainers by Stella McCartney for Adidas. Made with recycled and vegan materials, these trainers boast a chic and minimalist design.
The shoe is designed for optimum support – it's not just a pretty face. The rubber outsole and stabilising heel clip keep you feeling secure, while additional cushioning helps to absorb impact, enhancing comfort.
All prices correct at time of publication. Please note, we may make a small affiliate commission from any purchases you make through the links listed above. We never allow this to bias our coverage. Find out more about our affiliate policy.
Read more features like this