Anguilla – one of the Caribbean's best-kept secrets
Anguilla is one of the Caribbean's best- kept secrets, and all the better for it! In search of guaranteed sunshine, warm seas, rest and relaxation (and some serious luxury), Polly Beard headed to the picture-perfect Caribbean island of Anguilla.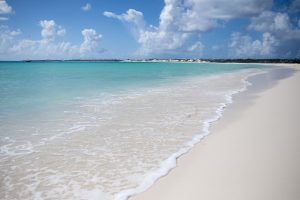 While tourism has been slowly on the increase in Anguilla, there are still no cruise ships, high-rise hotels or all-inclusive resorts. Compared to its much livelier and glitzier neighbours, St Maarten and St Barts (where the party crowd tend to hang out on their gleaming yachts), Anguilla is the epitome of tranquil chic, where A-listers head not to 'be seen', but to be 'not seen'.
Imagine a perfect little sliver of paradise – just 16 miles long and a maximum three miles wide ('anguilla' is Spanish for eel), lined with 33 pristine fine white sandy beaches, dotted with palm trees and surrounded by year-round balmy seas that are so clear and so turquoise that you won't believe your eyes. Little wonder that many of the beaches on this island are consistently ranked among the world's finest.
Having been completely devastated by Hurricane Irma in 2017, taking out 90 per cent of the island's electricity poles and leaving very few buildings undamaged, Anguillan residents pulled together in an extraordinary show of resilience and community spirit to get the island and its vital tourism not just back up and running again, but even better than before. Whilst savvy tourists from the States have been loyally returning year after year, it still appears to be off the radar of British sunseekers, despite it being a British Overseas Territory. (That means no need for a visa AND you get to drive on the left!) This is probably down to a lack of direct flights, but it's really not that tricky to get to. We flew for just under eight hours with Virgin Atlantic to Antigua, and then squeezed on to a tiny eight-seater plane to transfer us to Anguilla in under an hour, enjoying an immaculately smooth landing by Elvis, our friendly Trans Anguilla Airways pilot. Being such a small island, a transfer from the airport is never more than 20 minutes.

We quickly arrive at our first hangout in paradise – and, my goodness, what a location.
Long Bay Villas
is a group of three practically identical villas named Sea, Sky and Sand – all with panoramic views of the sea at every turn, private pools and hot tubs, and direct access down just a few steps to the icing-sugar beach below. While there are no private beaches on the island, there are so many heavenly ones to choose with easier access; you're almost guaranteed to be the only ones enjoying Long Bay during your stay.
To use the words "luxury" and "exclusive" doesn't really begin to describe this place. All the villas have been impeccably designed and feel airy, modern and tasteful, with a minimal, contemporary but uber-comfortable vibe. The vast open-plan kitchen-dining-living room on the ground floor opens on to an enormous sun terrace with loungers and comfortable sofas around the pool, ready to sink into. The white circular stairs lead you up to vast bedrooms with private balconies, and bathrooms that are so tall and HUGE and light – the outside wall is made of top-to-toe glass – complete with indoor and outdoor showers ( just in case you fancy changing it up).
The villas also come with staff. We were treated to the lovely Alicia, our housekeeper, to keep everything immaculate and look after any laundry, and Wayne, our butler. Fancy a cuppa or a cold rum punch? Wayne is the man to bring it to you, with a huge smile, wherever you've chosen to lie down. Plus, he calls me 'My Lady'. It's all quite hard to accept on day one, but by day three I feel it's something I could definitely get used to. There's also a private in-house chef should you want one – we were cooked an excellent fishy supper of shrimp salad and mahi-mahi steak with pineapple salsa on our first night, before hopping into the hot tub to gaze up at the stars. This is the place to know about if you are planning a trip of a lifetime with family and friends who are happy to share the cost – perhaps for a very special occasion like a milestone birthday, anniversary or wedding. All three villas hired together will sleep 32, and the beauty is that there won't be any squabbling over who gets which room – they are all equally knock- out fabulous. Or combine with the elegant Santosha Villa Estate next door and fill it with another 23 guests. Go ahead and blow the budget – this is the stuff of dreams, and you won't be disappointed.
The second day we rent a car with
Richardson's Car Rental
and travel along the single main road up to the north of the island, passing through The Valley – the island's tiny capital, where you'll find a few government buildings and a handful of street stalls called The Strip selling saltfish patties and conch soup. We stop at the Heritage Collection Museum, an eclectic treasure trove of fascinating artefacts and literature masterfully curated by Colville Petty OBE – a retired local history teacher. It's essentially four rooms, stuffed to the brim, where you could happily spend three hours delving into the history and culture of the island. I baulk at the disgraceful way Anguilla has been treated in the past and celebrate its revolution against the British government in the 1960s, learning about fossils, Arawaks, the slave trade, the very first ice cream makers, colourful stories of the island's centogenarians and everything else in between. I'm sure every time you come here you must find out something new – it's an extraordinary achievement by one man, carried out with passion and a sense of humour. A must- see for anyone visiting to put their holiday into context.
For lunch we head to the Anguillan family-owned
Da'Vida Bayside Grill
right on the beach at Crocus Bay to sample some killer cocktails and the local Johnny cakes – freshly baked, doughnut-shaped fried-bread delicacies made with cornflour. Before heading home, we check out the iconic and popular two-mile beach at Shoal Bay East. It's an Instagrammer's heaven, with a snorkel- ready reef right in the middle, plenty of beach shacks and restaurants offering refreshment and loungers at one end, with plenty of empty, quiet space at the other.
The following day we explore
Belmond Cap Juluca
on Maundays Bay – a favourite haunt of the hottest filmstars and considered by many to be the best beach in the world, let alone the Caribbean. Since the devastation of Irma, when only the walls here were left standing, the 24 luxury white beach villas have now had a revamp. One of them has been turned into a spa and we try out the lomi lomi – a traditional Hawaiian massage that works on the basis that memories are not only stored in the brain, but also in every cell in our body. Long, continuous, flowing strokes put together in a kind of dance helps the body let go of learned behaviours, aimed at releasing tension and rebalancing mind and body. The experience is both deeply relaxing and uplifting.
To complete our day, we arrive at dusk in Island Harbour to meet up with the
Liquid Glow
team, who take us out in glass-bottomed kayaks equipped with green lights that illuminate the shallow waters below. This is truly special and a real privilege. We see sea turtles, stingrays and eagle rays on the seabed, scary bass literally the same size as my legs, and jumping pencil fish escort us as we paddle silently back in the dark.
For our next stop, we head south to the
Malliouhana
– the original five-star resort on the island – now an upmarket boutique hotel with 44 rooms and suites stretched out over 25 acres of verdant, landscaped gardens. A Brit named Leon Roydon set up this hotel over 30 years ago, having visited Anguilla and deciding he never wanted to leave – it's a story you hear frequently. With its entrance hall decorated in vintage diving helmets, walls and furnishings in duck-egg blues and lemon-sorbet yellows, four-poster beds and ornate mirrors, marigold- orange sun umbrellas and striped awnings beside the two infinity pools, the place definitely has an Art-Deco-meets- old-Hollywood-glamour feel to it.
But it's the view over Meads Bay that will blow you away – it's without question one of the must-see beaches of the island, best enjoyed from the restaurant terrace. Mr Roydon insisted on culinary excellence here from the beginning, hiring a Michelin-starred chef and building up a vast wine cellar, raising the standard of cuisine on the island to a completely new level. Visitors should be grateful to him. Not only does this island have the best beaches, but it also has the best food, and you are encouraged wherever you stay to get out and sample as much as you can.
Of particular note on the food front, and just a short walk down the beach, you'll find
Blanchards
– set up by a US couple, Melinda and Bob Blanchard (who also never wanted to leave). Try the candlelit restaurant in the evenings for a very relaxed but upmarket atmosphere, clearly loved by its loyal customers. And Blanchard's busy self-service Beach Shack for lunch sells good-value street food and healthy salads, and is buzzing with a very happy vibe.
Further on along the coast is
Mangos
, where we had our best meal, hands down, feasting on the freshest local fish and fruit martinis. Sesame snapper, blackened wahoo, snapper tartare and lobster cakes – it's all sensational, no matter what you pick. And
Dolce Vita
over at Sandy Ground serves up traditional Italian staples as well as really good seafood – I quickly devoured several grilled lobsters covered in garlicky, buttery sauce.
Sandy Ground is also where you'll find Laurie and Deb at
Tradition Sailing
and climb aboard their wooden West Indian sloop for a sunset sail to remember. This elegant boat was originally used to smuggle contraband booze and tobacco around the islands, but these days it's just Deb's lethal bellini cocktails that anyone needs to worry about. A silent sail along a spectacular coastline with the most ridiculously golden clouds and orange skies (as Deb sneakily refills your glass yet again) is a magical experience not to be missed. For a noisier and shorter boat trip, head to the nearby minuscule
Sandy Island
on a speedboat, where you'll find a beach bar serving up barbecued seafood, cold beers and reggae music.
Our final place to stay is the much-loved
CuisinArt Golf Resort & Spa
on Rendezvous Bay – a long stretch of textbook white sand overlooking the hills of St Maarten across the turquoise waters. This has a very family-friendly atmosphere to it, with plenty of facilities for young children on offer. All the rooms have a sea view or direct beachfront access, decorated in a clean white-washed coastal style. I'm not a golfer myself, but the 18-hole course designed by Greg Norman is apparently top notch, with breathtaking views. Hotel guests rise early in the morning to squeeze in a round before the heat of the day takes over.
Many of the ingredients used at CuisinArt and at its sister hotel The Reef, located a little further along the bay, are grown organically in the hotel's kitchen garden and hydroponic farm (they're also used in herb- infused wraps and scrubs at the hotel spa). There are several places to eat at either hotel (hitch a ride on a complimentary vintage bus that runs between the two), including Tokyo Bay for an evening of Japanese food, or the beachside Breezes at The Reef (head straight for the ceviche and mahi-mahi tacos).
Paradise is defined as a place or state of bliss. Anguilla delivers on both fronts – a place of unrivalled natural beauty guaranteed to delight your soul.