Best romantic restaurants in the UK
They say the way to someone's heart is often through their stomach, and if you're looking for romantic restaurants to visit with your loved one, we've scoured the UK to help you find the perfect location.
From luxurious settings in the capital to intimate eateries in Cornwall, we've picked our favourite romantic restaurants for you to explore. Plus, with a focus on using local and susitainable produce, you can relax knowing that you don't have to compromise on wellbeing to enjoy a romantic meal.
The Olive Tree, Bath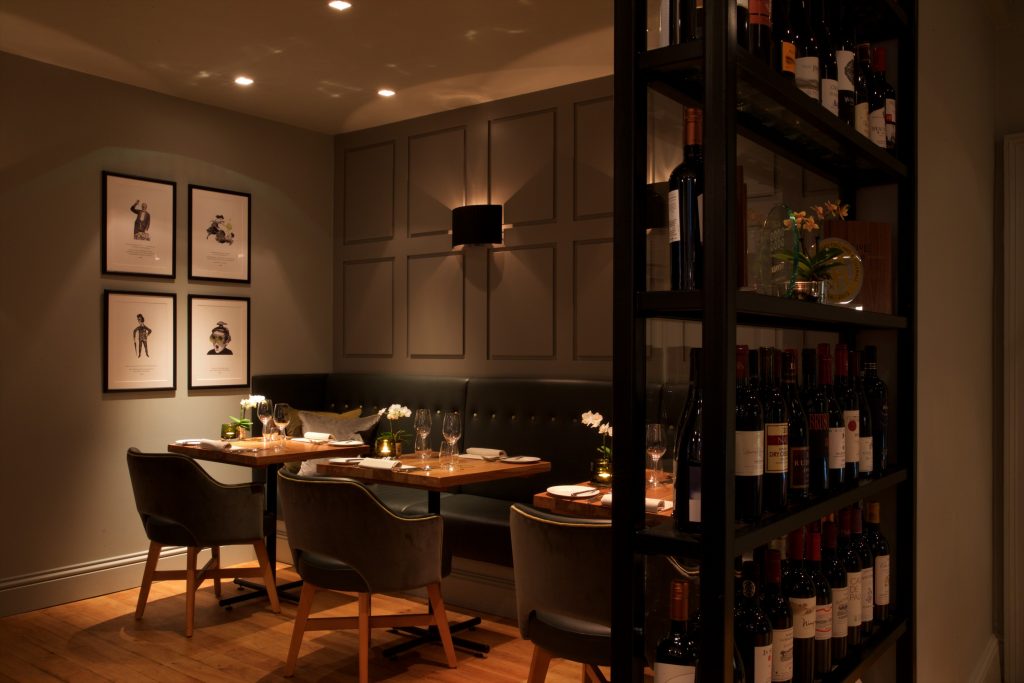 The Olive Tree is the ultimate fine-dining spot and is home to the city's first Michelin-starred restaurant.
The restaurant has been commended for its dishes with depth and flavour and, here at Liz Earle Wellbeing, we love it for its use of local produce and frequently-changing menu of deliciously seasonal dishes.
One dish to keep an eye out for it the Cornish Brill, poached with cucumber, salted lemon, roe and sea herbs.
Timberyard, Edinburgh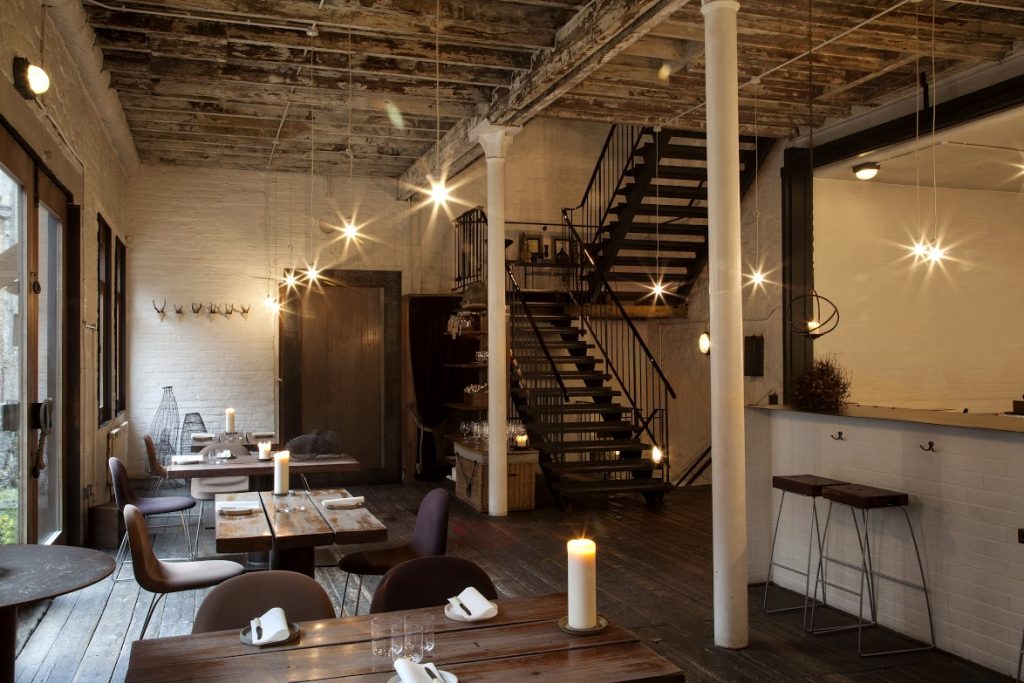 The epitome of industrial-chic, this old brick warehouse is now home to one of Edinburgh's finest eating establishments.
This award-winning, family-restaurant offers lunch, pre-theatre, four-, six- and eight-course menus – with ingredient-led dishes such as trout, fennel, samphire and buttermilk; or venison, elderberry, chanterelle and tarragon.
An on-site growing patch provides herbs and flowers, while everything else is sourced locally from growers, producers and foragers.
Timberyard also has a drinks list to rival the food – with intriguing cocktails and natural wines from small European wineries. The wood-burning stove makes it a special spot for a cold evening.
Pied à Terre, London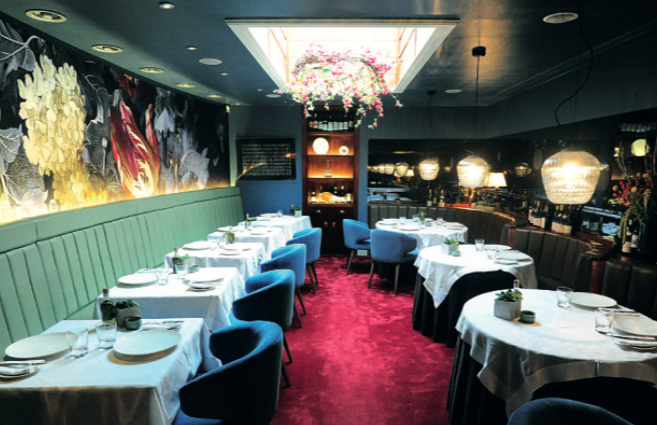 Head to Pied à Terre in London for a Michelin-starred restaurant that offers intimate surroundings with peaceful serenity. Inside you'll find a dining room that's light and bright with a crisp-white-table-clothed elegance.
The restaurant prides itself on ingredients, sourced from small, independent suppliers. You'll be able to taste the difference – the juicy plumpness of the tomatoes could rival those found on the markets of the Continent.
When the Liz Earle Wellbeing team was invited to the restaurant, we most enjoyed the salad starter – Saveurs d'Anthon tomato salad with cucumber, red onion, green pepper, wild oregano and pickled Cornish mackerel. A ganache of bitter chocolate with Sacher biscuit, feuilletine and cherry ice cream made a tasty pudding too!
With vegan and vegetarian options also on offer, this special restaurant has plenty to cater for all tastes.
Smugglers Bistro, Robin Hood's Bay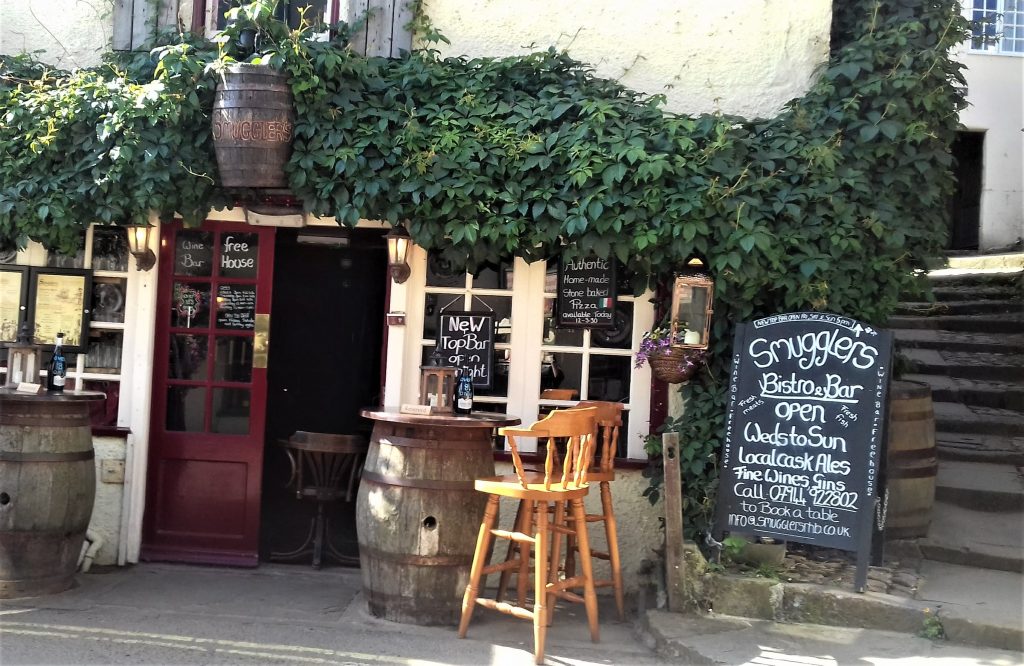 Nestled at the bottom of Robin Hood's Bay in Yorkshire, you'll find the intimate adults-only setting of Smugglers Bistro. This cosy, candle-lit bistro is perfect for spending an evening with your loved one, especially after a day enjoying the fresh sea air strolling along the beach.
Smugglers offers a delicious offering of comforting foods, specialising in seafood and steaks. Being just metres from the sea, you won't find fish dishes much fresher elsewhere. Our pick? The seafood linguini with fresh salmon, cod and mussels in a creamy garlic and white wine sauce is too good to resist.
While a little out on a limb for many of us, Smugglers is a must-visit if you're staying in the local area, and even has rooms to lodge in overnight. This can be a tempting choice as the only way out of the bay is a walk up a very steep hill!
The Oak Bistro, Cambridge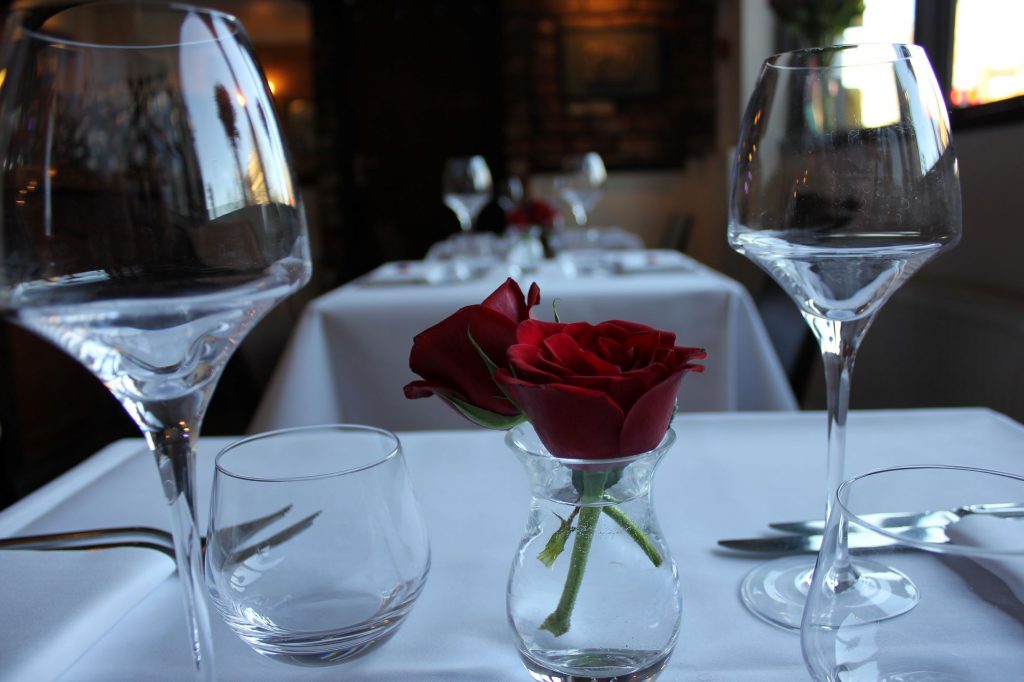 After a day's punting or strolling the streets and exploring Cambridge's stunning architecture, The Oak Bistro is the perfect setting for a romantic meal.
Serving local cuisine that's presented impeccably, The Oak offers an elegant dining experience with hearty meals in gorgeous surroundings. Exposed brickwork walls set the scene, while the friendly staff take care of your every need.
The garden offers a secluded courtyard for warmer evenings, but there are heaters if you're feeling brave on a chillier night.
There's a full three-course menu on offer, with vegetarian and vegan options to enjoy. Our favourite was the salmon en croute served with spring onion mashed potato and a watercress, spinach and white wine sauce.
Flora by Lima, London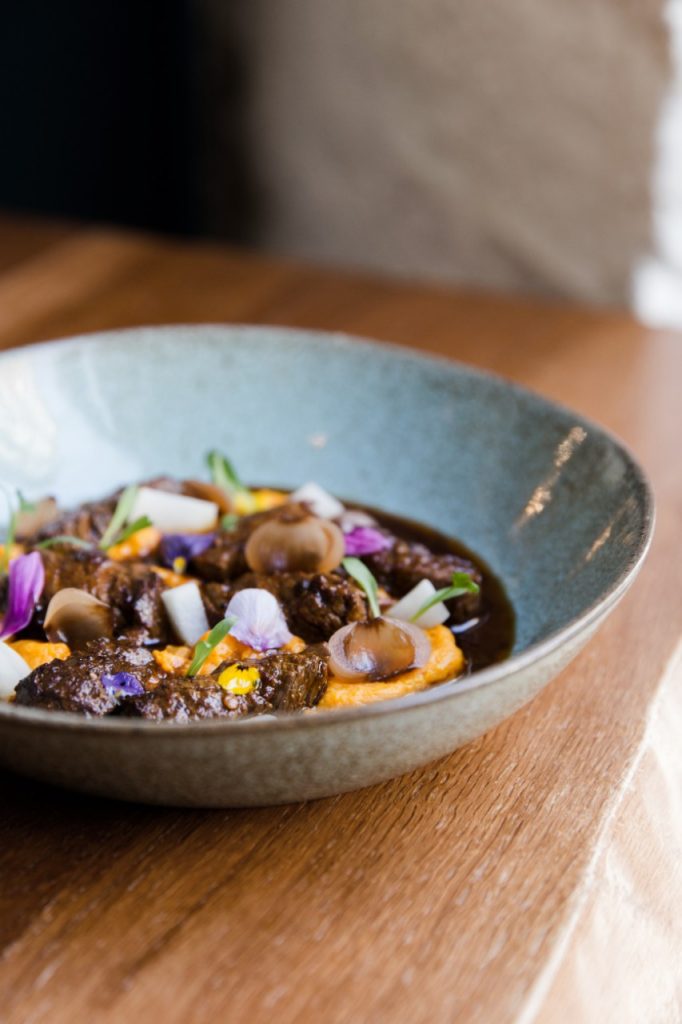 For something a little more fun, head to Floral by Lima. While not the most classically romantic of settings, the stunning food will have your loved one feeling weak at the knees.
In the heart of Covent Garden's Theatreland on Floral Street, this buzzing bistro is an offshoot of Lima, London's first (and only) Peruvian restaurant to achieve a Michelin star. Stepping through its doors is to take a trip on the Inca trail. Colourful décor, upbeat music and noisy chatter mingle with exotic smells and an other-worldy vibe.
The extensive menu is based on sharing platters and tasting plates. Our highlights were empanada de aji de gallina, tiny beef pastries with a cheesy dip; sea bream ceviche, followed by crisy squid and prawn tempura with a subtly spiced mayo. Finish with a fruity guava mousse.
Clos Maggiore, London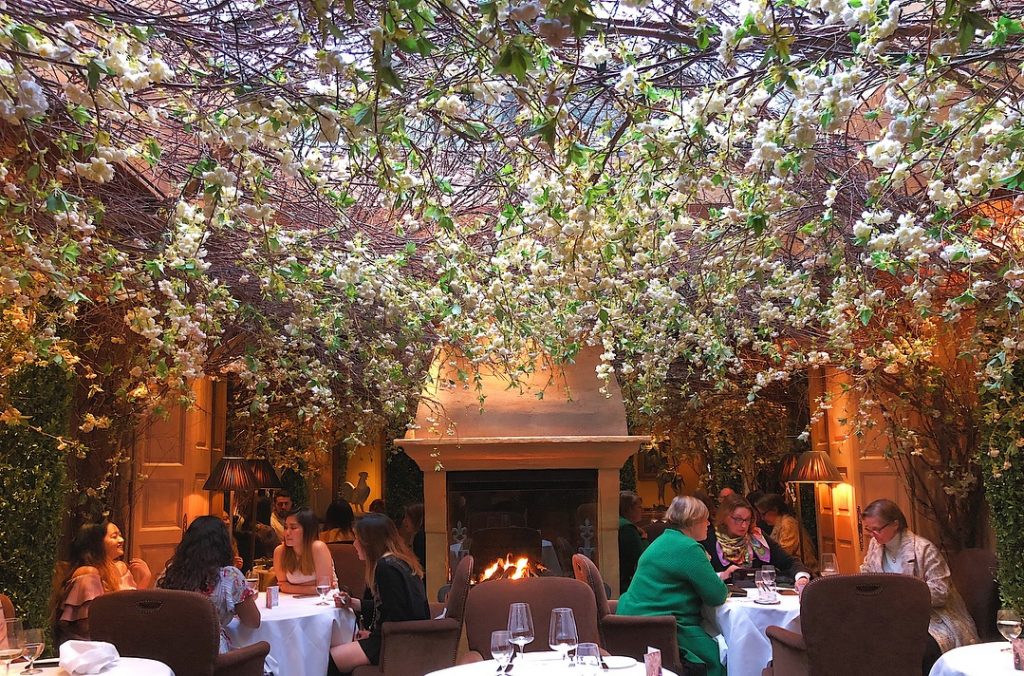 Voted the most-romantic restaurant in the world, Clos Maggiore in Covent Garden is a charming setting to enjoy with your loved one.
There's no doubt that the stunning surroundings of sing romance – from the beautiful blooms covering the ceiling to the warm décor, to the candlelit tables that surround a roaring fire.
The menu uses fresh, locally-sourced seasonal ingredients to produce dishes that have been inspired by Provence and Tuscany, with vegan and vegetarian options available.
Outlaw's Fish Kitchen, Port Isaac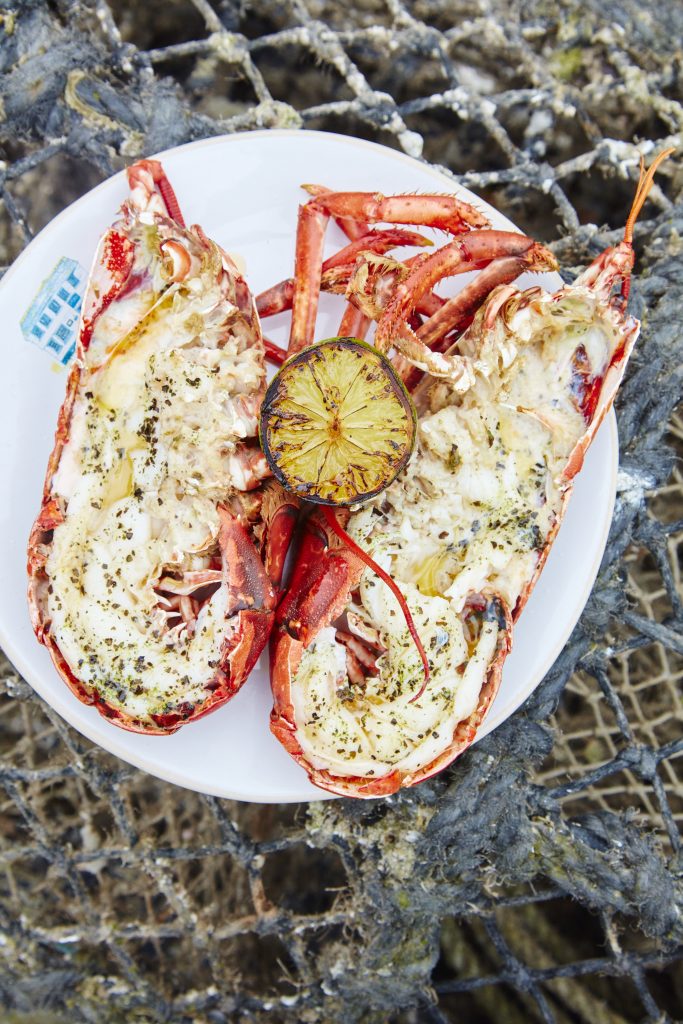 Set in a protected bay along the rugged north Cornwall coast, you'll find Port Isaac. Here, Outlaw's Fish Kitchen resides. This Michelin-starred restaurant is perfect for romance – with only eight tables in its low-ceilinged space, is the perfect cosy hideaway for a romantic meal.
The focus here is the seafood, with an exquisitely crafted, minimalistic menu designed around the fish. The board menu changes daily and is dictated by the tides and the weather. It all depends on what's been caught!
Outlaw's Fish Kitchen has sustainability at its heart, with every effort being made to buy local from inshore day boats that are certified by the Responsible Fishing Scheme. Low impact and totally delicious. We especially enjoyed the baked hake with cider onions, anchovy and tarragon butter, along with the griddled lobster with seaweed and lime butter.
Horse Guards Inn, West Sussex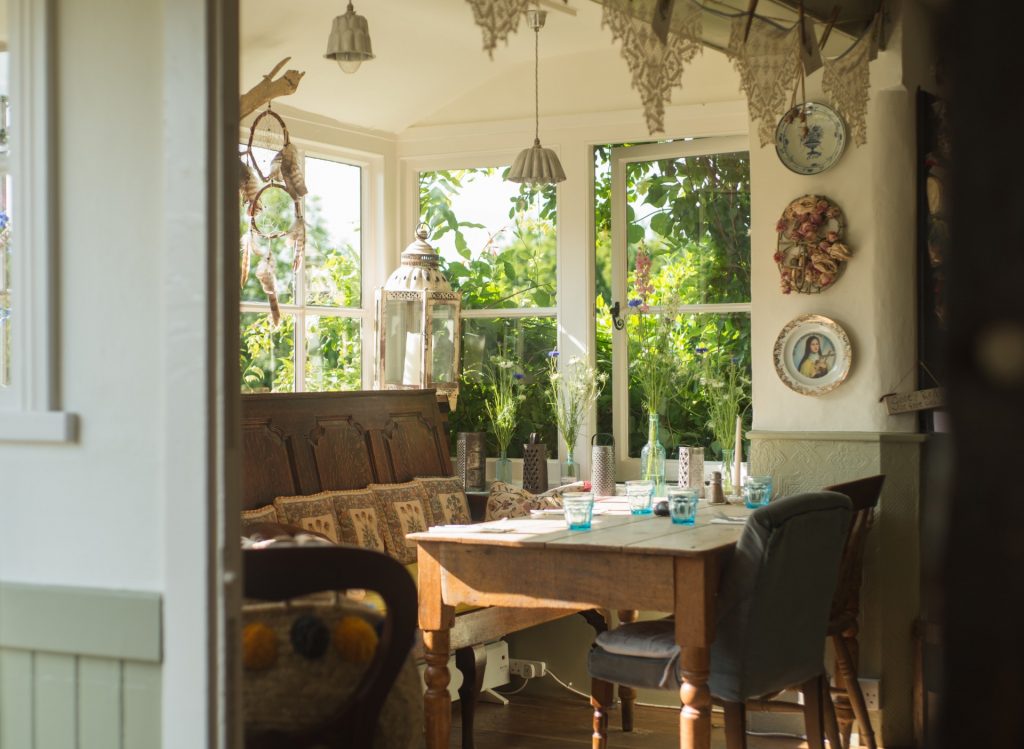 With sweeping views towards the nearby South Downs, directly opposite the church in the sleepy, picturesque village of Tillington, you'll find the most warming welcome at the multi-award-winning Horse Guards Inn.
The food is streets ahead of most other gastropubs, with practically every dish made from ingredients sourced from local and sustainable suppliers. You'll also find seasonal and foraged goods aplenty. We particularly enjoyed the whole-baked South Downs partridge served with bramble jus, baby vegetables and a bacon custard.
The atmosphere and character fills every inch of space at the Horse Guards Inn. Wherever you look, there are antique knick-knacks and curiosities adorning walls and windowsills. The perfect place for a cosy night in.
Read more like this