9 of the best cooling bedtime products for sleep
Struggling to keep cool at bedtime? Hot, sticky nights are a challenge at the best of times – and that's without the added difficulty of night sweats. The good news is that cooling sleep products can help to keep you calm and comfortable all night long.
Getting enough sleep is essential to our wellbeing and allows our brains time to rest and recharge. Studies suggest that a lack of sleep may put you at greater risk of serious health issues including obesity, diabetes and heart disease. A good night's sleep can help to get things back on track. Read our tips for creating a soothing sleep environment here.
Stay cool and keep sweaty nights at bay with our pick of the best cooling bedtime products.
Our pick of the best cooling bedtime products for sleep
We all love a hot water bottle on chilly, winter evenings, but the summer is an excellent time to give your water bottle a new lease of life.
A couple of hours before bedtime, fill your hot water bottle with chilled water and place in the fridge or freezer. Once bedtime rolls around, cuddle up to your bottle – you can wrap it in a towel first if you prefer – or place in the bed before you get in so that your sheets are wonderfully chilled.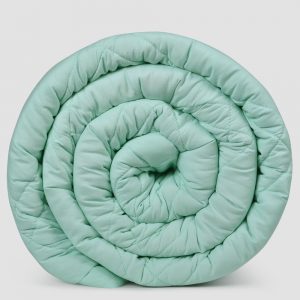 While a weighted blanket sounds like the last thing you'd want, choosing a cooling option may actually help you to sleep better.
Kudd.ly's cooling weighted blanket uses a combination of glass sand beads and a HydroCool shell. The combination allows for optimal airflow to keep you at a comfortable temperature throughout the night.
Weighted blankets can help to provide relief from anxiety, stress and chronic pain (all things that can stop us drifting off), helping to induce a truly restorative sleep.
While some swear by sleeping naked to keep cool, other experts believe it may be more beneficial to keep your clothes on.
Marks and Spencer's Pure Cotton Cool Comfort pyjamas come in a range of different colours from pink pinstripe to navy polka dot in sizes 6 to 22.
They're made from responsibly sourced cotton and the Cool Comfort™ technology keeps you comfortable throughout the night.
(use the LIZLOVES affiliate discount code to save 15% at checkout) 
Keeping a cooling facial mist on your bedside table can provide you with instant relief.
The Wellbeing team loves this rejuvenating frankincense option from Neal's Yard Remedies, which is suitable for all skin types.
This refreshing blend of organic frankincense, known for its relaxing properties, and neroli, which can also help you get a better night's sleep, will keep you as cool as a cucumber through the night.
From pillow cases to duvet covers, John Lewis' cooling bedding range is perfect for hot sleepers.
Soft and comfortable, the department store says the 100% cotton bed linen 'is made using high-quality cotton, specially spun to create a hollow core that traps air and wicks away moisture, helping maintain an even, comfortable sleeping temperature.'
Prices start at £9 for pillowcases up to £95 for super king duvet covers.
It might be a little on the expensive side, but many find Tempur's Cloud CoolTouch™ Pillow to be a worthwhile investment. It offers plenty of support and also comes with a Dreams CoolTouch™ cover.
The technology features yarns woven into the cover that gives you a cool-to-the-touch sensation.
Shoppers have praised the pillow for keeping them from getting too hot at night. Worth every penny, if you're struggling to sleep!
Another to keep in your bedside arsenal, the Hayo'u Method Clear Quartz Compress has an incredibly cooling effect on the skin.
Made from clear quartz, the compress can help to soothe stressed and tired skin, and in turn cool you down.
According to Chinese medicine, clear quartz removes heat from the body created from the stresses of the day, calms the mind and improves the flow of Qi (energy flow), making it the perfect piece of bedtime kit.
Rather than investing in a whole new mattress, a cooling topper can be great for hot sleepers.
This highly rated option from Aidapt is designed with an egg crate texture that contours to the body.
It also has gel infused beads to help regulate temperature and encourage you to get a good night's sleep during those hot and uncomfortable nights.
OLIVIEREWILSON's Cryo Sticks are another instantly cooling option to use in your bedtime skincare routine.
Cryotherapy rapidly cools the skin. Keeping these by your bedside can help to keep you chill if you wake up a little hotter than you'd like during the early hours.
Not only do they feel super soothing, they also help to depuff and brighten our complexion. What's not to love?
Read more articles like this