How can CBD help you?
CBD stands for cannabidiol (can-na-bid-i-ol). A natural extract of the hemp plant that is legal and non-intoxicating.
CBD is derived from legally grown hemp in the UK and has no trace of THC. THC is responsible for the 'high' associated with taking marijuana. CBD won't get you high, but could provide a number of helpful benefits. It's that simple.
How CBD can help
When should you use CBD?
Cannabidiol (CBD) is known to be a popular treatment for a range of issues including anxiety, stress, insomnia and pain. CBD can provide a gently calming effect, especially when combined with complementary botanicals and vitamins.
CBD and anxiety
According to the charity, Mind, anxiety is among the most common mental health problem, affecting as many as one in six people.
While there are numerous proven ways to relieve anxiety, including meditation, exercise, and breathing techniques, CBD oil is used by many to help manage anxious feelings and navigate life's unexpected events. Although CBD isn't currently recognised by the UK's regulatory bodies, there's growing evidence that suggests CBD oil may have a soothing effect on people's minds and bodies.
A 2015 review, for instance, found that CBD oil interacts with cannabinoid receptors in the brain to help regulate feelings of fear and anxiety. A more recent study, conducted in New Zealand, reported that a three-week course of CBD treatment had a positive effect on the day-to-day lives of participants experiencing anxiety.
CBD and sleep
In recent years, CBD has become a popular bedtime supplement, potentially helping with both the quality and quantity of sleep.
Moreover, CBD may support conditions such as Restless Leg Syndrome (RLS), the symptoms of which are often most severe at night. This condition is characterised mostly as an overwhelming urge to move the legs, often leaving people unable to rest.
Due to its calming properties, CBD could offer some relief to those experiencing RLS by helping to soothe feelings of tension and discomfort. According to a study by the Clinical Neurosciences Centre, 84% of participants found CBD helped to calm the more immediate symptoms of RLS.
CBD and sore, aching joints
It's estimated that in the UK, over 10m people have either arthritis or conditions that cause joint discomfort, pain or inflammation. Arthritis is often treated with a combination of physiotherapy and medication, and while CBD is not a cure for arthritis, more people are exploring its potential. A recent poll from the Arthritis Foundation found that 80% of respondents were either using CBD, had used it in the past, or were considering it.
Fibromyalgia is another chronic pain disorder that affects an estimated one in 20 people, the majority of whom are women. While the most prevalent symptom is musculoskeletal pain, sufferers often report feelings of stiffness, fatigue, hypersensitivity and insomnia.
Unfortunately, there is no cure for fibromyalgia. That said, there are several ways people can manage its symptoms. Many people living with fibromyalgia are adopting CBD to help soothe and ease the body, as well as get a good night's sleep.
Ready to try CBD? Meet Grass & Co.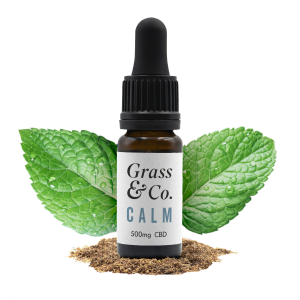 Grass & Co. is a premium CBD range that infuses the highest quality, best-tasting CBD with natural botanical and vitamin-packed blends.
The award-winning Grass & Co. CALM, REST & EASE ranges have been specially created to help relax your mind and soothe tension in your body.
CALM, REST & EASE include delicious CBD Consumable Oils, nourishing CBD Body Balms and Body Oils, as well as non-CBD products such as Aromatherapy Candles, Himalayan Bath Salts and peaceful Pillow Sprays.
How to safely source your CBD
The Grass & Co. team create CBD products with great care and meticulous attention to detail.
Grass & Co. customers can shop with confidence as the rigorous and independent CBD lab test results are openly shared on their website. These Certificates of Analysis shows a breakdown of each batch of CBD Oil and provide reassurance that each bottle contains the correct amount of CBD.
It's this unrelenting attention to every last detail that elevates Grass & Co. CBD into something special and why their customers tell them that it works!
Discover CBD today. Get 25% OFF the complete CALM, REST & EASE ranges with code FEELGOOD25 at grassandco.com. For a better night and day.
Grass & Co. and its materials are not intended to treat, diagnose, cure or prevent any disease. The information and products presented are not intended for medical use nor do they make any medical claims. Always seek the advice of your healthcare provider for any questions you have regarding a medical condition, and before undertaking any diet, exercise or other health related programme.