Abigail James' 8 tips for glowing skin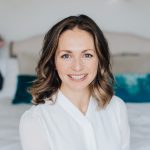 When I started my training, the world 'facialist' didn't exist. Now, it's rightly accepted that a therapist specialising in skincare is a true profession. Skin is our largest organ, and the best-trained therapists have studied the body as a whole and looked in-depth at the role skin plays in our all-round health and wellbeing. That's something we all need to consider if we want our skin looking and feeling its best.
Many factors contribute to skin health. These include conditions such as eczema and psoriasis, underlying health issues such as hormonal imbalances and food allergies, and taking medication. We don't all have the inclination to research these things ourselves, but we can expect our therapist to have, to help fast-track us to glowing, healthy skin.
My own treatments usually begin with a double cleanse followed by massage, exfoliation, steam, extraction and then a serum or mask. However, it's important to do your bit everyday at home. Here's how to boost your personal routine.
1) A pro will always massage their face
Make massage part of your daily ritual. It boosts blood flow, which transports fresh nutrients to skin cells and encourages detoxification. You won't over-stretch the skin if you work deeply, and you need to do this to get into the connective tissues and get the muscles to lift. I start below the jaw, stroking down the neck to encourage natural lymph drainage. Then move to above the jaw for a lifting effect.
2) Expand your skin toolkit
A single product will not get the results you desire. You may have found your perfect cleanser or moisturiser, but these are formulated to carry out particular jobs. Moisturisers, for instance, mainly hydrate; for other specific results, such as smoothing lines, layer up…
3) Layer up
It's possible to keep beauty routines reasonably simple, but get into the habit of applying a serum morning and night. These are often the products with active ingredients that will impact deeply and give results. In the morning, I might use a serum containing vitamin C or hyaluronic acid for brightness and plumpness. Usually, night serums include ingredients like retinol and codic acid (for pigmentation), as these work better over a longer period (and retinol can photo-sensitise the skin).
4) Mask-erade
Make masks part of your weekly routine, not just for special occasions. For deep cleansing, look for clays and charcoal. For hydration and radiance, try AHAs and plant ingredients for added nourishment. For combination skin, it can be a good idea to use different masks on the different areas.
5) Get tech savvy
If you want to step up your homecare, don't shy away from at-home skin gadgets. They may seem expensive, but if you compare the cost to that of a monthly facial, they can be a good investment. You'll often see me using mine on my Instagram. Clarisonics or Foreos boost cleansing, while at-home laser technology can help with pigmentation.
6) Don't forget the décolletage
Our neck and décolletage don't have the same natural plumpness as our faces, and being areas that catch the sun, they are at risk of becoming 'crepey'. Often, it's simply a case of applying the same products we use on our faces. I know many women who, by the age of 45, have begun wishing they'd starting doing this when they were younger.
7) Perfect your move
My tip is to massage your cleanser, pat and press your serum, tap and smooth your eye cream, and smooth your moisturiser and SPF.
8) Get a facial
Ideally, aim to get a facial every four to eight weeks, or, as a minimum, every three to four months, with the changing seasons. After three to four months, you may find the benefits of your most recent facial have been lost and you're back at square one. Skin cell turnover takes around a month, which is why it's a good idea to get into a monthly cycle.