15 best products for thinning hair – shampoos, conditioners and treatments
While it's common for our hair to get thinner as we age due to shifting hormones, hair loss often plays on our confidence and can be distressing. That's where the best products for thinning hair can help.
Thinning hair isn't just a common menopause symptom. Many new mums experience hair loss after pregnancy, stress and illness may cause hair to fall out, and over-processing with hot tools and harsh chemicals may also leave our locks feeling less than voluminous.
While products for thinning hair can't reverse hair loss, they can ensure your strands feel full of volume, and those that do grow are healthy and strong. From shampoos and conditioners to specialist treatments, we share 15 top products to help thinning hair for healthy, happy tresses.
The best products for thinning hair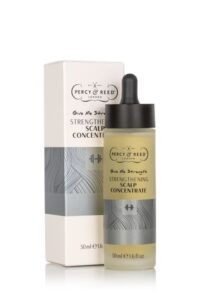 Percy & Reed's Strengthening Scalp Concentrate helps to rejuvenate brittle, weak and fragile hair. It's ideal if your hair is prone to falling and breakage.
This rescue remedy is rich in peptides and vitamins to help promote optimum conditions for hair growth.
Simply apply the concentrate directly to the scalp after each hair wash. Plus, don't forget to use the LIZLOVES to save 20% off your order.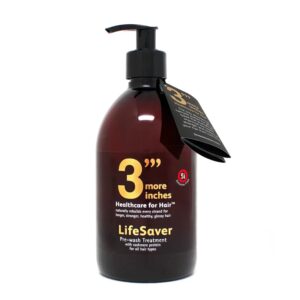 Used before shampooing, Michael Van Clarke's LifeSaver treatment can help to restore broken bonds, and infuse your hair with moisture to protect your tresses. It leaves hair feeling replenished, soft and shiny.
The treatment can also help to add extra volume, and combat the effects of hot styling. For extra luscious locks, leave the treatment on your 'do overnight.
Use LIZLOVES to save 15% off your order.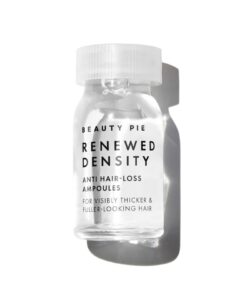 Like a shot of goodness for the hair, Beauty Pie's Anti-Hair-Loss Ampoules are packed with top quality ingredients to aid thinning hair and keep it in top condition. Redensyl helps to condition the scalp to reduce hair loss for a thicker appearance, while niancinamide helps to reduce excess oil on your scalp. The addition of arginine helps to moisturise the hair and scalp, working to fight dryness.
Each pack contains 14 vials to use on dry or damp hair and massage in. For an intensive treatment, Beauty Pie suggests using half of or a whole vial every day for a month, and once weekly thereafter.
Don't forget to use the LIZLOVES code to save £10 on your Beauty Pie membership.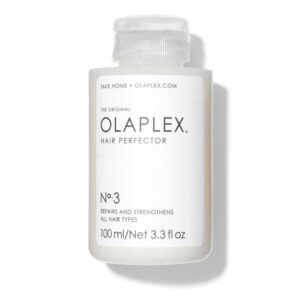 Olaplex's No.3 Hair Perfector can help to restore your mane to its former glory. It's ideal for hair that's become thin and brittle due to overstyling.
The No.3 10-minute pre-wash treatment aims to permanently rebuild damaged disulphide bonds in your hair. These are often compromised as a result of colouring, heat styling and everyday wear and tear.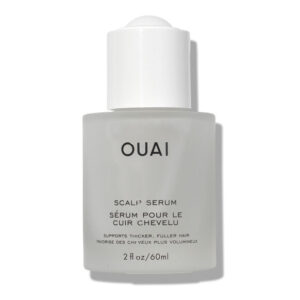 Created by hairstylist to the stars, Jen Atkin, Ouai's skincare-inspired Scalp Serum helps to restore balance to create an ideal environment for your hair to thrive. Expect thicker, healthier hair, with less shedding.
Ouai says the newly-launched product is perfect for thinning hair, a flaky or dry scalp, and those who want more volume.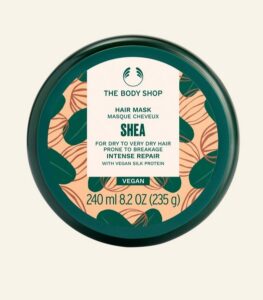 Breakage can cause our hair to feel thin. Have no fear. A dollop of The Body Shop's Shea Intense Repair Mask melts into locks to give dry and breakage-prone hair some serious love.
Ingredients include Fairtrade shea butter from Ghana, Fairtrade organic virgin coconut oil from Samoa, Fairtrade organic olive oil from Italy, and a plant-based silk protein to help replenish hair with moisture to stop breakage in its tracks.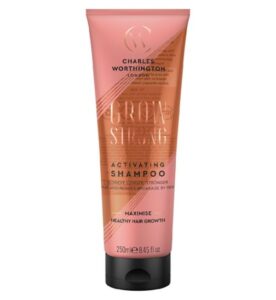 Charles Worthington's Grow Strong Shampoo helps to keep your scalp in tip-top condition, while helping to reduce the risk of breakage.
The gentle cleanser contains an enriching blend of root-activating pea sprout extract. It also contains protective nourishing proteins. Together, they work in synergy for longer, stronger hair.
Charles Worthington also offers a matching Protein Condition, Protein Treatment and Scalp Tonic in its Grow Strong collection, all with top rated reviews.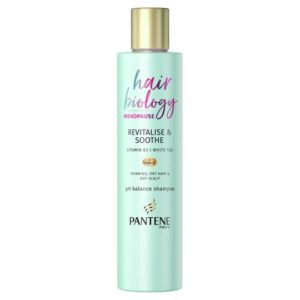 If your dwindling tresses are specifically caused by menopause (more on that here), Pantene has created its Hair Biology Menopause collection with you in mind.
Designed to be used every wash day, the shampoo helps to moisturise dry strands and calm the scalp without weighing down hair. Ingredients include vitamin B3 and white tea to help give the appearance of denser, fuller hair.
Pantene's Menopause range also includes, a matching Conditioner, a Thickening Root and Scalp Soothing Serum Treatment, and a Revitalising and Strengthening Hair Mask.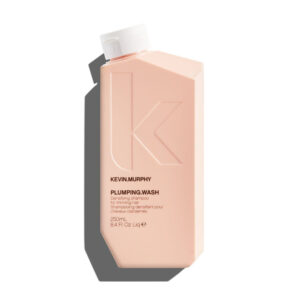 Designed for fine and thinning hair, Kevin Murphy's Plumping.Wash is a re-densifying shampoo. It uses a strengthening blend of ginger root and nettle extract to nourish each hair follicle and stimulate circulation.
The formula plumps and adds volume to fine and ageing hair, creating body without weighing it down for added oomph.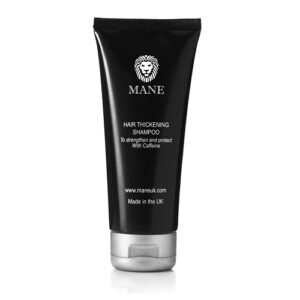 Mane has made a name for itself in the world of thinning hair products.
The brand's Hair Thickening Shampoo can help to thicken and strengthen your hair – leaving you feeling like you have a fuller head of hair.
It's suitable for long and short hair, and is unisex too. Warning – it may go missing in the shower!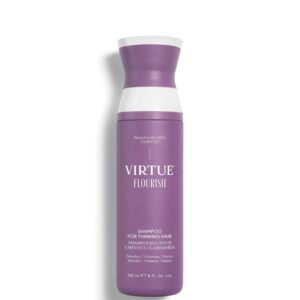 Powered by two groundbreaking keratin proteins, Flourish's Shampoo For Thinning Hair cleanses, purifies and enriches the scalp, creating fertile ground for new growth.
As each new hair emerges, it's nourished and strengthened, reducing the rate of breakage and helping hair grow to maturity.
Its fragrance will whisk you away to a spa too, with aromatic herbs, citrus, basil and patchouli essential oils.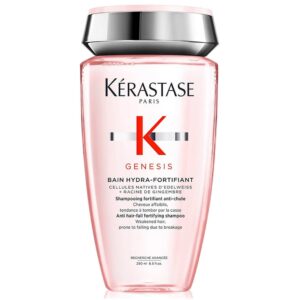 A fortifying shampoo for weakened hair, Kérastase's shampoo is enriched with edelweiss, ginger root and aquaxyl to clarify and help reinforce, to reduce the risk of hair breakage and fall.
The strengthening range also includes conditioners, masks and treatments. When used together, the haircare brand found that women reported 84% less hair-fall due to breakage.
What else can you do?
As well as topical products, we can also help fight hair loss with collagen supplements. Liz is a genuine fan of Ingenious Beauty Collagen capsules – £60 (save 15% with the code LIZLOVES), which can help to rejuvenate hair growth and prevent breakage for a softer, glossier feel.
Beauty tech, such as CELLRETURN's Hair Alpha-Ray, can help to stimulate hair growth with LED and NASA-derived technology. You can use the LIZLOVES23 code to save 10% on CELLRETURN products.
Gentle hair brushes can also help to keep your hair and scalp happy and healthy. We love the brushes from Manta, which are designed for minimum hair breakage and maximum shine. Use our LIZLOVES code to save 20% at Manta.
Meanwhile, Percy & Reed's Scalp Massager can also help to stimulate blood flow to create a healthy environment for your hair.
Read more articles like this