How to minimise the appearance of lip lines
While they're a normal part of ageing, you may be looking for ways to minimise the appearance of lip lines if they're impacting your confidence.
As we age, collagen levels decline in our body. This can contribute to fine lines becoming more pronounced around the lip area. Genetics and UV exposure also play a part in whether you develop more vertical lip wrinkles, but lifestyle choices, such as smoking, can be to blame too.
Here, we share the best products and treatments to get rid of lip lines and wrinkles.
How to get rid of lip lines
Best products for lip lines
Using products can help to improve lines around the delicate lip area over time or temporarily fill them in.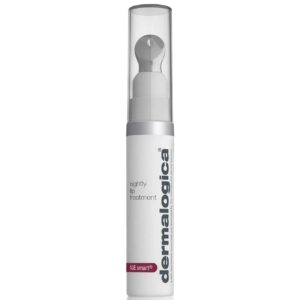 Dermalogica Nightly Lip Treatment (£45) is a rich overnight cream that tackles feather lines, dehydration and a weakened skin barrier in the lip area. The product is specially formulated to help reduce the appearance of lines and wrinkles.
Trinny London's Miracle Blur (£26) can be used to smooth out lines around the lip area temporarily before you apply makeup. The formula also helps to blur out pores and scars for a flawless base.
Weleda's Evening Primrose Eye and Lip Cream (£30.50) helps to strengthen the delicate skin around the mouth, improving the appearance of deep lines and wrinkles. Evening primrose oil is ideal for mature skin, which tends to be drier, as it is rich in unsaturated fatty acids.
VERSO Lip Serum (£36.66) is enriched with a powerful retinol to improve fine lines and dark spots in the lip area. The formula also uses hyaluronic acid and peptides to hydrate and plump the lips.
You don't always necessarily have to splash out on a new lip cream to improve the appearance of fine lines. One of Liz's beauty tricks is to use an eye cream around the lip area. The Wellbeing team loves CeraVe Reperative Eye Cream (£10).
View this post on Instagram
Cosmetic tweakments
Dermal fillers are one of the most popular options to banish lines quickly, although they're not for everyone.
Face and lip fillers are substances that are injected into your face, designed to 'fill in' wrinkles and provide volume. They aren't permanent, but can last from anywhere between six to 12 months.
Ensure to do your research on the clinic and its experts to ensure you'll be happy with the results.
Preventative measures
While we can't exactly rewind the clock, there are preventative measures you can take to stop lip lines appearing or worsening.
Giving up smoking, avoiding straws to avoid puckering your lips and applying SPF can help to minimise your chances of developing wrinkles around your mouth.
We love PCA Skin's Weightless Protection Broad Spectrum SPF 45 (£42 – use the LIZLOVES affiliate discount code to save 10%) for protecting our skin from damaging UV rays.
As mentioned earlier, declining levels of collagen can also cause fine lines and wrinkles to appear. The Wellbeing Team are fans of Ingenious Beauty Collagen for keeping skin smooth and plump. You can use the LIZLOVES affiliate discount code for 15% off at checkout.
Read more articles like this
All prices correct at time of publishing. Please note that we may earn a small commission from any purchases you make through the product links on this page. We never allow this to bias our coverage and always honestly review. Find out more about our affiliate policy.