S3E5: Vaginal dryness with Dr. Rebecca Lewis

In this episode of Wellness with Liz Earle, we are returning once again to the menopause. While many of us are comfortable talking about insomnia and hot flushes, we often find it less easy talking about vaginal dryness – a really common symptom which causes so much needless pain and distress. Liz is joined by GP and menopause doctor, Dr. Rebecca Lewis for an episode that has been kindly sponsored by Regelle. This is a long lasting vaginal moisturiser which gives relief for up to three days from just one application. It's non-hormonal and is clinically proven to provide immediate soothing relief from the symptoms of vaginal dryness.
You can stream the episode below, or download the recording via iTunes or Stitcher:
Inside the episode:
What are the symptoms of vaginal dryness?
Dr. Lewis explains how declining oestrogen affects the vagina.
Liz and Rebecca discuss the treatments that are available to those suffering with vaginal dryness.
What is the difference between vaginal moisturisers and lubricants?
Can lasers be useful?
Will vaginal atrophy go away if left untreated?
How does oestrogen impact our overall health? Should women be weaned off HRT?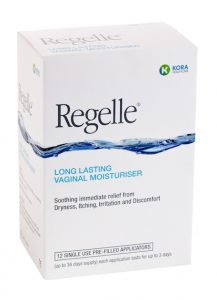 This episode is kindly sponsored by our friends at Regelle, a long-lasting vaginal moisturiser. They are also offering Wellness with Liz Earle listeners a 25% discount on the 12 pack of Regelle plus free p&p. Just use the promo code LIZEARLE at the check out. Shop now.

Resources mentioned in the episode: