Does the menopause give you itchy skin?
Issues such as hot flushes, night sweats, and mood swings get a lot of air time when we discuss menopause symptoms, while other less drastic but more niggling issues like itchy skin are often overlooked. Itchy skin is an especially bothersome symptom, and one which many women may not realise can be caused by the menopause. Also known as pruritus, itchy skin can develop in the perimenopause and menopause as oestrogen levels start to diminish. The drop in oestrogen levels we experience during the menopause can result in thinning of the epidermis (outer layer of skin) which leads to greater water loss and dry skin. Our skin also becomes more prone to ageing through sun damage; with lower levels of oestrogen, we produce less skin-plumping collagen. Read on for tips and tricks to prevent and alleviate itchy skin.
Shower Off
Long, hot baths or showers may already have been discarded from your routine if you are prone to hot flushes, and itchy skin may be another reason to turn the temperature down. Having a piping hot bath or shower can strip our skin of its natural oils, leaving it drier and more prone to itchiness. Instead, opt for a shorter, lukewarm dip of no more than 20 minutes. Avoid antibacterial or heavily perfumed soaps which may further strip the essential oils from our skin. Lavender essential oil, however, does seem to have mild pain-relieving and anti-inflammatory qualities, which may help soothe irritated skin if added sparingly to a warm bath, or you could try Liz's skin soothing Rose Petal Milk Bath for a relaxing soak. When finished in the bathroom, dab skin gently with a towel and then slather on moisturiser while skin is still damp. This will help to prevent moisture from leaving the skin.
Screen Time
Protecting skin from the sun is important for all skin types, but it is especially vital if you have developed dry, itchy skin. UV rays are very damaging to collagen, and with a reduced ability to restore our collagen levels, skin can become discoloured and wrinkled. While 10 minutes of exposure to sunlight in the summer is important for ensuring our bodies produce enough vitamin D, it is important not to allow yourself to burn, as reduced collagen levels make it more difficult for the skin to heal itself. A mineral sunscreen which physically blocks the sun's UV rays is the kindest option for sensitive skin; advances in mineral sunscreen development mean they rub in with less residue, so we no longer end up looking like a chalky cricket player.
Cotton On
Certain fabrics such as wool and synthetic fibres can really exacerbate itchy skin, so try to wear cotton clothing as a barrier underneath to prevent the urge to scratch. Opt for loose fitting nightclothes made of cotton to allow the skin to breathe at night. You can listen in to the Liz Earle Wellbeing Podcast where Liz discusses the benefits of organic, Fairtrade cotton with Rebecca Winckworth, the founder of organic and Fairtrade cotton company White and Green. Some specialist clothing companies even incorporate colloidal silver into their fabrics which can also help soothe irritated, eczema-prone skin. Colloidal silver is known for being a natural antibiotic, and you can purchase it in a spray bottle for skin application, to spray around the home, or even add it to a laundry cycle to add protection to clothes and sheets.
This colloidal silver spray comes recommended for alleviating a number of skin complaints.
Skin Deep
Studies on menopausal women with decreased levels of collagen have shown that applying oestrogen topically twice a day can considerably increase collagen production. In the studies, wrinkle appearance, pore size, and skin thickness showed marked improvements in women whose skin had not already been sun damaged – another incentive to slap on the sun cream as a preventative measure.
Fabulous Fats for itchy skin
Omega-3, found in soya products, oily fish such as mackerel and salmon, flaxseed oil and walnuts, plays an important role in skin hydration as it can help skin hold on to moisture, without which skin can become dry and itchy. Try Liz's very delicious recipe for salmon with pumpkin seed pesto for a hearty kick of omega-3 – it could even help soothe your itchy skin.
Loved this? Read on here:
– Bake Liz's phytoestrogen-packed menopause loaf
– How to manage hot flushes and night sweats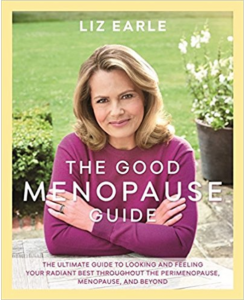 Order your discounted copy of The Good Menopause Guide now for more great tips on how to feel at your best during the perimenopause, menopause and beyond.