Chilli hot chocolate with orange shortbread
Ingredients
150g good-quality dark chocolate (at least 70%)
1/2-1 tsp chilli flakes
1 tbsp good-quality cocoa powder
1/2 tsp nutmeg
Pinch of sea salt flakes
600ml full-fat milk
Honey, to taste
For the ginger shortbread
100g butter
125g wholemeal flour
75g plain flour
50g caster sugar
1 orange, zest
125g stem ginger, finely chopped
1 tsp ground ginger
Chilli flakes and sugar, for dusting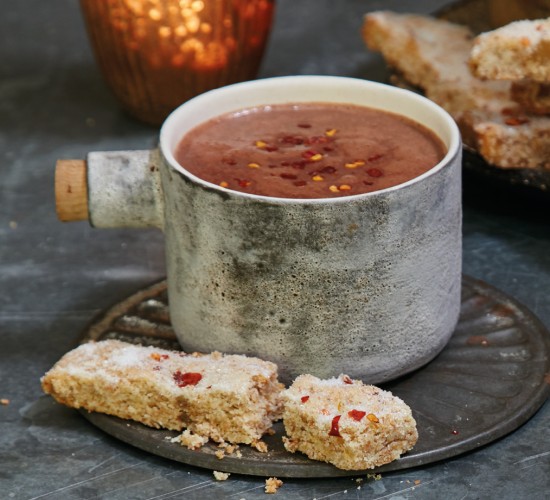 This thick, rich winter warmer is perfect for nights spent curled up on the sofa in front of a roaring fire. The chilli gives the hot chocolate a warming depth rather than a fiery kick.
Method
To make the hot chocolate, grate the dark chocolate into a bowl, then add in the chilli flakes, cocoa powder, nutmeg and salt.
Heat the milk over a low-medium heat and once it's warmed through, add in the chocolate mixture. Whisk well, stirring until the chocolate mixture has melted. Simmer for a few minutes to thicken the mixture, whisking continuously. Add honey to taste.
To make the shortbread, preheat the oven to 180°C/350°F/gas mark 4. In a bowl, rub the butter into the mixed flour and sugar with your fingers. Add the orange zest, stem ginger and ground ginger. Still using your hands, mix until the texture resembles course crumbs.
Carefully press the dough down into a small baking tray lined with baking paper. Use a knife to score the dough into finger shapes and prick all over with a fork. Sprinkle with sugar and chilli, and bake in the oven for 6-10 minutes until golden (keep in longer if you want them crispier). Cool in the tin for 15 minutes, then lift out using the paper and cut the shortbreads through with a knife to separate.
Enjoy the shortbreads dunked in the hot chocolate.