How Liz and the Wellbeing Team are spending lockdown
The lockdown due to coronavirus has turned all of our lives upside down – including that of Liz and her Wellbeing Team. Taking care of our health and wellbeing has never been so important, but it doesn't come without its challenges.
Here, we explain how we've been spending lockdown and share the ways we've been keeping well and spirits high during this strange old time.
Liz, Editor-in-Chief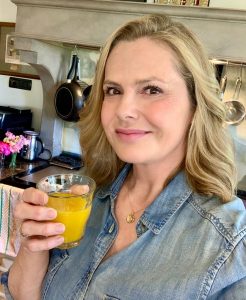 Lockdown has been a bit of a mixed blessing if I'm honest. On the downside, the juggle of having university students unexpectedly back home, home-schooling the younger ones and the loss of our one farm worker here means daily homelife has been pretty stressful.
Living in the countryside on a farm can seem pretty idyllic on Instagram, but the bleaker realities can be lonely isolation, no neighbours for a friendly doorstep chat and two-hour queues at the one rural chemist for miles. Not to mention the terrible broadband! Our internet struggles to cope with the demands of online home schooling, teenage YouTube or TicTok loading plus my Zoom meetings. And you can forget about streaming Netflix!
But the unexpected upsides have brought some positives too. I've absolutely loved doing my daily Instagram Lives (now with Facebook added in too) and building our online Liz Earle Wellbeing community over on YouTube. I've done things I never dreamt I'd be doing, such as filming a personal workout in my bedroom or showing my roots to the world in a hair colouring tutorial!
It's been just lovely to connect with so many as a 'lockdown support buddy' and be able to bring my personal 'world of wellbeing' to life right here from my home farm. I'm looking at ways to continue this past lockdown. I very much hope to stay connected with our magazine readers and podcast listeners for the long-term.
As a family, we've also been sitting down to eat together every evening (something that rarely happened before). This has been a great point of sibling bonding especially. And because our WiFi is so unreliable, we've gone back to board games, jigsaws and crafting as a gentler and more relaxed way to pass the time.
Polly Beard, Managing Editor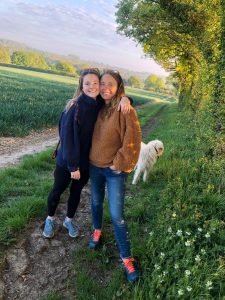 My two kids, both in their early twenties, are now back living with me in lockdown. It's been quite some time since we all spent this much time together – it's usually just the odd weekend or a few days at Christmas. While it's lovely to have them back at home, it's also been challenging at times. For all of us!
Now that we have very separate, busy working lives, we actually need three home offices, not just one for me. The house feels pretty cramped as a result – every available surface or table seemingly covered in files, laptops, phones, chargers.
We've found that just five minutes spent clearing away our individual makeshift offices at the end of the day has made a real difference to harmonious family living. The house quickly feels more like our home again, plus it makes all of us switch off at roughly the same time.
We've built a tiny makeshift 'pub' at the bottom of the garden too. This is a space where we can catch the last the of sun's rays and celebrate getting through another day of lockdown without too many arguments. We enjoy a tipple of our choice and it's been lovely to reconnect with each other.
Betty Beard, Image Editor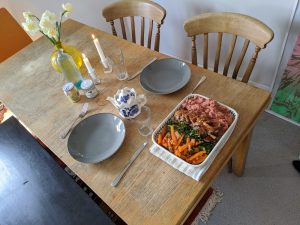 Lockdown has changed my daily life in many ways, the biggest of which is being confined to a flat with no outside space. This has been a struggle, especially as the sun seems to have been shining more than ever recently!
I've taken up running to make the most out of my time outside of the flat. I've been following the Couch to 5k podcast by the NHS. I'm not a natural-born runner, but starting this new hobby has taken me by surprise. It's turned out to be essential to keeping me sane! I've also been doing a daily 15-minute workout with Freeletics. This is a great exercise app that you can do from home, helping to break up my day and keep me focussed.
Luckily, I was an avid cook before lockdown, so I've been using the luxury of extra time at home to experiment with food and come up with my own recipes. I've also made an effort to shop locally. From my local butchers and fishmongers to the farm shop and cheesemonger, it's been great supporting small and independent businesses.
Lou Howells, Head of Digital and Marketing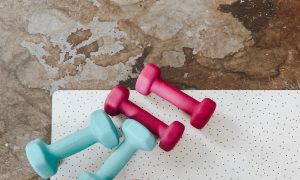 Under normal circumstances, a flat near London's popular Camden Town is a busy and exciting place to live, with music venues, restaurants and parks right on my doorstep. But during lockdown, my flat is bursting at rim with just two adults and two senior dogs in residence.
I usually consider my flat to be a large one-bedroom flat, but now I'm realising the impact the lack of space. With little entertainment except eating and watching TV, ensuring I get enough exercise is one of my main priorities. There's just enough space to do yoga or Pilates in the living room, but trying to introduce some cardio is trickier. Luckily, a while ago I purchased an exercise rebounder.
A rebounder is a small trampoline that you can jump up and down on for exercise. It's low impact and can be done in bare feet. It's great for aerobic exercise, and works the core, leg and bum muscles. I have attended a number of rebounding classes, so have a good idea of the different moves. I created my own playlist of around 30 minutes, combining jumping, jogging and dancing.
To introduce upper body exercises, I try to move my arms around as much as possible. Songs like YMCA and anything with dance moves are perfect.  I also use small hand-held weights to punch, row and curl, exercising my arms, shoulders and upper back.
Just dance!
Speaking of dancing, my other favourite home exercise is playing Just Dance on my Nintendo Switch. Just Dance is a game which shows you dance moves for you to dance along with, using the Switch's motion controls to keep track of your actions. You can play alone or compete with up to three friends (if you have the space).
If you don't have a Nintendo Switch, you can still join the fun at Just Dance's Youtube channel. There'll you'll find loads of dance routines but with the added benefit of not being scored.
Fitness trackers
I've had a Fitbit Charge 3 for a while, using it to keep track of my heart rate during exercise. Heart rate monitors are available on a number of different fitness trackers, but they all have the feature of tracking the number of steps you take. This is more useful now than ever as we're all trying to ensure we're keeping moving.
Emma Winterschladen, Food and Travel Editor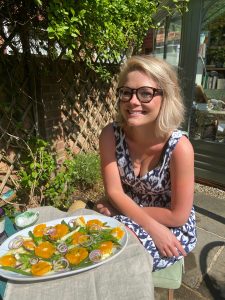 It's amazing how being told you can only leave the house once a day for exercise makes the idea of both leaving the house and exercising all the more alluring! In pre-lockdown life, I could have spent a day indoors attached to my screen and chair, and yet now I look forward to my daily jog around town. I've discovered places I didn't know existed – a peace garden tucked quietly amidst our local nature reserve (which previously I'd only ever been to a handful of times); an old abandoned building built in 1812, replete with vines growing out of its boarded up windows (fodder for the imagination!); a secret area of overgrown wilderness under a bridge I've walked over many times. That sense of adventure and curiosity has been really important for me in counterbalancing the claustrophobia I've sometimes felt at not able to leave town.
It's also helped me pay more attention to the world around me. The birds seems to be singing louder all of a sudden, and I don't know if that's because they are, or if I've just started listening.
As for when I'm inside the house, which is most of the time, I've slowly been learning what it is I need (and don't need) to help me have a 'good (enough) day'. For me, this means having a routine that's flexible but always includes: starting my day with a pot of fresh coffee in my reading nook, yoga of some sort (even if it's just a jiggle and wiggle about in the morning), a call with family or friends, restricting my 'news diet', drawing and dancing at least once a day (not at the same time), turning my screens off at 9pm and reading a book before bed, and – perhaps most importantly – feeding myself good food.
With this in mind, I've been hosting daily #LockdownLunches on my Instagram live with my partner Tom. Not only has this been a lovely thing for us to do together (he's in the army and often works away), but it's a pocket of time each day to slow down and connect with myself, Tom and my community. This is all the while cooking and eating a delicious, creative meal with whatever we have in the fridge and cupboards. Small, everyday joys have never felt so bright and essential.
Ellie Smith, Senior Health and Beauty writer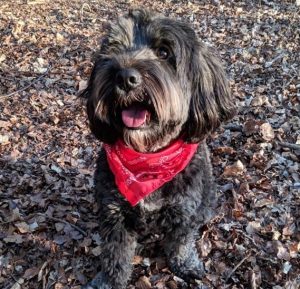 Despite its challenges, lockdown has given me the perfect opportunity to fall back on the time-tested wellbeing strategies I know work for me. These are journalling, weight-training and fasting.
I'm starting my day with Julia Cameron's Morning Pages. This involves writing whatever pops into my brain, stream-of-consciousness style for three sides of A4 (it takes about 20 minutes). It's a perfect opportunity to tune in with how I'm feeling and what I might need that day. I've noticed that, on days where I skip this practice, I'm much more irritable.
When it comes to exercise, I'm lucky enough to have a few pairs of dumbbells and some resistance bands at home. I've been alternating upper body, lower body and core workouts using many of the exercises listed in A Stronger Slimmer You. On rest days, I turn to yin yoga (I love the Glo app) and walking my dog Tilly in the park.
I've also fallen back into a routine of intermittent fasting which gives me a much stronger sense of rhythm and routine in my day as well the many gut-health benefits. On most days I follow a 16:8 routine (16 hours of fasting, 8 hours of eating). This involves pushing my first meal of the day to around midday. I've been using the free Zero app to track my fasting hours and even experiment with some longer 18:6 and 20:4 fasts.
Amy Moore, Website Editor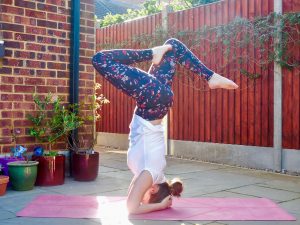 The biggest change in my routine that I've noticed since lockdown is my approach to exercise. Before lockdown, I was walking to work each day and heading to regular classes at my local yoga studio. I'm lucky enough to be able to work from home, but this does mean I now sit down a lot! 
I've started running first thing in the morning before I start work. This has worked wonders for my fitness, but also helps to clear my head before starting the day. I also then fit in a 20-minute high-intensity workout during the day to get me away from the screen for a few minutes and my body moving. I just downloaded an app on my phone, so it's only a few taps away.
Rather than sitting and watching TV all evening, I'll roll out my yoga mat and follow an online class to help me wind down and ease out any tension from earlier in the day. Exercise has definitely helped me to find a routine and give me something positive to focus on.