Watermelon and feta salad with rosewater vinaigrette
Ingredients
For the salad
½ large watermelon
1 red onion
150g feta cheese
150g pistachio nuts
Handful fresh mint
Rose petals
For the dressing
3 tbsp rosewater
1 lemon, juice
3 tbsp balsamic vinegar
5 tbsp olive oil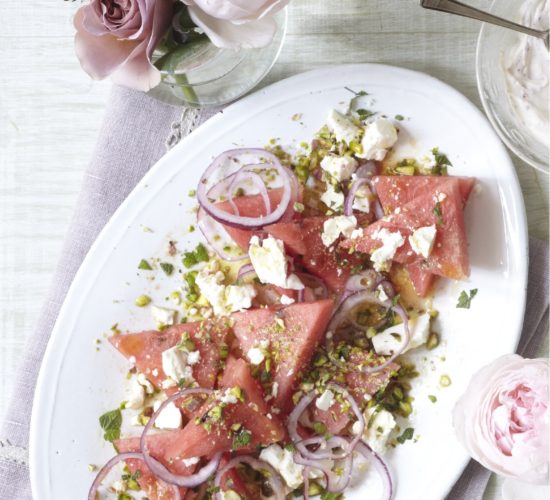 As soon as the weather warms up, this foolproof watermelon, feta, mint and pistachio salad with a fragrant rosewater vinaigrette is exactly what we're craving. Refreshing and so simple to rustle up, it's light in calories but big on flavour and makes the perfect lunch to enjoy al fresco.
Method
Mix up your dressing, shaking well.
Chop up the watermelon into medium chunks and place into a large bowl. Finely slice the red onion and add it into the bowl. Pour in most of the dressing and mix well. Then, just before serving, add in the pistachio nuts (saving a few for garnish) and fresh mint. Toss well.
Once on the serving plate, finish by adding the feta cheese, the last of the dressing, the remaining pistachios and fresh rose petals on top.
Loved this? Read next: 
Strawberry salad with goat's cheese and walnuts
Wellbeing Wisdom
Rich in special compounds called phytonutrients, watermelons are one of nature's aphrodisiacs
Watermelon also contains lycopene, the pigment that gives it its glorious pink colour, which can improve circulation