Watercress and pea fritters with minted yoghurt dip
Ingredients
For the fritters
40g butter
60g spring onions, finely chopped
2 cloves of garlic, crushed
50g watercress, finely chopped
450g frozen peas, defrosted
4 eggs
100g feta cheese, crumbled
Pinch of chilli flakes
1 lemon, zest
Salt crystals & black pepper
50g plain flour
Olive oil, for frying
Yoghurt dip
400g plain Greek yoghurt
Large handful of fresh mint leaves, finely chopped
Salt & pepper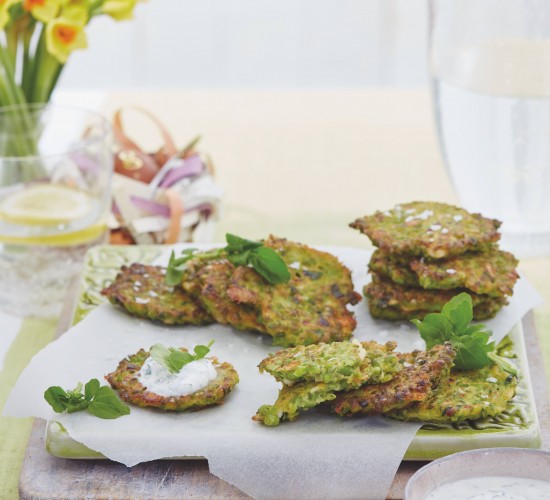 Perfect for a light lunchtime snack or tasty nibbles for a group get-together, these pea fritters with dark green watercress are a guaranteed crowd pleaser.
Method
Melt the butter in a frying pan, add spring onions and garlic, and cook gently until soft. Add the chopped watercress, stir for a minute, then leave to cool.
Blitz the peas and eggs in a food processor for a few seconds until mushy but not completely puréed. Pour the egg and pea mixture into a mixing bowl, adding the feta, chilli flakes and lemon zest.
Stir in the cooked onion, garlic and watercress, and season generously before folding in the flour. This will happily sit for a few hours in the fridge if you're planning, or you can cook it immediately.
When you're ready to cook, heat a glug of olive oil in a frying pan until sizzling. Drop in several several tablespoons of fritter mixture, spaced well apart and turn the heat down to medium. Flatten each one lightly with a spoon and cook for 3-4 minutes until golden brown. Flip over and cook the other side for 2-3 minutes, then remove, blot off excess oil and keep warm. Continue until the mixture is finished, adding a little more oil in the pan as needed.
Mix the chopped mint leaves into the yoghurt, season and set aside.
Sprinkle the fritters with salt crystals and serve warm with the yoghurt dip.