Venison carbonnade with garlic croutons
Ingredients
For the carbonnade
500g diced venison*
800ml Guinness or stout
1 bouquet garni – fresh bay leaf, rosemary sprigs, thyme sprigs and celery leaves
4 cloves
2 banana shallots, sliced
1 carrot, chopped
1 celery stick, sliced
1 tbsp olive oil
250g cubed pancetta
2 tbsp flour
500ml beef or veal stock
4 x 2cm slices of ciabatta
3 cloves of garlic, halved
Small bunch of parsley, chopped
Salt and pepper
For the carrots
300g baby carrots
75g butter
1 tbsp sugar
1 tbsp chopped
1 tbsp chopped chives
1 tbsp chopped Brazil nuts, or hazelnuts
*Use good-quality stewing beef if you'd prefer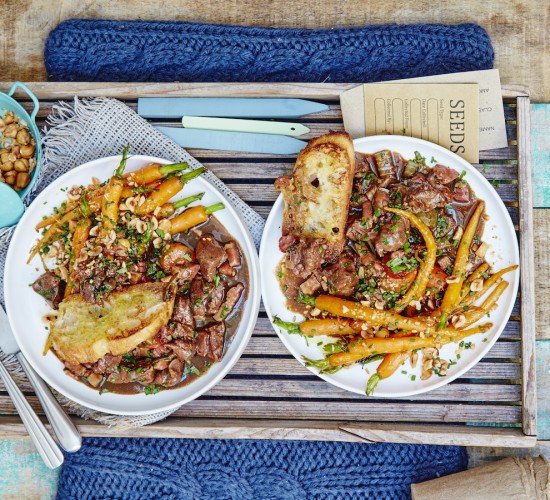 Celebrate the autumn season's abundance with Nico Ghirlando's rich and vibrant venison carbonnade recipe – perfect for making the most of British produce available during autumn.
Method
Marinate the venison in the stout, bouquet garni, cloves, shallots, carrot and celery for at least four hours (better overnight).
When ready to make the carbonnade, drain the venison, making sure to reserve all the vegetables and liquid for cooking. Pat the meat dry with kitchen paper and season well.
Brown the meat in a little olive oil in a sauté pan. You may need to do this in batches. Add the pancetta cubes and cook for five minutes until golden. Add the flour, stir well and cook for a minute or two longer. Transfer to a deep, heavy-based pan and pour in the veg, stout marinade and stock. Bring to the boil, then turn down the heat and simmer for about two hours, until the meat is tender and falling apart.
Meanwhile, drizzle the bread with a little olive oil and grill on both sides until golden. Rub each side with the garlic and set aside.
Cook the carrots in a little water until tender then drain and return to the pan with the butter and sugar. Cook until glazed then toss through the chives and nuts. Keep warm.
Stir the chopped parsley through the venison stew then serve it topped with a croûton (leave them in the juice for a few minutes before serving so they soak up a little of the sauce on the bottom but remain lovely and crisp on top.)
Sprinkle with a little more parsley and serve with a twist of black pepper and the carrots.
Note: This is also great in the slow cooker. Four hours on high should do it, or eight hours on low. Marinate the night before, then get going in the morning for supper.