Our top recycled craft ideas
These craft ideas are the perfect way to transform used household items into gorgeous decorative pieces to liven up a dinner party, particularly if dining alfresco. Rather than splashing out on single-use, plastic decorations when hosting friends, these simple crafts are made from items you'll already have lying around your home, waiting for a new lease of life.
Somehow there's never quite enough room in the kitchen drawer for all the tea towels we accumulate over the years. Turning them into cushion covers is really simple, and looks super smart with a ribbon trim that secures them to the chair.
Paper lanterns are a great way to use up old newspaper. Battery-powered candles can be bought cheaply, or these can be attached to fairy lights to make a fun decoration.
Decorated with your friends' initials, these glasses make truly unique placeholders so that your guests know where to sit.
Decorated with off-cuts of ribbon, these tin-can lanterns exude bohemian chic. Simply hammer holes in your desired pattern, through which a tea light will emit a soft glow. These make gorgeous ornaments whether dining in or out, and are particularly atmospheric in a dimly-lit room.
Loved this? Read on here: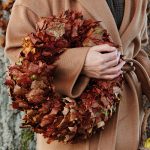 Simple yet effective autumn crafts