Login to view this article
A few of our features and recipes are exclusive for our newsletter friends here at Liz Earle Wellbeing. If you'd like to join them, it takes seconds to sign up, it's completely free to do so, and you'll receive:
Instant access to all our website content
A personal 'My Wellbeing' page to save your favourite recipes.
A monthly newsletter where you'll be the first to find out about our exclusive offers, events and competitions.
Turmeric coconut latte
Ingredients
500ml coconut rice milk
2 tsp turmeric powder
1 tsp honey (to taste)
Cracked black pepper
1 tsp coconut oil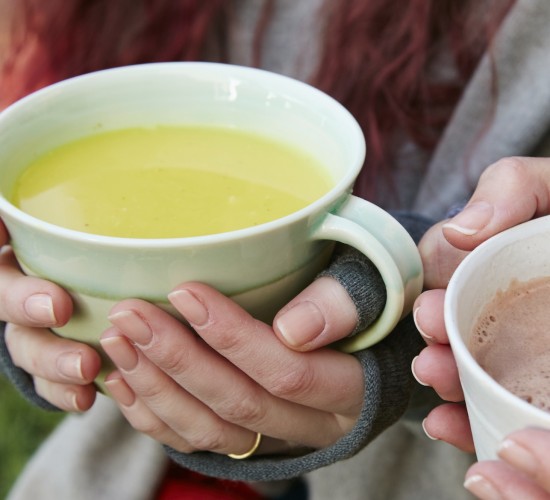 Nothing warms the body and soul on a cold day quite like a steaming cup of something delicious. This turmeric latte is an aromatic and caffeine free alternative.
Method
Place the milk and turmeric in a saucepan and gently heat, whisking as you go until the turmeric dissolves. When it reaches your preferred temperature, add in honey and black pepper to taste, then stir in the coconut oil.
If you prefer your latte extra frothy, use a hand-held milk frother or place the warm drink in a blender and blitz for a few minutes. Serve with a sprinkle of turmeric and some black pepper.
NOTE: For a little extra spice, add some chilli flakes or stir in some freshly grated ginger.
Save
Wellbeing Wisdom
Black pepper helps increase the 'bioavailability' of turmeric's active compound 'curcumin', which has been shown to have antibacterial, antioxidising, and anti-inflammatory properties
Studies have shown that turmeric may help to reduce our risk of depression, asthma, eczema and even cancer