Wipe out! Government to ban wet wipes
Wet wipes may be banned as the government has announced plans to eliminate plastic waste. The Department of Environment, Food and Rural Affairs (Defra) is seeking to eliminate all avoidable plastic waste as part of their 25-year environmental plan. This includes wet wipes which contain non-biodegradable plastic and cannot be recycled.
For many of us who are rushed off their feet, wet wipes offer a speedy solution for removing make up in a hurry. This convenience, however, may be outweighed by the detrimental effect that wet wipes are having on the environment. According to a report by Water UK, wet wipes make up 93% of the material that causes sewer blockages, or 'fatbergs', which in turn can lead to sewer flooding, damaging our homes and the environment.
While it can be tempting to reach for a wet wipe to take off make up at the end of a long day, there are a convenient reusable alternatives which are much kinder to your skin and the environment. If you don't want to cover a face cloth in black smears, these pads are a good place to start:
Made with bamboo and minky, we love these reusable colourful pads which can be used to remove make up before cleansing in place of wet wipes. Simply apply organic extra virgin coconut oil over your face and the make up will melt away after a gentle wipe with a hot water-soaked pad. Pop the pads in the wash with your laundry – store them in a mesh bag if you are concerned about losing them in the notorious washing machine 'void'…
Loved this? Read on here…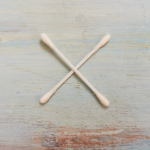 – Did you know we can't recycle tissues and kitchen towel? Here's what we can and can't recycle…
– Check out our favourite green home cleaning products.