Win a Connected Thermomix TM5
Transform your cooking with the ultimate kitchen appliance worth over £1,000*!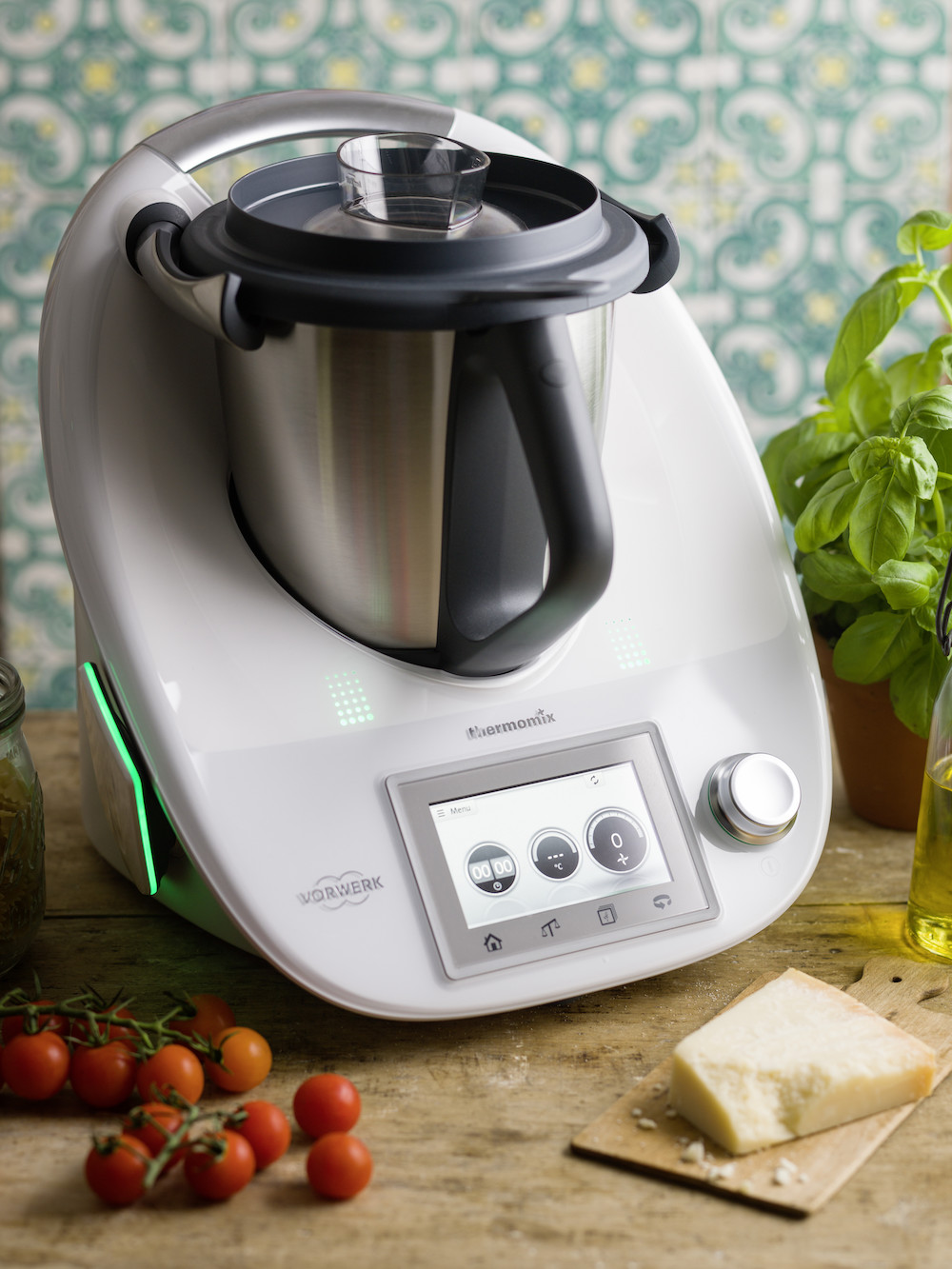 Thermomix© is a multi-functional premium kitchen appliance that weighs, chops, blends, mixes, grinds, grates, cooks, steams, sautés, whisks and kneads, all at the touch of a button. German-engineered, its quality is renowned by professional chefs across the world, and many Michelin Star restaurants rely on its guaranteed results, including Heston Blumenthal's Fat Duck, which has 15 of these machines in its kitchen. However, the Thermomix© is not just for professionals. Its digital ecosystem, Cookidoo© can help plan shopping lists, prepare meals and guide amateur chefs through easy-to-follow recipes, meaning less time is spent in the kitchen and more time enjoying the fabulous end results. With over 40,000 recipes to choose from covering global cuisine, mealtime inspiration is endless and freshly prepared platefuls are simple, nutritious and delicious. The stainless steel mixing bowl, blade and lid are all dishwasher-safe, and the compact unit weighs less than 8kg. The finishing touch is a full colour touchscreen that displays step-by-step recipes.
*Competition includes 1 x Thermomix®, 1 x Cook-Key® and six months' free subscription to Cookidoo®.
Enter via the form below to be in with your chance to win. Terms and conditions apply – you can read our terms and conditions below the entry form. You can also read Liz Earle Wellbeing's privacy policy here and Thermomix's privacy policy here.
---
Terms and Conditions
This competition is open to everyone except for Liz Earle Wellbeing, Thermomix and Vorwerk employees and contractors (and their families), their associated companies, agents and anyone directly connected with the organisation, and operators of its brands.
Competition is open to UK and RoI residents aged 18 or over.
Entrants may be contacted by Liz Earle Wellbeing, Thermomix and Vorwerk in connection with this offer, and will be asked if they wish to opt in to receive marketing communications from Liz Earle Wellbeing, Thermomix and Vorwerk. We never share marketing data with anyone else and you can unsubscribe at any time.
The winner's details will be shared with Thermomix and Vorwerk so that they can arrange the delivery of their prize.
A limit of one entry per person will apply.
No bulk, third party or automated entries are accepted. No responsibility is accepted for any entries that are incomplete, lost or delayed or are unable to be handed in because of any technical fault or other reason.
The start date of the competition is 12pm (GMT) on 7th November and the closing date for entries is 12pm (GMT) on 2nd January 2019.
A winner will be selected at random after the competition has closed and will receive 1 x Thermomix®, 1 x Cook-Key® and six months' free subscription to Cookidoo® as outlined above.
The winner may be requested to take part in publicity.
The prize is non-transferable and cannot be used in conjunction with any other offers.
The prize cannot be exchanged for a cash prize and we reserve the right to replace the prize for one of equal value without notice.
The winner will be contacted via email by the Liz Earle Wellbeing team. If no response is received by the Wellbeing team from the winner within 2 weeks of our email, we cannot guarantee that the prize will still be available.
Liz Earle Wellbeing registered office: Beech House, Bank, Lyndhurst, Hampshire SO43 7FD, United Kingdom