Thai salad with mango and chilli
Ingredients
For the dressing
1 tbsp olive oil
3 tbsp lime juice
1 tsp fish sauce
2 tbsp soy sauce
1 tsp sesame oil
1cm ginger, grated
1 red chilli, finely chopped
1/2 small shallot, finely chopped
2 tbsp coriander, finely chopped
For the salad
1 papaya, peeled, seeds removed and cut into matchsticks
1/2 green mango, peeled, pitted and cut into matchsticks
1 courgette, spiralized or cut into long matchsticks
1/2 carrot, cut into matchsticks
Small handful of salted peanuts
1 spring onion, sliced
1 mild red chilli, sliced
Few sprigs of mint
Small handful of coriander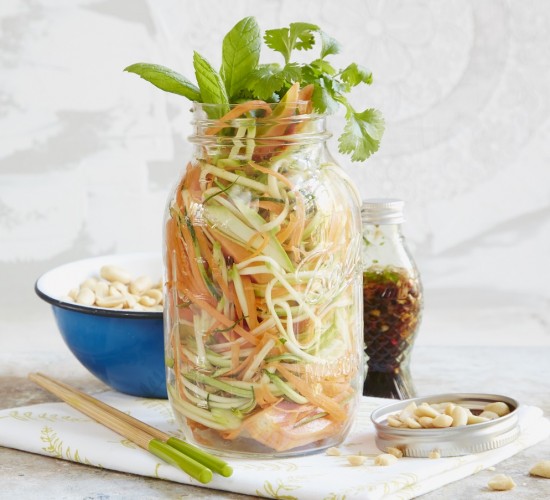 Wave goodbye to the same old carton soups and humdrum salads. This Thai salad with mango and chilli is a fresh, flavoursome lunch that can be prepared in the morning and enjoyed on the go.
Method
Make the dressing by heating the olive oil and lime juice in a pan on a low-medium heat and dissolving the sugar. Whisk in the remaining ingredients, pour into a lidded jar and keep in the fridge for up to two days.
Make the salad as freshly as possible, but again, if you need to make it the night before, keep it in the fridge and keep the ingredients separate if possible. Put the peanuts in a little bag on their own. It's best to mix everything together at the last minute.
Mix together the papaya, mango, courgette and carrot. Pour over the dressing. Sprinkle over the peanuts, spring onion, chilli, mint and coriander leaves, and eat immediately.