Sugar-free cheesecake recipe
Ingredients
5 organic eggs, separated
300g soft goat's cheese, roughly chopped
Zest and juice of 2 lemons
1 tbsp raw honey (use more if you like it sweeter)
3 tbsp rice flour
Drizzle of double cream or crème fraîche to serve (optional)
For the topping
About 300g mixed berries - strawberries, raspberriesm blueberries or blackberries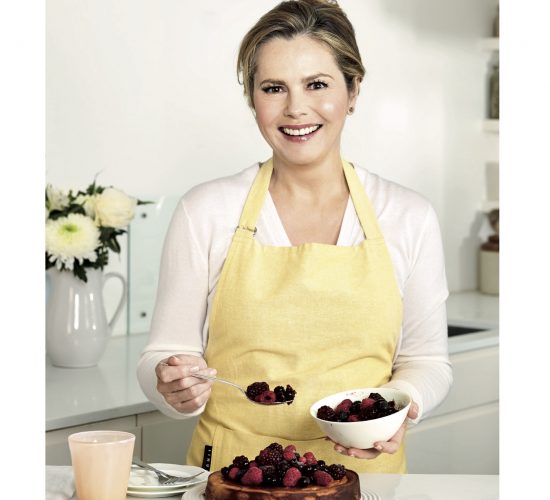 A refined sugar-free dessert sounds too good to be true, but our cheesecake recipe is exactly that.
Cheesecake is one of those comfort foods that's guaranteed to hit the spot with friends and family of all ages.
This one, taken from The Good Gut Guide, is baked, giving it a fluffier and (we think) more satisfying flavour.
Our sugar-free cheesecake uses goat's cheese and we've replaced the refined sugar with honey, meaning it'll still hit that sweet spot.
Looking to ditch refined sugar? Take a look at our guide for replacing sugar in baking.
Method
Preheat the oven to 170°C/350°F/Gas Mark 4. Prepare a deep round 20cm loose- or spring-bottomed tin, lightly greased and the base lined with greaseproof paper. Put the egg whites in the bowl of a food mixer and whisk until fluffy and doubled in volume. Spoon out into a clean bowl and put to one side.
Put the goat's cheese into the mixer bowl, add the lemon zest and juice and the honey and beat using the beaters. Taste to see if sweet enough or lemony enough and adjust as needed. Now add the egg yolks and beat again until well combined. Fold in the egg whites, then fold in the flour.
Spoon into the prepared tin, level the top and put in the oven to bake for 30 minutes. The top may still be a little wobbly, but don't worry as it will continue to cook. It may also crack. Again, don't worry, this often happens with cheesecake.
Remove from the oven and leave to cool completely, then sit the tin in the fridge overnight to chill. Run a knife around the inside edge of the tin to release the cheesecake and sit it on a serving plate. Spoon over the fruit and slice.
Serve alone or, if you like, with a drizzle of cream or a dollop of crème fraîche.
Wellbeing Wisdom
Honey is a natural sweetener that has been used for generations of sweet-toothed fans and also contains potassium, calcium and magnesium.