Strawberry, cucumber and pistachio salad with halloumi and a tarragon dressing
Ingredients
50g pistachios
275g strawberries, hulled
4 heirloom tomatoes, such as Black Russian
1 cucumber, peeled
3 tbsp extra virgin olive oil
1-2 tsp honey
2 sprigs tarragon, leaves picked and finely chopped
250g halloumi, cut into large cubes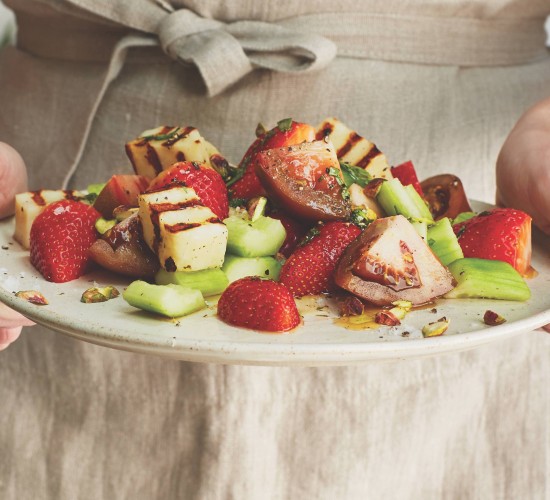 This simple salad sings with fresh summer flavours. Combining British strawberries, crunchy pistachios and salty halloumi, it's sure to grace your table time and time again this season.
Method
Heat the oven to 180°C/350°F/gas mark 4. Place the pistachios on a tray and cook for ten to 12 minutes until lightly toasted. Roughly chop, then set aside.
Cut the strawberries in half, or quarters if they are large, and place in a bowl. Cut the tomatoes into wedges roughly the same size as the strawberry pieces. Slice the cucumber lengthways, scrape out and discard the seeds, then slice into chunks, again roughly the same size as the strawberry pieces. Add all these to the bowl.
Make the dressing by combining the olive oil, honey, vinegar and tarragon with salt and black pepper in a jam jar. Shake well.
Heat a griddle pan on a medium heat. Place the halloumi in the hot pan and fry for one or two minutes each side until golden and softened.
Dress the salad and toss gently. Plate the salad, top with the halloumi cubes and scatter over the pistachios.
Loved this? Now read:
Skin-saving salad with fennel and salmon