Sri Lankan pickle with spicy vegetable
Ingredients
3 tbsp oil of choice (rapeseed works well)
8 small shallots, peeled
10 green chillis, whole
150g carrots, julienned
100g green beans, chopped into 2-3cm chunks
3 garlic cloves
2 tsp turmeric powder
75ml white wine vinegar
1/2 tsp chilli powder
1/2 tsp fresh ginger, grated
sea salt and black pepper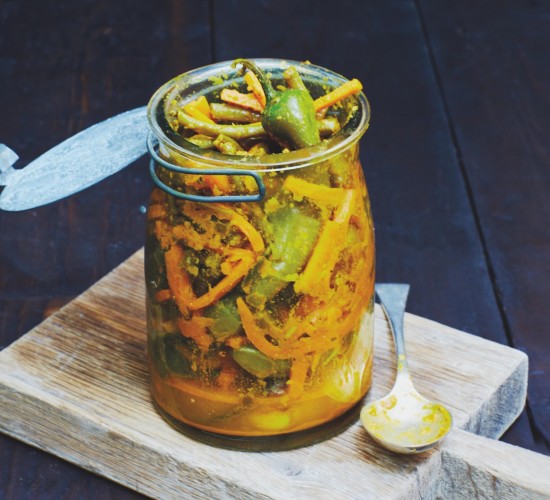 Take your tastebuds on an adventure, with this delicious pickle that hails from the sunny shores of Sri Lanka.
This crunchy, tangy Sri Lankan pickle (known as achcharu) is full of flavour and can pep up even the simplest meal with its gut-friendly goodness.
Make today and leave for a few days before enjoying your pickle next weekend.
Discover more recipes like this
Method
In a large pan, warm the oil over a medium heat. Add in the shallots and sauté until soft, then add in the chilli, carrots, green beans, two of the garlic cloves and the turmeric. Sauté for a further few minutes. Drain off any excess oil and set the vegetables to one side.
Crush the remaining garlic clove and put it into a bowl with the vinegar, chilli powder, ginger, black pepper and salt. Mix well before adding in the turmeric vegetables and covering them in the vinegar. Tip the mixture into a sterilised jar and leave for five to six days before eating, stirring the contents once a day.
Wellbeing Wisdom
Turmeric has a multitude of health benefits and has been found to be a powerful antioxidant and anti-inflammatory.