Spring greens kimchi
Ingredients
500g spring greens (or Napa cabbage)
2 carrots
Handful of pink radishes
Bunch of spring onions (around 5), finely chopped
4 garlic cloves, crushed then chopped
1 thumb of ginger, grated
2 red chillis
1 green chilli
2 tbsp apple cider vinegar
Korean red chilli flakes (or chilli powder)
Sea salt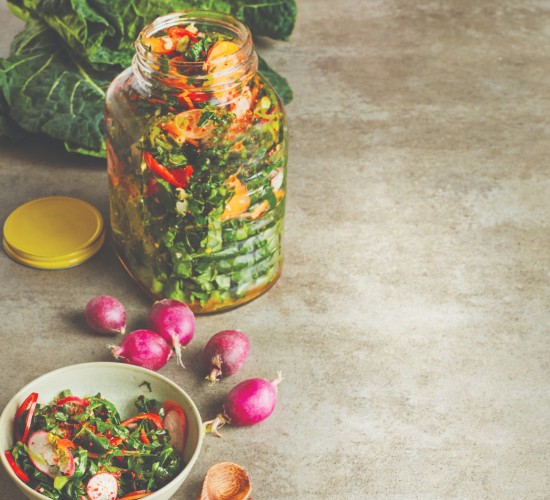 Looking for a kimchi recipe? This classic Korean side dish is an easy and delicious way to preserve vegetables. We've used spring greens here to make it totally seasonal.
What's more, this fermented wonder will last in the fridge for several months! Popping kimchi in the fridge will stop the fermentation process, with the spices mellowing over time.
If you're unsure of whether your kimchi is ready to eat, just take a small taste. If it's not quite ready, you'll still be able to taste and smell the individual ingredients.
Love our kimchi recipe? Try these
Method
Makes 1 litre jar
Make up a litre of brine by dissolving four teaspoons of sea salt into one litre of water. Roughly chop the spring greens, carrots and radishes, and pop them into the brine.
In another bowl, mix together the spring onions, garlic, ginger, chillies, cider vinegar and chilli flakes. Drain the spring greens mixture, saving the brine, then add the greens into the bowl, mixing well with the spring onion and spices (ideally use your hands – gloves help protect against chilli).
Pack the spiced veggies into a clean litre jar, pressing down to release liquid. Make sure the liquid is covering the contents of the jar and if not, add a little more brine to top it up. Weigh down the vegetables to keep them below liquid level, using a smaller jar. Cover the jar with muslin or a cloth and leave for three to five days. Stir well, then leave for another few days. It should be ready to eat within the week. Put a lid on the jar and store it in the fridge.