Fabulous Fish for Brain, Vision and Heart Health
Omega-3 DHA is needed to help ensure that your brain is functioning normally, but are you getting enough from your diet? Did you know that the NHS recommends eating one portion of oily fish a week?
We all know that the best way to get the nutrients we need is by eating a balanced and healthy diet. But with so many health messages out there the Omega-3 message can be forgotten. In the last decade, oily fish intake has changed little and consistently remains below dietary guidelines.[1]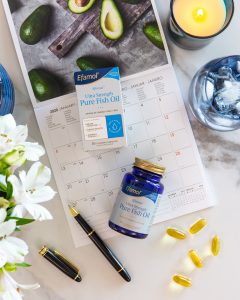 What is clear is that oily fish is incredibly important in the diet as it contains Omega-3 DHA and EPA plus other important nutrients. Both the Omega-3 fats EPA and DHA play an important role in maintaining normal heart function[2] and DHA is also known to help keep your vision and brain functioning normally[3]. Importantly, eating fish rich in Omega-3 DHA is essential when pregnant and for breast-feeding mothers as it helps contribute to the normal development of the baby's brain and eyes[4].
We've created some delicious, easy-to-follow recipes to make sure everyone in your family meets a daily Omega-3 DHA & EPA goal of 250mg. 
Eaten once, either of the recipes below contains enough DHA & EPA to meet your weekly recommended intake. Go to Efamol.com to find more recipes.
If you really struggle and oily fish is not your cup of tea, then it maybe worth considering a high-quality fish oil supplement such as Efamol® to ensure you are getting enough.
Efamax® Ultra Strength Fish Oil
Efamax® Ultra Strength is one of the strongest and purest fish oils on the UK market containing 800mg of Omega-3 DHA and EPA per 1000mg capsule.  Each capsule contains a pure, high-strength fish oil of exceptional quality.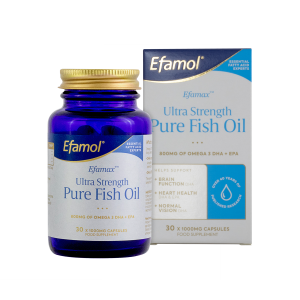 Efamax® has been created using the most up-to-date scientific understanding of how your body uses Essential Fatty Acids. At Efamol®, quality and purity are key values. The Efamol® fish oil is of superior standard and is harvested from sustainable stocks. We only use the triglyceride form in all our fish oil. This is the natural structure of Omega-3 oils found in fish and so is the form the body recognises and digests efficiently. Efamol® fish oil is thoroughly tested to ensure it is free from harmful pollutants.
For over 40 years Efamol® has led the international field in the scientific research and development of Essential Fatty Acid (EFA) food supplements resulting in extensive published research on our products.
Exclusive Offer
Get 20% off your first purchase on Efamol.com with code LIZEFA20.
Griddled sardines with tangy salsa verde and green beans
Serves 4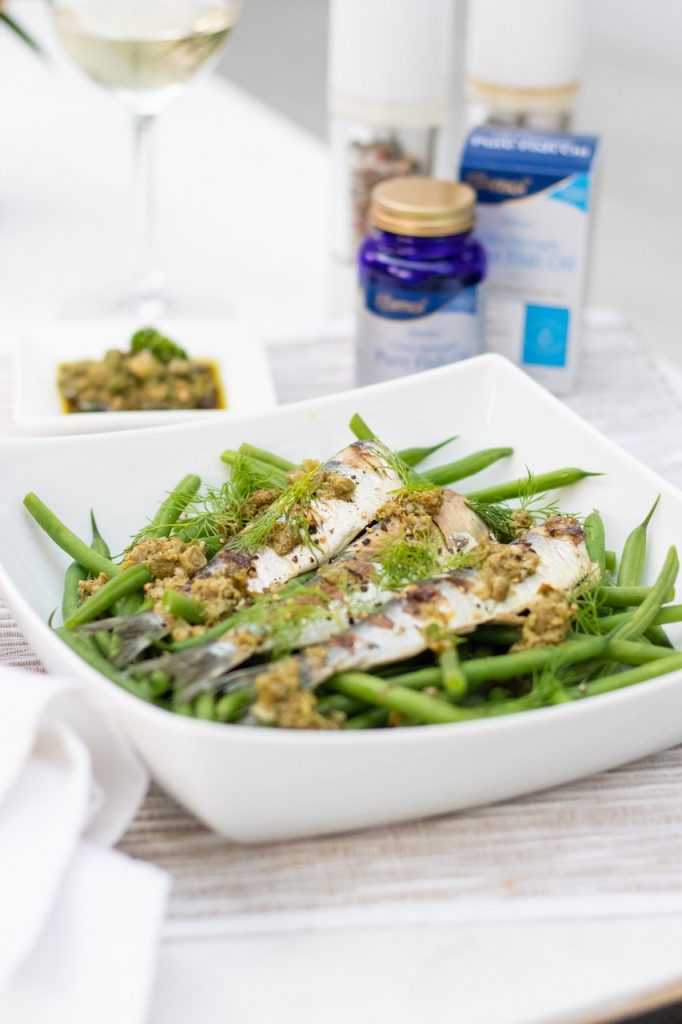 Ingredients
12 sardines, gutted and cleaned (you can buy pre-prepared sardines from the supermarket or fishmonger)
For the salsa verde:
2 tablespoons of capers, gherkins and a garlic clove
Add two bunches of herbs: choose from parsley, mint, chives and basil
Squeeze the juice of one lemon
Salt and pepper
Half a cup of olive oil
Method
Blend the salsa verde ingredients with a stick blender 
Massage sardines with olive oil and seasoning
Heat the griddle pan on a high heat
Score the skin of the sardines with a sharp knife
Cook for 2-3 minutes in each side.
Serve with the salsa verde and lightly cooked green beans
Homemade mackerel or trout paté
Serves 2
Ingredients
A packet of smoked peppered mackerel or trout, skin removed
A packet of cream cheese
A tablespoon of creamed horseradish
The juice of two lemons
Method
Blend the ingredients together in a food processor
Serve on rye or brown toast
---
[1] https://www.hsis.org/wp-content/uploads/2019/06/HSIS-Dietary-Trends-report-2019.pdf
2 Eicosapentaenoic acid (EPA) & Docosahexaenoic acid (DHA) contribute to the normal function of the heart, the beneficial effect is obtained with a daily intake of 250mg of EPA and DHA. 
3Docosahexaenoic acid (DHA) supports normal brain function and normal vision, the beneficial effect is obtained with a daily intake of 250mg of DHA.
4 The beneficial effect is obtained with a daily intake of 200mg of DHA in addition to the recommended daily intake for Omega-3 fatty acids for adults i.e. 250mg DHA and eicosapentaenoic acid (EPA).
Food supplements should not replace a balanced diet and healthy lifestyle.