Spiced potato and winter greens salad
Ingredients
600g new potatoes
60g cashews, toasted
20g mint, leaves only
60g coriander, stalks and leaves
1 green chilli (seeds removed)
1 lime, juiced
2 tbsp coconut oil
1 tsp mustard seeds
1 tbsp curry leaves
1 garlic clove, crushed
300g winter greens (chard, kale or cavolo nero) washed, dried and sliced
200g tinned sweetcorn, drained
220g paneer
1/2 tsp ground turmeric
Mango chutney to serve
Sea salt flakes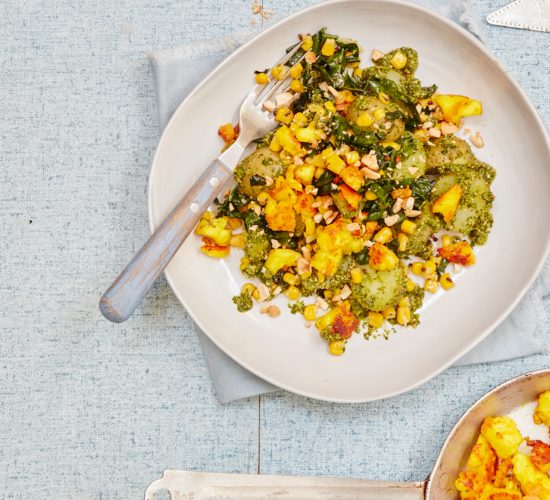 Salads needn't just be for summer. A warm salad is a great way to pack in nutrients just as you need them most. This vibrant paneer, potato and winter green salad is a wonderfully filling option for a vegetarian meal, and it's remarkably low-fuss.
Method
Place the potatoes in a medium pan, fill with cold water then bring to the boil. Cook for 15-20 minutes or until soft when a knife is inserted, then drain. Meanwhile, blitz half the cashews, the mint, coriander, chilli, lime juice and a pinch of salt in a food processor until smooth. Season to taste, then scrape into a large mixing bowl.
Chop the warm potatoes into large dice, then add into the bowl. Toss gently and set aside to allow the potatoes to soak up the dressing.
Next, heat one tbsp of coconut oil in a large non-stick frying pan on a medium heat. Once the oil has melted, add the mustard seeds, curry leaves and garlic, and gently fry for a minute. When the mustard seeds begin to pop, add in the greens and sweetcorn, then fry for 30 seconds to one minute. Remove from the pan and gently toss through the dressed potatoes.
Heat one tbsp of coconut oil in the same pan over a high heat, then crumble in the paneer and turmeric. Fry for 2-3 minutes or until crisp and golden. Scatter the paneer over the salad with the remaining cashews. Eat warm with a spoonful of mango chutney.