Slow-bake chilli con carne
Ingredients
1kg good-quality beef brisket, cut into large chunks (against the grain)
2 tbsp olive oil
2 tsp smoked paprika
2 tsp ground cumin
1/2 tsp ground cinnamon
1/2 tsp cayenne pepper
300-400ml good-quality beef stock
1-2 dried chillies (ancho or habanero)
1 red onion, finely sliced
4 garlic cloves, crushed
1 red pepper, thinly sliced
1 yellow pepper, thinly sliced
1 tsp mixed herbs
1 tbsp red wine vinegar
1 tsp honey
400g plum tomatoes
400g kidney beans, drained
Salt and pepper
To serve
3 wholegrain tortillas
300g rice (e.g brown basmati, red Camargue or wild rice)
4-6 tbsp sour cream
Large bunch of fresh coriander or parsley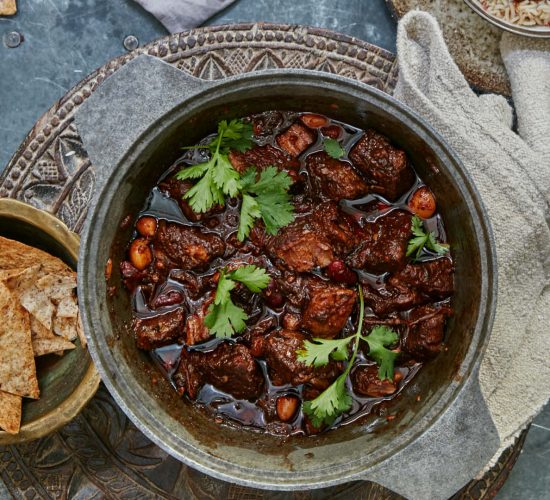 This will be the richest, most warming chilli con carne recipe you will ever follow, and it is sure to become your go-to dish for feasts with friends. Serve with wholegrain tortillas and rice and enjoy with a big group of your nearest and dearest – everyone will be going back for seconds!
Method
Preheat the oven to 160°C/325°F/gas mark 3. Massage the beef brisket chunks with a little olive oil, paprika, cumin, cinnamon, cayenne pepper, and salt and pepper. In a large casserole dish, sear the beef chunks until they've browned and then remove from the pan. Add a little of your stock and deglaze the pan, then scrape the bottom of the pan and set the liquid to one side. Place the dried chillies into the deglazed stock to let them rehydrate.
Add another glug of olive oil to the pan and, on a medium heat, sauté the red onion, garlic and peppers for five minutes until softened and starting to caramelise. Add in the rehydrated chillies with the liquid, mixed herbs, red wine vinegar and honey, followed by the plum tomatoes and beef stock. Fill up the tomato tin with water, swill it around, and add that in too. Mix together well, season with salt and pepper, then place a lid on the casserole dish and put it in the oven. Check after around two and a half hours and pull the meat apart with two forks. Add in the beans and a little more stock if needed, stir well and place back in the oven with the lid off for a further 30 minutes.
Meanwhile, chop or tear your tortillas into small shapes, scatter on a baking tray, drizzle with olive oil, salt, pepper and a little paprika, then place in the oven for 15 minutes until crispy and golden. You can either crush them up or leave them whole, ready to top your chilli with.
Cook rice according to packet instructions. When the chilli is bubbling and the meat is tender, serve it with the rice. Add a dollop of sour cream per person, scatter over the crushed tortillas and sprinkle with coriander or parsley.