Skin-saving salad with fennel and salmon
Ingredients
1 red onion, thinly sliced
1 clove garlic, crushed
1 tbsp balsamic vinegar
1 tsp coconut sugar
2 heads fennel, cut into thin wedges
200g stale ciabatta, ripped into 1-2 cm chunks
2 tbsp olive oil
1 tsp finely chopped rosemary
½ red chilli chopped
100g piquillo pepper strips
150g smoked salmon, cut into thin strips
100g mixed baby leaves
2 tbsp chopped chives
2 tbsp Parmesan slivers
Drizzle olive oil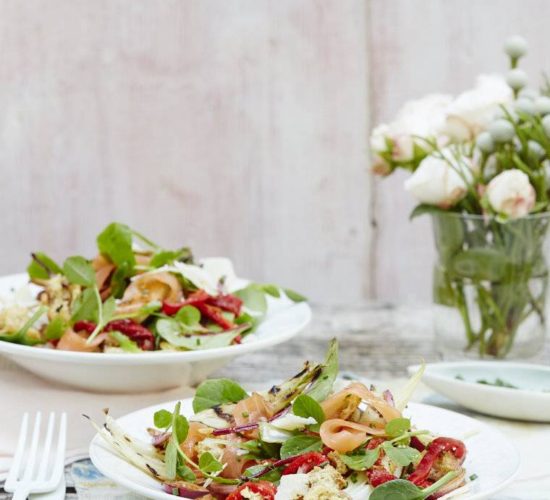 Perfect for light lunches or slimming suppers, this sensational grilled fennel salad is the ideal skin food – low in carbs, high in protein and packed with goodness. You can read more about the many health and beauty benefits of fennel, including how the veg can help keep our hearts, bones and skin strong, in Liz's guide here.
Method
Pre-heat oven to 160˚C/325˚F/gas mark 3. Mix the red onion with the garlic, vinegar and sugar. Set aside for at least 20 minutes.
Heat a griddle pan until very hot. Toss the fennel in a little olive oil and season well. Grill each fennel wedge for a few minutes until lightly charred. This can be done in batches. Allow to cool.
Toss the bread chunks in a tablespoon of olive oil with the rosemary and chilli. Place on a baking tray and into the oven for 10 minutes or until the bread is lightly browned and crisp.
Toss the fennel with the bread, peppers, salmon and leaves. Fold through the onions and place in a serving bowl. Sprinkle with the chives and parmesan. Drizzle with good olive oil.
Wellbeing Wisdom
Fennel is renowned for its ability to soothe indigestion
It's also a good source of calcium, helping to keep our bones strong