Screen time: golden rules for a safer glow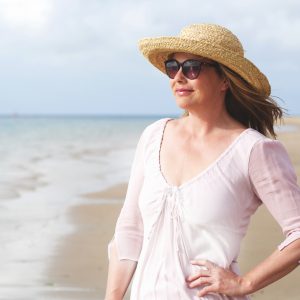 Liz says: Shielding the skin with physical cover-ups is my foremost rule for summer skin and it's also the easiest and most effective way to stay safe in the sun. Simple skin protectors include a wide-brimmed hat, a pair of large-frame sunglasses (the more 'Jackie O' the better) and tops with sleeves. Light cotton shawls are also good to drape across the décolleté to prevent sun-induced chest crepiness – just make sure the fabric is dense. A solid jersey-type material gives the equivalent of an SPF50+, ten times more skin protection than thin cotton voile. In fact, most clothing makes a good sunscreen, forming a physical barrier from the sun's ageing (UVA) and burning (UVB) rays – especially useful for covering up small children who try to dodge the daily sunscreen. I'm a fan of Sunuva protective clothing (sunuva.com) for children aged one to 14 years; a British brand with funky designs that kids actually want to wear, all made from ultraviolet protection factor (UPF) 50+ fabrics, which block out more than 97 per cent of the sun's harmful rays and endorsed by the British Skin Foundation.
Get the glow
With sun being the main cause of premature skin ageing, it's worth investing in a couple of extra summer skincare essentials. A mineral sun-filter face block is top of my list, as the sunscreens in everyday moisturisers aren't usually sufficient to protect skin in strong sunshine (see my favourites, opposite). The synthetic sun filters commonly added to daily skincare tend to give low protection, most of which will have worn off by lunchtime, when we actually need it. The most commonly used synthetic sun filters include oxybenzone, octinoxate, octisalate and avobenzone, which work by creating a chemical reaction that neutralises the sun's UV rays, but this can also trigger sensitivity. I think it's far better to use a mineral reflectant filter that bounces the sun's rays away from the skin (such as zinc oxide or titanium dioxide), as these are not only more effective at broad-spectrum screening (both UVA and UVB rays), they're also less irritating.
Protective minerals are also the mainstay of make-up, from brow gels to blushers, meaning all colour cosmetics can double up as extra physical sunscreens. Using a tinted moisturiser or foundation topped with a light dusting of face powder provides the equivalent of around SPF15, just choose a shade darker than your skin tone to create a sunny glow. Adding a layer of bronzing powder also gives an additional protective gleam. I often find I wear a little extra face make-up when on holiday, acting more as a skin protector than for cosmetic cover. As make-up tends to be mostly mineral-based, it also works well as a daily anti-pollution screen for city skin, too.
Keep calm
Rosacea and the appearance of visible blood vessels (telangiectasia) often worsens with sun exposure but can be calmed with mineral creams, including those containing zinc oxide.
Sensitive skin conditions, such as 'prickly heat' or heat rash (miliaria), are triggered when our skin overheats in the summer, so it's worth seeking out the shade during the heat of the day, opting for air-con or carrying a small fan. Prickly heat is often mistaken for polymorphic light eruption, a similar-looking skin rash which is activated by light, not heat. If this is an annual affliction, you can reduce its severity by slowly building up sun exposure, adding a few minutes each day to acclimatise the skin. This can make a big difference to the way your skin reacts when suddenly exposed to lots of sunshine on holiday. Using a mineral-only based sunscreen can also help here (look for zinc and/or titanium dioxide as active ingredients).
It's not all bad news though, as some skin conditions improve in the sun, including eczema and psoriasis. And don't forget that sunshine also tops up our vitamin D levels. The National Osteoporosis Society is calling for us all to spend at least 20 minutes outside on sunny days to allow the sun's rays to create enough vitamin D to help keep bones strong. Join in with the society's 206 Challenge by doing a fundraising sponsored walk (nos.org.uk/getinvolved).
To balance being outside with skin-ageing advice, I use a mineral sunblock on my face, neck, chest and the backs of my hands (all susceptible to showing the signs of ageing), but allow my arms and legs to feel unrestricted sunshine to top-up my vitamin D. I also take an additional 400IU capsule of natural-source vitamin E, as studies show this can help repair UV-induced free- radical cell damage that causes premature skin ageing.
Mineral marvels
Look for mineral-only sunscreens for maximum protection with minimum skin sensitivity and damage to marine life.
Loved this? Read on here: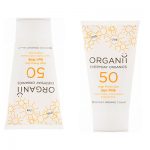 – Save the seas: Our top eco-friendly sunscreens
– Tune into our Wellness with Liz Earle podcast: Staying sun-safe
– Liz's top mineral sunscreens for sensitive skin
– Our favourite eco-friendly mineral sunscreens