Sausage and fennel ragu with homemade pasta
Ingredients
For the ragu
1 large onion
1 carrot
1 stalk of celery
3 garlic cloves
6 tbsp olive oil
2 tsp dried fennel
300g good-quality sausage meat
100g good-quality beef mince
400ml red wine
Handful of cherry tomatoes
2 sprigs of rosemary, leaves only
400g tin of chopped tomatoes
Sea salt and black pepper
For the pasta
200g '00' fine Italian flour
2 eggs
To serve
Parmesan
Fresh basil leaves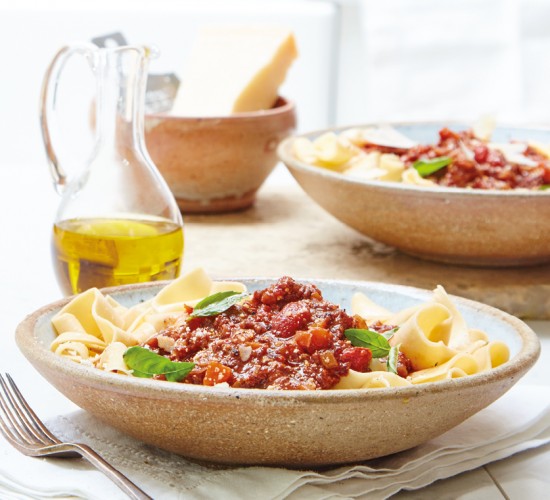 An Italian family favourite, ragu is a slow-cooked meat sauce often served with pasta. This take on a Tuscan classic, using a traditional mix of pork and beef, was devised by food editor Emma Winterschladen. Once you've mastered how to make pasta at home, you'll never look back. This is a comforting, flavoursome dish to enjoy with good company and a glass of red.
Method
For the ragu, finely dice the onion, carrot, celery and garlic. Add into a deep-set pan with the olive oil. Slowly sauté the vegetables uncovered for 20 minutes on a low heat, adding in the fennel seeds for the final few minutes so they don't burn.
Add the meat, breaking it up with your hands as it goes in, and let it brown for a few minutes. Pour in the red wine so it covers the mixture, turn up the heat and let it cook off for five minutes.
Add in the cherry tomatoes and season. Turn down the heat and cover with a lid for 40 minutes. Add the rosemary leaves (finely chopped) and the tinned tomatoes, then cook for a further 20 minutes. Finish off by turning the heat up to medium-high and allowing the sauce to cook down for the final ten minutes.
As the ragu is cooking, make the pasta. Make a pile of flour on your work surface or in a bowl and create a well in the centre. Add the eggs into the middle. Mix together gently with a fork, gradually bringing more flour into the centre as you go. Once it's mixed, work it with your hands on a lightly floured surface until you have a smooth dough. This will take a good five minutes. Roll the dough thinly with a rolling pin (approx 2-3mm), then cut it lengthways with a knife into 2-3cm ribbons. You can also use a pasta machine if you have one. Set to one side.
When the ragu is almost ready, add the pappardelle into a pan of salted boiling water for 7-10 minutes until the pasta is soft. Drain and serve with the ragu on top, a sprinkle of finely grated Parmesan and a scattering of basil leaves.
Wellbeing Wisdom
The method of sautéing onion, carrot, celery and garlic in olive oil is called soffritto which literally means to 'lightly fry'.