Red pepper & smoked paprika pesto
Ingredients
2 red peppers, either from a jar (drained) or chargrilled and peeled
1 1/2 tsp smoked paprika
2 fat cloves of garlic, peeled
150g flaked almonds, roasted until golden
4 tbsp chopped fresh parsley
Zest and juice of one small lemon
100ml olive oil
100G grated Parmesan
Salt and pepper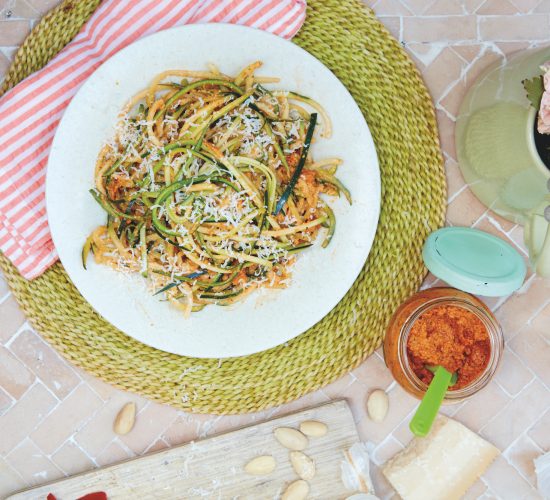 Keep things simple without compromising on flavour by whipping up this sharp pesto recipe to run through wholemeal pasta or courgetti. It keeps in the fridge for a week in a sealed jar – perfect to grab if you're short of time.
Method
Blitz the peppers, paprika, garlic, almonds and parsley in a food processor. Add the lemon juice, half of the olive oil, the Parmesan and blend. Continue adding oil until you have a smooth, loose paste with a nutty texture. Season to taste.
use 1-2 tbsp per person mixed through your favourite courgetti or pasta. To preserve the pesto, pour it into a jar and cover with a thin layer of olive oil.