Roasted cauliflower with halloumi and garlic pesto
Ingredients
For the roast cauliflower
1 small cauliflower, broken into florets
1 tbsp olive oil
1 tsp maple syrup
100g cooked puy lentils
100g cooked peas
50g kalettes (or kale sprouts)
100g halloumi
1 tbsp olive oil
For the wild garlic pesto
100g wild garlic leaves
1 tbsp parsley, chopped
50g pine nuts, toasted
1 clove garlic, crushed
50g Parmesan, finely grated
Olive oil
Salt & pepper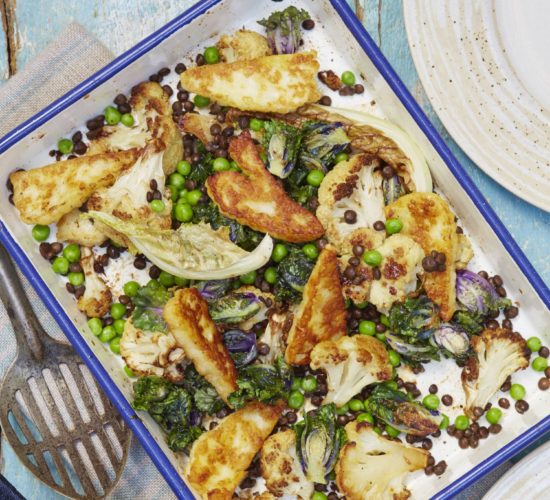 Looking for a simple supper bursting with the flavours of spring? Look no further. Liz's roasted cauliflower with peas, halloumi and wild garlic pesto is a guaranteed crowd-pleaser and packs a real nutritional punch, too.
Method
Preheat the oven to 160°C/325°F/gas mark 3. Toss the cauliflower florets in the oil and maple syrup and season well. Place on a baking tray in a medium oven for about 20 minutes until golden brown and tender.
While the cauliflower is cooking, make the pesto by blanching the wild garlic leaves in boiling salted water for 30 seconds. Refresh under cold water and drain well. Place in a food processor with the parsley, pine nuts and garlic, then blitz for a few seconds until roughly chopped. Stir in the Parmesan and drizzle in olive oil so you have a loose paste, making sure to season well.
Toss the cooked cauliflower with the peas and lentils and arrange on a serving dish. Heat a griddle pan and quickly char the kalettes until slightly wilted, then fold through the cauliflower.
Heat the oil in a non-stick pan and then cut the halloumi into thin slices and pan fry for a minute on each side until golden. Place on the arranged vegetables and drizzle with the wild garlic pesto.
Loved this? Read more:
The health benefits of mushrooms
Turmeric cauliflower salad with vegetable noodles 
Wellbeing Wisdom
Lentils are a good source of various minerals,

but particularly rich in fibre, protein, folate and iron

Cauliflower has high levels of antioxidants, including powerful glucosinolates which help to detoxify the liver