Quick spring green sauerkraut recipe
Ingredients
Up to 1kg leafy greens, shredded
2 tbsp sea salt
1 fennel bulb, thinly sliced
1-2 tsp fennel seeds
1-2 tsp chilli flakes (optional)
2 garlic cloves, peeled and smashed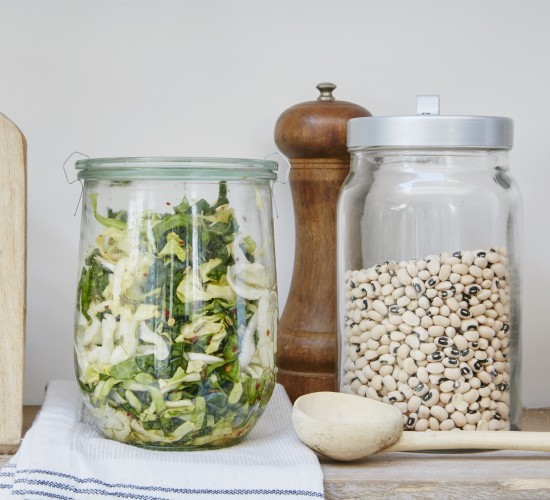 This is a super simple sauerkraut recipe that you can make to use up spring greens. Sauerkraut is a real gut-friendly treat, and a few forkfuls a day should help to keep your gut balanced with good bacteria (probiotics). Be sure to massage the leaves really rigorously for a good 5-10 minutes, almost as though you are kneading bread. This will release all their naturally occurring juices, which will provide the liquid for the spring greens to ferment in.
Method
In a bowl, mix together the spring greens and salt. Massage the leaves well to release the juices and allow to rest for ten minutes.
Mix in the fennel, spices and garlic cloves. Add into a sterilised jar, pushing down so the juices totally cover the ingredients. If they don't, top up with a little more salty water.
Cover tightly and ferment for around three days to a week, depending on how strong you like the taste. Check daily to see that it is tangy and bubbling, and to prevent a build up of gas. When you're satisfied, transfer to the fridge.
Wellbeing Wisdom
Sauerkraut is a great way to include more probiotics in your diet, which will keep your gut bacteria balanced and healthy.