Liz Earle Wellbeing magazine
From: £19.96 for 1 year
Product information
Feeling fabulous just became beautifully easy with this quarterly lifestyle magazine delivered straight to your door with free UK-wide postage and packaging! Bursting with fresh ideas to look good and feel even better from Liz Earle, the leading British beauty and wellbeing expert.
Costs & Delivery
The Liz Earle Wellbeing Magazine Yearly Subscription costs £19.96 each year. This subscription auto-renews and you will be charged automatically every 12 months. You can update your payment or delivery details by logging into your account at lizearlewellbeing.com/myaccount.
Postage and packaging is free for deliveries within the UK. Postage and packaging costs £8 per issue for international deliveries. This will be charged in full at the checkout.
Buying a subscription as a gift? Simply enter the recipient's address at the checkout.
Refunds
"I am reading your magazine page by page, and LOVE it! So many interesting and inspiring articles."
"I just recently subscribed to the magazine and am loving it! Got some really great tips and advice from and am adjusting my cupboards and shopping list sccordingly! ...Absolutely love your wellbeing ethos and intend to use your new Yearbook as my guide to a healthier, happier 50-something woman! Thank you!"
I love your magazine because it contains a hefty dollop of nourishment for the soul that is evident in all of the articles. It's like being hugged by a friend who gives you an extra squeeze at the end of the hug because they're so happy to see you. Or it's your mums rice pudding with a smidge of whiskey marmalade on the top because she loves you. Your Wellbeing magazine is nourishment for the soul.
I absolutely love the Wellbeing Magazine. It's great to have an excuse to stop and take some time out from the day to day madness of life!! I see the magazine as an excuse to take some me time and check I'm looking after myself as well as I can. The tips, recipes and articles all help because they are accessible and achievable for all and often inspire me to act....Sunday night dinner? Fiery sage, squash and sausage tray bake, of course!
Wellbeing is my place to refuel, learn, get inspired or creative. Everything I end up with is either beautiful, or delicious. It's a space - an oasis of calm in a busy, hectic, pressured world and I really enjoy visiting it! I particularly love the recipes which are ALWAYS delicious...I trust the magazine totally because I know that Liz has got our wellbeing in check.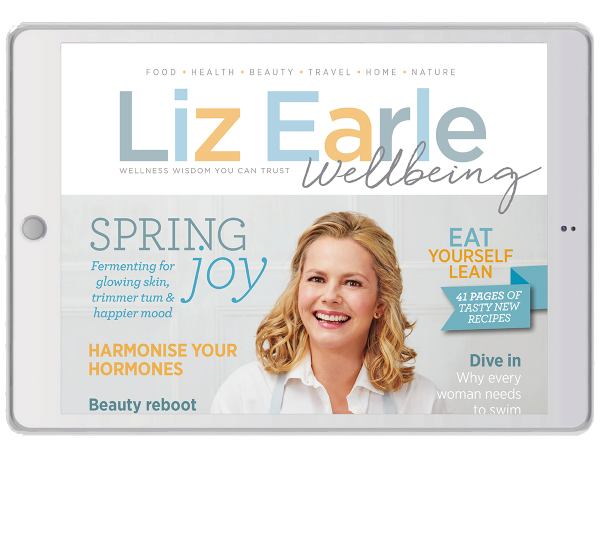 Why not download the digital version?
The digital edition of Liz Earle Wellbeing magazine is currently available to download via the following: