Potato, bacon and onion hotpot
Ingredients
800g potatoes
2 tbsp butter or olive oil
6 rashers good-quality bacon
3 onions, finely chopped
3 cloves garlic, crushed and chopped
500-600ml low-salt vegetable stoc
100g cheddar, grated
Handful of chives, chopped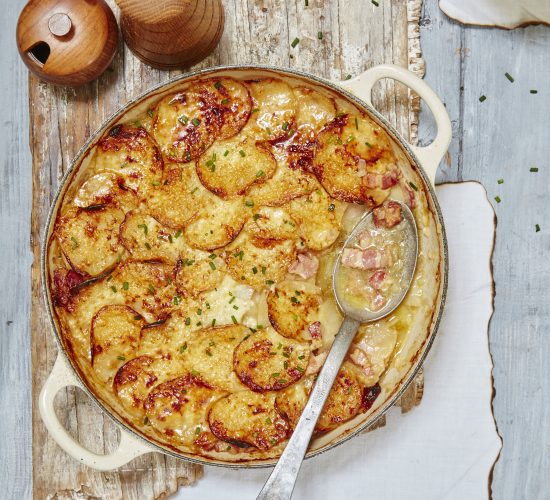 The allium family is fundamental to the home cook's recipe repertoire. Make the humble onion star of the show with this delicious, heartwarming, onion and potato hotpot.
Method
1. Preheat the oven to 190°C/375°F/gas mark 5. Chop the potatoes into thin discs approx. 2-3mm wide and set to one side.
2. Heat up the butter or oil over a medium heat and fry the bacon for few minutes, before adding in the onions. Sauté for a further six minutes or so until the bacon is crispy and the onions are caramelised. Add in the garlic and cook for another minute.
3. Now assemble the hotpot by placing a layer of potatoes in the bottom of a shallow casserole dish. Add in a large spoonful of the bacon and onion mixture – evenly spreading it over the potatoes. Carry on alternatively layering the bacon mixture and the potatoes, finishing with a layer of potatoes. Keep back a little onion and bacon to serve on the top.
4. Prepare some hot stock and pour over until you can just about see the liquid rising up. Place the hotpot in the oven for approx. 45 minutes, checking after 30 to see if you need to add a little more stock.
5. When the potatoes have cooked through and are starting to go golden, take the casserole dish out of the oven and sprinkle over the cheese. Pop it back in the oven for another 15 minutes until the cheese has melted and is bubbling.
6. Serve with the remaining crispy bacon and caramelised onions, and a scattering of chives.