Ginger poached haddock recipe
Ingredients
600g haddock loin, skimmed and cut into 4 pieces
3 cloves garlic, finely sliced
A few oregano stalks, plus extra for garnish
5cm fresh ginger, peeled and finely sliced
Sea salt and black pepper
For the asparagus salsa
200g asparagus tips, trimmed
3 spring onions, trimmed
Drizzle of extra virgin olive oil
1/2 red onion, trimmed, soaked in water for 10 minutes, then drained and chopped
1 clove garlic, finely chopped
1 lemon, segmented
To serve
200g kale leaves, steamed and tossed with lemon juice
Lemon wedges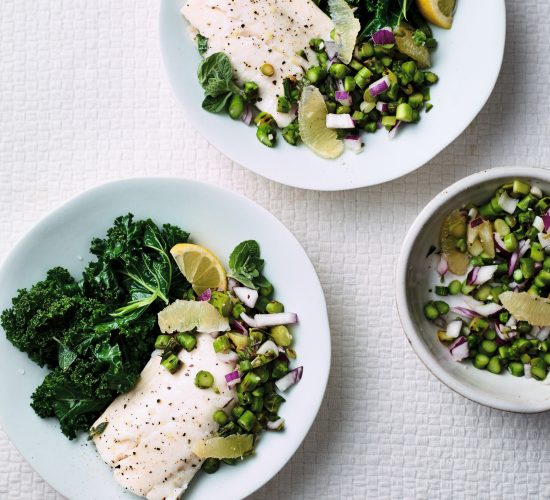 Thinking about trying a poached haddock recipe?
We tend to fry fish for speed, but it's actually just as quick (if not quicker) to poach fish, and there's no need to worry about burning the skin or drying out the flesh.
What's more, with poached haddock you won't be adding any of the unnecessary additional calories that come with frying.
The asparagus salsa in this dish adds a lovely depth of flavour and a prebiotic punch.
We've served it on a bed of steamed kale, adding to this recipe's overall nutrient benefits. Kale is one of the most nutrient-dense vegetables on the planet. One cup contains 684% of our daily vitamin K intake, 206% of a vitamin A intake and 134% of our vitamin C intake.
Love fish? Try these recipes:
Salmon fishcakes recipe
Salmon parcels with asparagus
Grilled mackerel with tenderstem brocolli
Method
First, make the asparagus salsa. Heat up a griddle pan, toss the asparagus and spring onions with the olive oil and season well. Put them in the hot griddle pan and cook for two to three minutes or until beginning to char. Turn using the metal tongs and cook the other side for the same time. Remove, and when cool enough to handle, chop finely and transfer into a bowl. Add the red onion, garlic and lemon, and stir together until well combined. Taste, season if required, and put to one side.
Add the fish to a large-lidded frying pan and cover with water, season and add the garlic, oregano and ginger. Put the lid on and simmer on low for eight to 10 minutes, or until the fish is opaque and cooked through.
Remove the fish pieces with a fish slice and transfer to serving plates. Serve with the steamed kale and asparagus on the side, and garnish with oregano and lemon wedges.
Wellbeing Wisdom
Kale contains vitamin K, which helps to protect bones and support a healthy circulatory system.