Perfect creamy porridge with caramelised pears
Ingredients
100g porridge oats
700ml full-fat milk
1/2 tsp cinnamon
1/2 tsp ginger
1/2 tsp nutmeg
4 tbsp clear runny honey
1 tbsp butter
2 pears, chopped lengthways into 1cm slices
2 tsp fennel seedss
2 tsp mixed seeds
Sea salt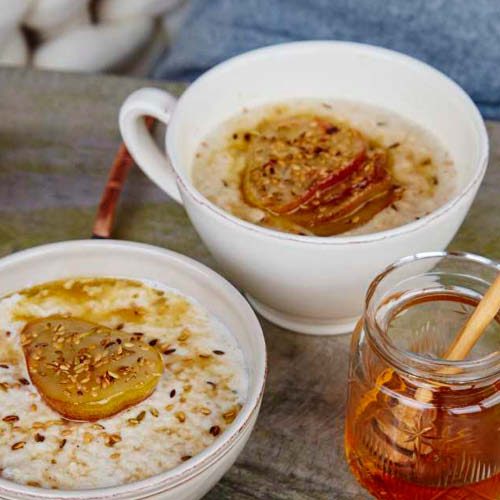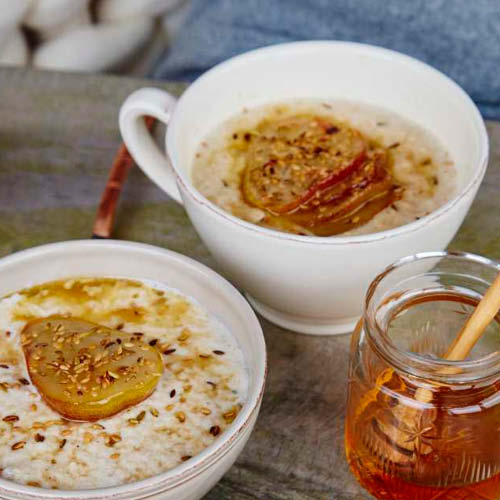 A steaming bowl of creamy porridge, served just right, sets you up for the day feeling cosy, nourished and sustained. Our perfect porridge recipe is topped with spiced, caramelised pears.
Method
Add the oats into a saucepan with the milk and bring to the boil. Sprinkle in a little salt, and the cinnamon, ginger and nutmeg. Simmer for around fie minutes, stirring occasionally to stop it from sticking to the bottom of the pan. Add more milk if needed.
Meanwhile, in a separate saucepan, melt the honey and butter over a medium heat until they start to bubble. Add in the pear slices and cook for one to two minutes on each side until softened and caramelised. Add in the fennel seeds with a minute to go, to make sure they don't burn. Pop the saucepan under the grill at 200°C for around six minutes until the pears have turned golden.
Serve the porridge with the pears and juices from the pan. Finish with a sprinkle of seeds per serving.