Oat and berry breakfast bar
Ingredients
90g pack coconut chunks
200g organic porridge oats
40g chia seeds
1 tbsp almond butter
2 tbsp raw honey (unprocessed, not heat-treated)
1 tbsp plain Greek yoghurt
150g blueberries
For the topping
1 capful real vanilla extract (or the scrapings of a vanilla pod)
1 tbsp plain Greek yoghurt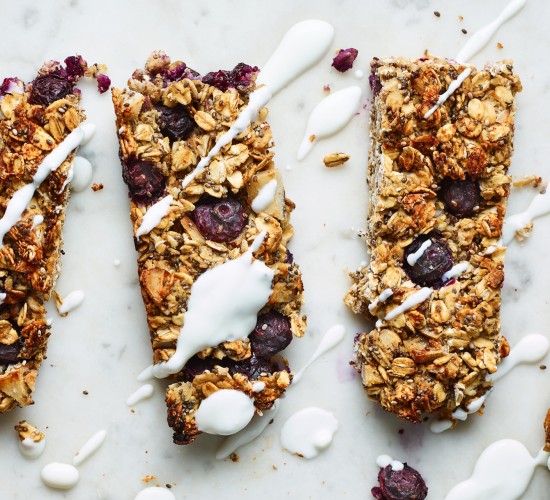 These delicious breakfast bars are jam-packed with pro- and prebiotics, and the addition of chia seeds supplies healthy Omega-3 fats. It makes a delicious snack at any time.
Method
Preheat the oven to 200°C/400°F/Gas Mark 6. Put the coconut chunks in a small (about 29 X 19cm) lightly greased baking tin, then put in the oven for 10-15 minutes or until golden. Remove and leave to cool a little, then finely chop and set aside.
Meanwhile, into a large bowl put the oats and chia seeds, the almond butter and honey, and beat together until the oats are well combined. Add the yoghurt and mix again, then tip in the blueberries and cooled coconut and stir well.
Line the tin with parchment paper, leaving the edges overlapping, then spoon in the oat mixture, spread over the tin until even and pack it down well using the back of a wooden spoon. Put in the oven and bake for 20-25 minutes or until golden brown. Remove from the oven and leave to cool completely.
For the topping, mix the yoghurt and vanilla extract together, then spoon it over the oat and blueberry slab in a drizzle effect. Put in the fridge overnight or for a few hours to chill and set, then slice, to serve.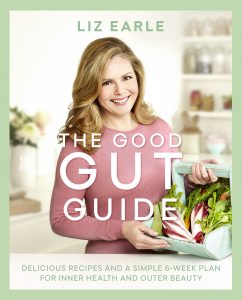 This recipe is taken from Liz's best-selling book, The Good Gut Guide (Orion Spring). Pick up your copy here.