Nutty raw chocolate and date truffles
Ingredients
100g walnuts, hazelnuts, pecans, Brazil nuts or almonds
200g dates
2 tbsp coconut oil
2 tbsp raw cacao powder (or cocoa powder)
2 tbsp almond or cashew nut butter
1 tbsp cacao nibs (optional)
Raw cacao for dusting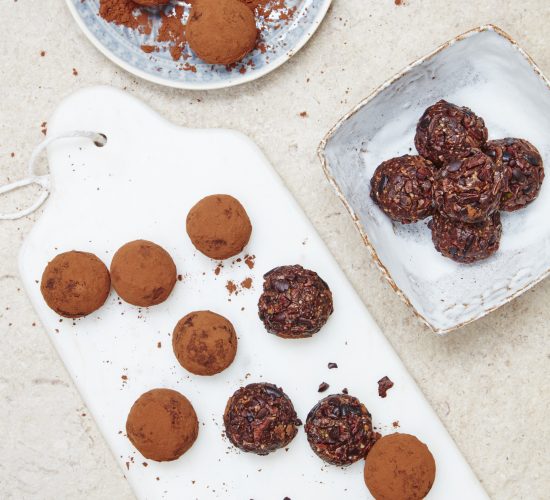 Liz writes:
I love making these quick and easy nutty raw chocolate and date truffles. With no added sugar, they're not as sweet as the shop-bought kind and are packed full with antioxidants and essential vitamins and minerals. The raw cacao contains flavanols, a compound that has been proven to lower blood pressure, enhance circulation and, according to some studies, improve cognitive function and memory. Raw cacao also contains theombromine that has been proven to help stimulate the central nervous system, relax muscles and increase energy levels. What's more, these delicious raw chocolate nut truffles are gluten and dairy-free. You can use a variety of different nuts according to personal preference – my favourites are pecan nuts or almonds.
Method
Place the nuts into a food processor and grind to a paste. Pit the dates and add to the food processor – give them a quick blitz. Stir in the coconut oil (you may need to gently melt first to make this easier to work with), cacao or cocoa powder plus the almond or cashew nut butter and whizz together to make a thick paste.
With wet hands, roll into small balls before rolling in cocoa nibs to coat each truffle. This gives the truffles a nicely textured crunch. Alternatively, dust with a sprinkling of cacao or cocoa powder.
Put onto a tray in the fridge for several hours to set hard (or freeze for half an hour to speed the process if you're in a hurry). These truffles also freeze well for storage, so keep a supply stored up ready to reach for a healthy treat that will satisfy even the sweetest tooth.
Some of the best sources of vitamin E are found in nuts and seeds. Find out which are the most nutritious.
Wellbeing Wisdom
Raw cacao contains flavanols which have been proven to lower blood pressure, enhance circulation and improve memory
Raw cacao also contains theombromine – been proven to help stimulate the central nervous system, relax muscles and increase energy levels