The most nutritious nuts and seeds
There's no denying that nuts are a gift from nature. Not only are they delicious, full of essential goodness and easy to incorporate into our daily eating habits, they are also one of the best sources of vitamin E – the powerful antioxidant that offers us a wealth of health and beauty benefits. As we don't make vitamin E ourselves (we only get it in our diet), it's important to make sure we absorb enough from what we eat. Some of the best sources of this vital vitamin are found in nutritious nuts and seeds.
 Awesome almonds
Almonds are a fabulous source of several nutrients essential to health and wellbeing. Not only are they high in protein but they're also rich in healthy fats that can help reduce the risk of heart disease, and rich in antioxidants to protect against free radical damage. Just one handful of almonds can provide almost 50% of our recommended daily dose of vitamin E – perfect for keeping skin glowing and hair healthy.

Healthy hazelnuts
Hazelnuts are also a wonderful source of vitamin E and heart-healthy fats, plus they contain vitamins B1, B2, B3, B5, B6 and B9 essential for energy and the overall health of the nervous system. They're also rich in manganese and a good source of fibre – both having a positive impact on our digestive systems.
Wonderful walnuts
Rich in antioxidants and omega-3 fatty acids, walnuts have been shown in studies to help fight the inflammation that can lead to disease. Their manganese content can also help reduce PMS symptoms.
Powerful pumpkin seeds
High in protein and antioxidants, pumpkin seeds also offer uniquely high levels of zinc to strengthen our immune systems and help balance blood sugar levels. These delicious little seeds also contain large amounts of manganese, crucial for bones and thyroid function, and have even been specifically linked to warding off prostate problems. The perfect manly power-snack!
Sensational sunflower seeds
Sunflower seeds are packed with vitamin E together with several vital minerals, including magnesium, selenium and copper. For a tasty savoury snack, try heating a handful of sunflower seeds in a frying pan and, just as they are beginning to colour, add a splash or two of soya sauce. Remove from the heat immediately, and quickly stir around to evenly coat the seeds. Allow to cool before munching.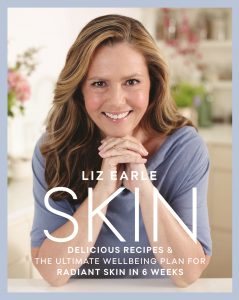 For more complexion-boosting snacks and recipes order your copy of Liz's new book SKIN today and start the ultimate wellbeing plan for radiant skin in 6 weeks.
Wellbeing Wisdom
Nuts are one of the best sources of the powerful antioxidant vitamin E
Just one handful of almonds can provide half of our recommended daily allowance of vitamin E
Pumpkin seeds have uniquely high levels of zinc to strengthen our immune systems and help balance blood sugar levels