Put a spring in your step with Nordic walking
Liz writes: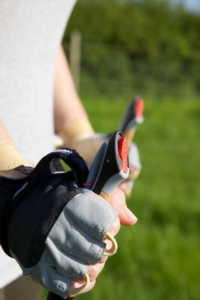 Nordic walking has long been a favourite form of exercise for me, and when the days begin to offer up a little more sunlight it is the perfect time to pick up my poles again and enjoy some fresh air. I urge anyone of any age who enjoys walking to give it a try – you'll be amazed how much fitter you feel very quickly.
The use of poles creates a gentle downward resistance as you walk, which gives the upper body the most fantastic workout. The poles also give you increased stability and propel the body forward – you'll find you are able to effortlessly move faster without feeling totally exhausted. Nordic walking also significantly increases the amount of calories burned compared to a regular stomp across a field or park as you are using many more muscle groups. It's more akin to jogging in many ways, but it won't leave you as breathless and there isn't the strain on the knees and joints that can sometimes result from more vigorous exercise.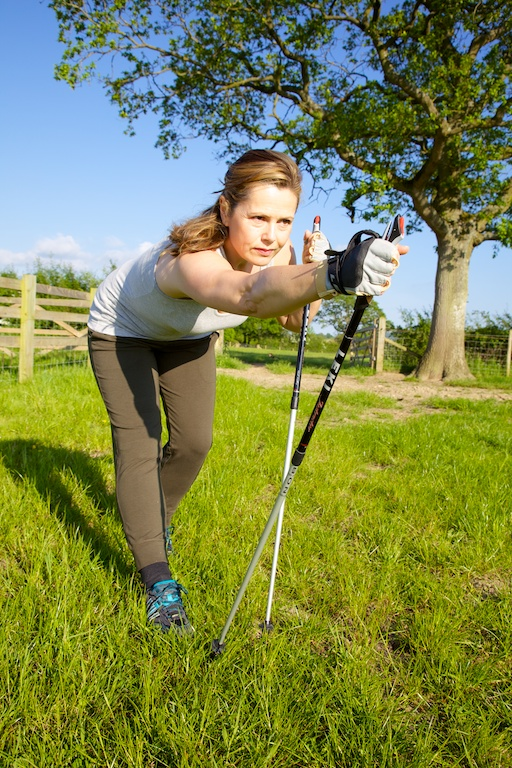 The health benefits of Nordic walking
I really love the way it tones and strengthens the whole body using over 90% of our skeletal muscles. As someone who has often suffered from back and neck problems, I've found it a wonderful way of opening out the upper chest area and easing any tension in the shoulders. As well as being an all-round body-booster, like other forms of aerobic activity, regular Nordic walking offers a range of other health benefits including lowering your risk of heart disease, Type II diabetes, stroke and some cancers. Furthermore, you'll be enjoying all the added psychological benefits that 'green exercise' has to offer – the subject of many recent studies – including reduced stress levels and increased self-esteem.
You can pick up a set of specially designed poles for about £30 – these are not to be confused with trekking poles due to how you use the strap and the angle at which you plant your poles into the ground – and you'll also need a good pair of walking shoes. I would also recommend anyone new to Nordic walking to start with a lesson from a qualified instructor to learn the specific techniques involved. Many instructors will be able to provide you with poles if you are just interested in a taster lesson, so you can give it whirl before you commit to any extra expense. You can read more information and find a local instructor either at Nordic Walking UK or British Nordic Walking.
Wellbeing Wisdom
Nordic walking strengthens the whole body, using over 90% of your skeletal muscles
Using the poles creates a downward resistance as you walk, giving your upper body a fantastic workout
Regular Nordic walking will help lower your risk of heart disease, Type II diabetes, stroke and some cancers