The art of the arch: natural eyebrow tutorial
Many of us have embraced the power of our brows to help define our faces and frame our eyes at one time or another – just as women, and indeed men, have been doing for thousands of years – to varying degrees of success! As we age, our eyebrows can get paler and thinner, so today's fuller, more natural look is an all-round winner. It's quick and easy to achieve, helping us appear more youthful. Here, celebrity make-up artist Kerry September shows us how to get the look in three simple steps.
First, working from the inside end of each brow, use an eyebrow comb to brush and sweep the hairs up towards your hairline. EcoTools Lash & Brow Duo (£2.64, ecotools.com) helps tame unruly hairs.
Using an eyebrow pencil one shade lighter than your natural eyebrow colour, fill in any gaps in your brows. Keep them looking natural by not straying outside the brow area, and by making short strokes with the pencil in the same direction as the surrounding hairs' growth.
Then, take a spoolie brush (which looks like a mascara wand) and spray it lightly with hairspray. Use this to comb your brows up again. When the hairspray dries, it will help set the brows in place. The brushing will also help blend the pencil strokes, giving a more natural finish.
To create this look to suit Lily's colouring, we used:
Eyebrows – Delilah Cosmetics Brow Line in Ash (£20, delilahcosmetics.com)
Cheeks – Daniel Sandler Watercolour Liquid Blush in Rose Glow (£15.50, danielsandler.com)
Nails – Nails inc Mayfair Market Powered by Matcha (£15, nailsinc.com)
Hair – GHD Curl Hold Spray (£12.95, ghdhair.com)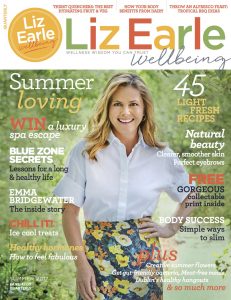 This article is taken from the Summer 2017 issue of Liz Earle Wellbeing. For more health and beauty tips, plus lots of seasonal wellbeing wisdom, subscribe to the magazine and get free P&P (UK).