Salmon parcels with asparagus and Jersey Royals
Ingredients
4 medium sized salmon fillets (approx. 150g each)
4 tbsp honey
Olive oil
3 lemons, juice & zest
4 cloves garlic, whole
2 tbsp coconut oil
200g asparagus tips
1 large leek
750g mini Jersey Royals
Handful fresh parsley
Salt & pepper
You will need
Parchment paper
Hessian string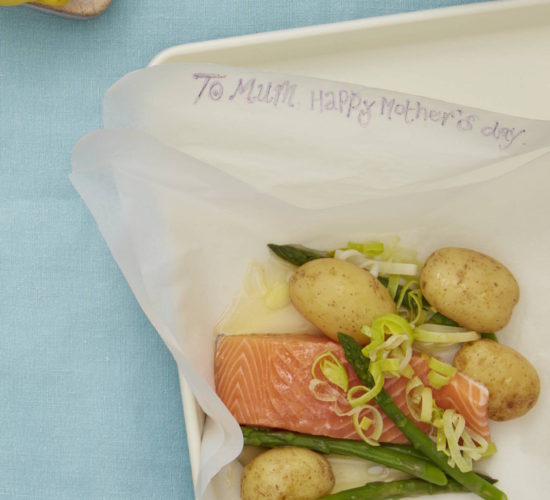 This is a dish so simple that it is the perfect recipe for children to cook themselves to treat a loved one on Mother's Day, or any special family occasion. Young ones will obviously need a little supervision, but hopefully children of all ages will enjoy getting stuck in and giving mum and dad a break for one day.
Method
Preheat the oven to 180°C/350°F/gas mark 4.
Place the Jersey Royals in a pan and cover with water, adding a teaspoon of salt. Bring the pan to the boil and then simmer for around 20 minutes until they are soft. Add in the asparagus for the final three minutes of cooking, and then drain the potatoes and asparagus together in a colander.
While the Jersey Royals are cooking, finely slice up the leek and sauté in a frying pan on medium heat with the coconut oil until it starts to caramelise. Then take a bowl and whisk together the honey, lemon juice and olive oil with a fork.
Cut out four A4 pieces of parchment and place a raw salmon fillet onto each piece of parchment, along with an equal amount of the cooked potatoes, asparagus and leeks. Drizzle over the honey and lemon dressing and finish off by adding in a whole garlic clove and a few leaves of parsley to each parcel. Season well with salt and pepper.
Now, wrap up each parcel with hessian string and place all four onto a baking tray, popping them into the oven for around 15 minutes to let the salmon cook through with all the juices.
 Serve each parcel individually on a plate, still tied up, so they can be opened by each guest.
When it comes to asparagus, freshness is key. Find out why you should be including these delicious, nutritionally-rich spring vegetables in your dishes.
Wellbeing Wisdom
Salmon contains omega-3 fatty acids, which help keep our hearts and brains healthy
Garlic is a good source of phosphorous, calcium, potassium, iron and copper
Asparagus contains a natural prebiotic called inulin that helps friendly bacteria grow in the gut