Contact the team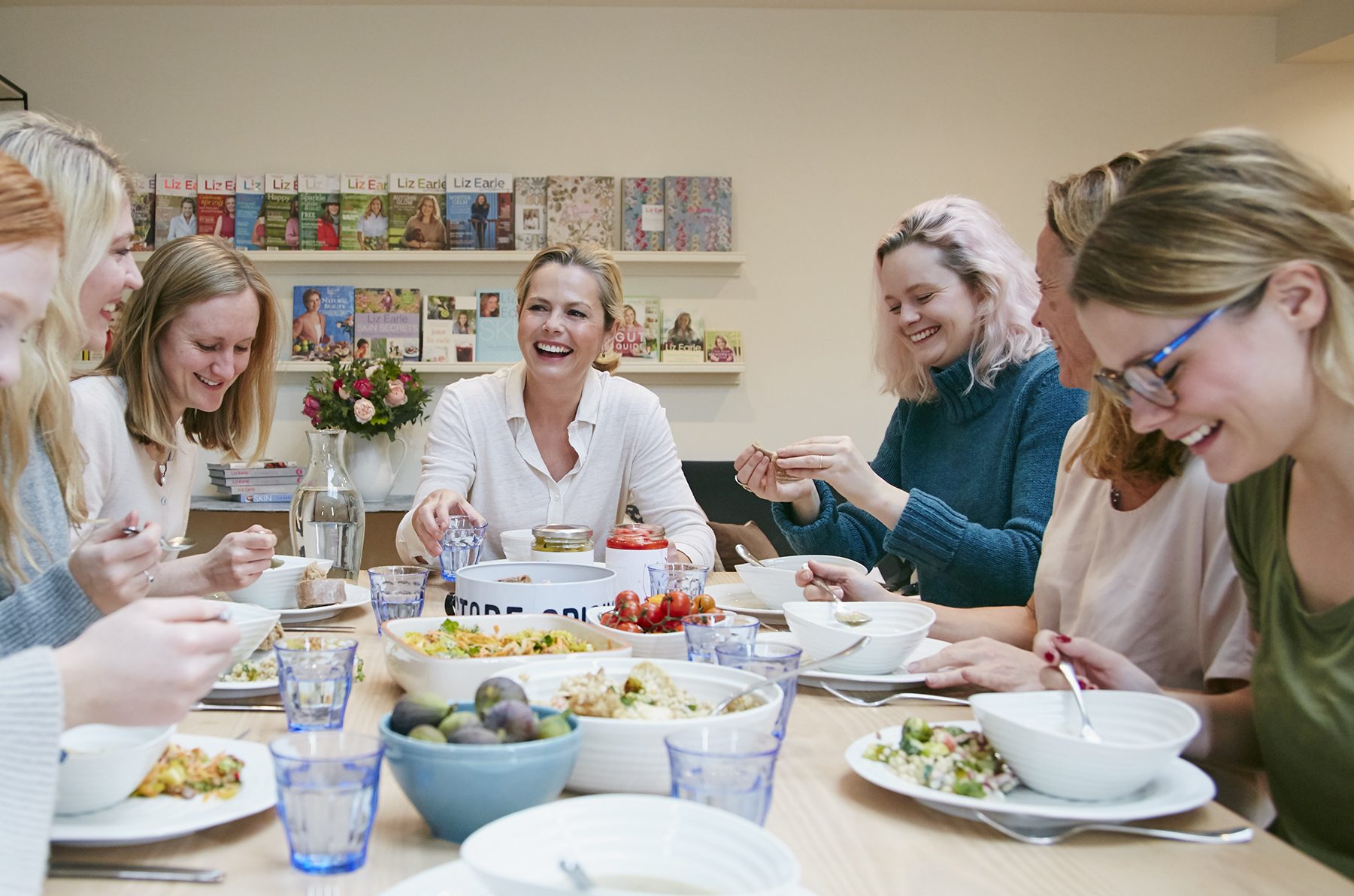 Liz Earle Wellbeing is an inspirational lifestyle magazine bursting with fresh ideas to eat well, look good and feel great. You can subscribe here to be amongst the first to receive each new issue.
For general queries, please contact hq@lizearlewellbeing.com
For questions relating to your subscription, please contact our subscriptions team at Warners on 01778 395166 or email subscriptions@warnersgroup.co.uk.
Meet the team
Liz Earle MBE is our Editor-in-Chief. Having founded the magazine in 2014, Liz's trusted voice of wellbeing wisdom can be found on pretty much every page. When not reading her emails, Liz can be found hosting Instagram and Facebook 'lives' on her pasture-fed organic farm feeding her chickens and egg-collecting. You can also follow Liz on her personal social media too, where you'll find her @LizEarleMe on both Twitter and Instagram.
Annie Darling is our team assistant. She is an invaluable member of the team at the Wellbeing Studios and handles most of our customer enquiries.
Polly Beard is our Managing Editor, and also our Commercial & Brand Director. With a varied career working with many, many different companies and publications over the years, plus stints as a bestselling author, events guru, a columnist for The Times and even an auctioneer, she has been at Liz Earle Wellbeing since its launch in 2013 and at Liz's side ever since. Always on the lookout for interesting feature ideas and new partnerships, and ensuring each and every one of Liz's projects run like clockwork, she's your first port of call about working with Liz or the Wellbeing brand.
Amy Moore is our Digital Editor. With experience as a digital editor at the Royal Horticultural Society and Bauer Media, she brings online know-how to the Wellbeing Studios. She creates and curates content for the Liz Earle Wellbeing website and oversees our social media channels, including Twitter, Facebook, Instagram and YouTube. Plus, as a fully-qualified yoga teacher, she has a keen interest in health and wellbeing.
Nicky Acketts is our energetic and creative Design Director with a wealth of global experience in publishing, branded content and corporate design. She brings us her experience gained at flagship design houses including Condé Nast and Time Inc. A natural collaborator, Nicky sells us her ideas for smart and stunning layouts with style and passion and brings together all our efforts crafting the beautifully designed pages of Liz Earle Wellbeing magazine.
Ellie Smith is our Health & Beauty Editor. Driven by her passion for uncovering simple ways we can all look and feel our best, Ellie oversees our health and beauty content. She can be found researching the latest in nutrition news, interviewing leading wellness experts and testing the new beauty launches that land on her desk. Alongside Liz, she also oversees the Liz Earle Wellbeing Show podcast.
Betty Beard is our Affiliate Marketing Manager and handles all of our affiliate partnerships alongside commercial planning for Liz Earle Wellbeing. Betty is also the Image Editor and sources the images across our social media channels and print magazine. She's also our Food Writer, writing regular recipes and reviews, alongside our interior features.
Martha Comerford is our Editorial Assistant who produces features for the magazine and makes sure the day-to-day running of the studios goes smoothly. She writes regularly on books, travel and health as well as supporting other members of the editorial team.
Harry Trevithick is a freelance sound engineer who specialises in post-production and sound effects. Each week he works with our Digital Communications Team to record, edit and produce the Wellness with Liz Earle audio magazine podcast.
We also have a wonderful, talented team of regular contributors who help us create inspirational and expert content for the magazine:
Sarah Raven, our gardening guru, worked as a doctor before becoming the award-winning gardener, cook, published author and television presenter.
Dale Pinnock BSc (Hons), Pg Dip (Nutr Med), aka The Medicinal Chef, is a bestselling author and TV presenter, with a degree and postgraduate diploma in nutrition.
Fiona Hunter BSc (Hons) Nutrition, Pg Dip (Dietics), is a highly respected, experienced and qualified nutritionist, food writer and broadcaster.
Hannah Martin, celebrity makeup artist with over 15 years of experience, is a celebrated YouTuber and TV expert.
Tamzin Ferdinando is our supremely talented prop stylist who has been with us from the very beginning and continues to play an instrumental part in shaping the brand's look and feel.
Nico Ghirlando, aka The Modern Husband, has a professional background as both a food photographer and chef, and is a celebrated food stylist, food and recipe writer.